Reese Witherspoon & Jonathan Van Ness Are Working On Something Together — This Is Not A Drill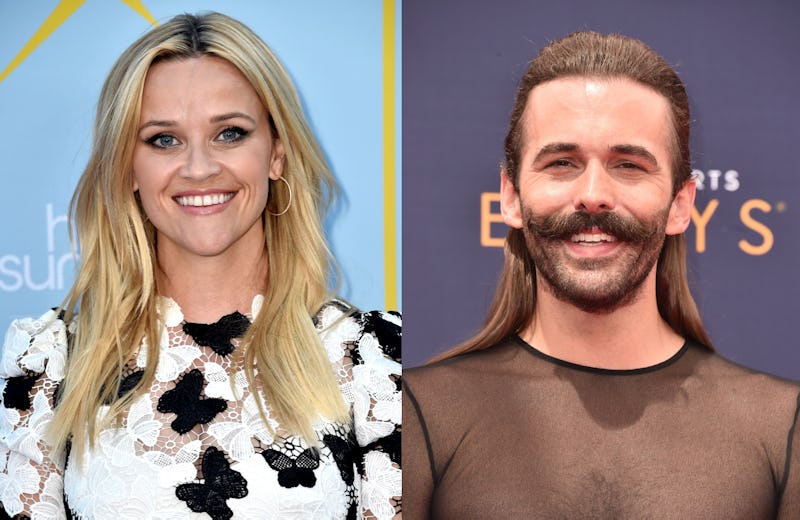 Frazer Harrison/Getty Images Entertainment/Getty Images; Alberto E. Rodriguez/Getty Images Entertainment/Getty Images
Sometimes actors or celebrities find each other despite being separated by genre, fame, or discipline, and what results is a collaboration fans often never knew they needed. Well, Reese Witherspoon and Jonathan Van Ness are working together on a secret project, and they're ready to give fans everything they ever wanted. The Legally Blonde alum has not worked with Van Ness, of Queer Eye fame, before, but the two have interacted on social media. And even though they might not be the first duo that comes to mind, once fans think about it, they'll agree that Witherspoon and Van Ness truly are a perfect pair.
On Sept. 10, Witherspoon posted on her Instagram story, all decked out in interactive filters and emojis. "I'm excited because I am with somebody really special today," she told her followers. "You guys are gonna want to see him." She then showed who was with her, and it was none other than Van Ness. "It's real, it's really happening," she said, as a clearly excited Van Ness waved in the background.
In the next story, both still very hyped up about whatever they're working on. With yet another interactive filter, this time with hearts, Witherspoon said, "Really excited. We're doing something, but it's quiet, like we can't tell people, right?" While they're shushing each other, it's hard not to want to be in that room and be in on their secret. What could it be? There's an album on the wall, but according to the two celebs, it doesn't have to do with music. Or does it?
"I can sing really well, but sometimes I act like I can't, but it's nothing major," Van Ness said. (Witherspoon, of course, won an Oscar for her musical performance in Walk The Line.) Speaking of major, Witherspoon wrote "Something Secret (but also MAJOR)," on the story. If you look at the records on the wall, it looks kind of like an award or a commemoration of big music accomplishments. A little bit like what one might see in a recording studio.
Adding to this theory is the fact that Van Ness has a ton of experience in the recording business. He hosts his own podcast called Getting Curious With Jonathan Van Ness, which releases new episodes every Wednesday. In the podcast, he has special guest co-hosts on to talk about a different topic every week. It can tackle everything from songwriting or Kim Kardashian to more serious things like the politics and psychological harm around family separation, or bloodthirsty cults.
Witherspoon would definitely be a perfect guest for his show. She's been in the business a while, has done a lot of movies, and also has a ton of other gigs ranging from production companies to a clothing line. If anyone has answers or insights into interesting topics, it's Reese Witherspoon.
The last story the actor posted of the duo didn't give away any details on their "secret" project, but it did provide Witherspoon an opportunity to gush over Van Ness. "I do wanna say before I have to go, 'cause I have to run: Congratulations on your Emmys!" Witherspoon said. Queer Eye has already taken home Emmys for Outstanding Casting For A Reality Program, Outstanding Picture Editing For A Structured Or Competition Reality Program, and Outstanding Structured Reality Program. In the video, Van Ness replied he loved her "to pieces," and they shared a very sweet hug.
Whatever major, super-secret project they're working on, it's going to be a must-see (or hear). And, hopefully, this won't be the last fans see of Witherspoon and Van Ness together.