Reese Witherspoon's 2017 Emmys Dress Looked Almost Identical To An Elle Woods Outfit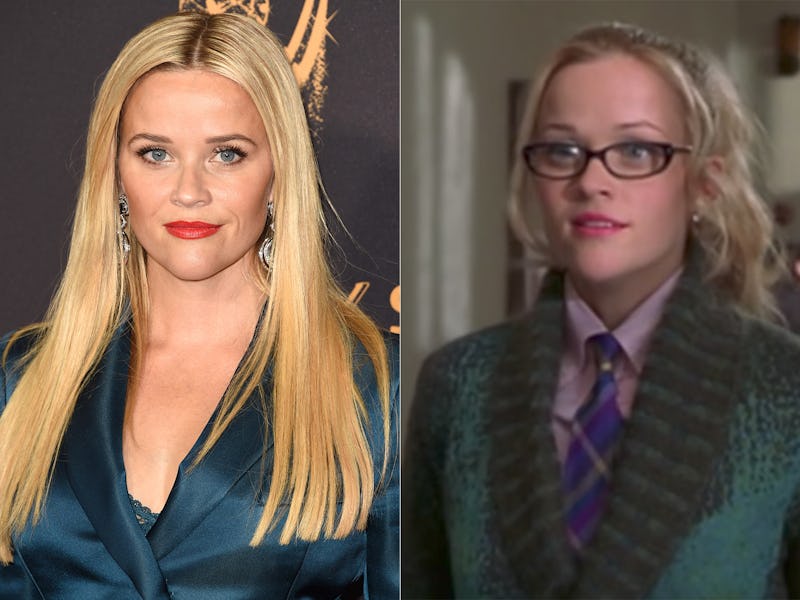 J. Merritt/Getty Images Entertainment/Getty Images; MGM
Nice outfit! At the 2017 Emmys, Reese Witherspoon wore a blazer dress in an emerald green shade that looked almost identical to the emerald green wrap sweater Elle Woods wore on her first day of classes at Harvard Law in Legally Blonde. Sure, one's a red carpet gown and one's a wooly number made for class at a preppy college, but when it comes to the colors and shape, it's hard to ignore the similarities between the two, equally fabulous outfits.
Just this past August, Witherspoon pulled out her old Elle Woods costumes and modeled them for her Snapchat fans. While the green sweater didn't make an appearance (the story was mostly pink that day), perhaps she still had the good ole wardrobe on the mind when picking out this tuxedo-style blazer dress for the Emmys red carpet. Sophie da Rakoff, the costume designer for Legally Blonde, talked about that first day of school outfit with Entertainment Weekly, saying "If you were going to write it down, you'd be like, cardigan, skirt, tie, which sounds like a really conservative outfit, and then you look at it and it's really individual. This girl has a really unique style." If you were to write down Witherspoon's Emmy's outfit, you also might think "conservative," but it certainly shows off the actress's unique style just like that sweater did.
Does that blazer not look like something you'd find in the grown up version of Elle Woods' wardrobe?! Plus, the blazer cut and coordinated David Webb jewels made it stand out from a lot of the other more classically styled gowns on the red carpet Sunday night — and you know Elle would want to stand out in any occasion.
Witherspoon showed up to the Emmys ceremony with her Big Little Lies co-stars, Nicole Kidman and Laura Dern, who opted for equally gorgeous, floor length gowns.
Fan reactions to the Elle-ish blazer gown were mixed on Twitter — some people applauded the untraditional cut and shorter length, while others weren't totally feeling the business-y vibes. But neither Witherspoon nor Elle have ever been much for dressing for anyone else, right?
During her red carpet interview with E!'s Giuliana Rancic, Witherspoon started giggling while Dern (who would go on to win the Best Supporting Actress category on Sunday) and Kidman were going on about the potential for a second season of Big Little Lies. She said it "wasn't fair" that she gets to work with all her friends, then go to "this big party." A group of powerful women running sh*t sounds a lot like something Elle Woods would get behind too.
This isn't the first time fans have noticed Witherspoon channeling a little Elle Woods in her wardrobe, and she's recently been talking about wanting to bring the character back for a Legally Blonde 3. In March, Witherspoon told James Corden, "It'd be kind of cool to see her 15 years later, like, what's she doing now?" She said she'd need a good idea, to which Corden suggested Elle be the first female president of the United States. "Yeah!" Witherspoon replied. "Or she could be a Supreme Court justice or, like, a really great powerful attorney... or she could be in prison. She could be anything!"
Could this Elle-ish blazer be a hint that Hello Sunshine really does have plans for to produce a third installment of Legally Blonde? Will the movie feature a whole closet full of these perfect blazer dresses? That could be optimistic at the moment, but we can keep on hoping that, soon, Witherspoon wakes up one morning and says "I think I'll make another Legally Blonde movie today."