Krispy Kreme & Dairy Queen Just Added Reese's Options That Are So Extra You'll Drool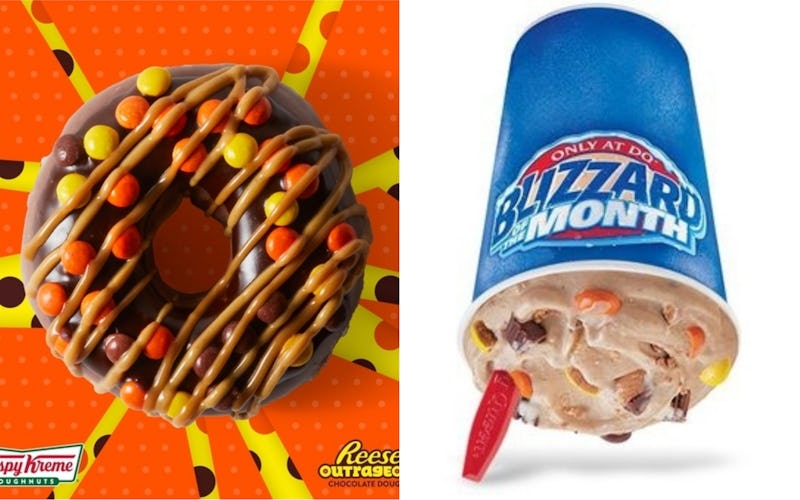 Krispy Kreme; Dairy Queen
Reese's Peanut Butter Cup fans, unite! And then drive/bike/walk/subway to Krispy Kreme and Dairy Queen, which both have Reese's items as specials this August, as reported by Chewboom. Both new additions are inspired by the Reese's Outrageous Bar, and if you love you peanut butter with a side of a whole lot of sugar, then these just might be the treats for you.
First up, the Krispy Kreme Reese's Outrageous Doughnut. This doughnut is made of chocolate yeast dough and is dipped in Hershey's chocolate fudge icing and topped with Reese's pieces and peanut butter and caramel sauce. It's sort of like an inside out Outrageous Bar, which, for the unfamiliar, is a milk chocolate bar filled with peanut butter, Reese's pieces, and caramel. The special doughnuts became available on August 6, and the Krispy Kreme website notes that they're around for a "limited time only," although it's unclear just how limited that will be. Thillist reports that judging by how long previous special doughnuts were on the menu, they should be there at least a week.
And for ice cream fans, next up we have the Dairy Queen Reese's Outrageous Blizzard, which is the August Blizzard of the Month. This Blizzard consists of Dairy Queen vanilla soft serve mixed with Reese's Peanut Butter Cups, Reese's Pieces, peanut butter, and caramel. So, basically a blended up Outrageous Bar with ice cream. The Dairy Queen site notes that it's available at "participating locations."
These are not the first Reese's crossover items to be featured at Krispy Kreme or Dairy Queen. As Dairy Queen fans know, the fast food chain has long offered a Reese's Peanut Butter Cup Blizzard that is simply Reese's Peanut Butter Cups mixed with soft serve. It's simple and it's a classic. Dairy Queen also has plenty of other peanut butter offerings, like peanut butter shakes and malts, peanut butter sundaes, and the Peanut Buster Parfait, which really just looks like a sundae with hot fudge sauce and peanuts.
Krispy Kreme doesn't have a standard peanut butter doughnut that stays on the menu (at least not in the U.S.), but it has debuted other peanut butter doughnuts in the past. Krispy Kreme released a Reese's Peanut Butter Cup doughnut in August of last year for a limited time. This one was a filled doughnut with peanut butter cream on the inside, and chocolate icing, peanuts, peanut butter chips, and chocolate and peanut sauces drizzled on top. And around Easter, the chain has been including Reese's Peanut Butter Egg doughnuts on its menu. These are similar to the Peanut Butter Cup doughnuts, and feature peanut butter cream filling, chocolate icing, and peanuts, and are decorated with colored icing that makes them look like Easter eggs.
So, whether you want one of the new Reese's Outrageous Bar items or something more classic like the Dairy Queen original Reese's Blizzard, you're covered. But if you do want one of the new specials, you may need to act fast. How fast is just not totally clear.