Reince Priebus Insists He'll Always Be "A Trump Fan"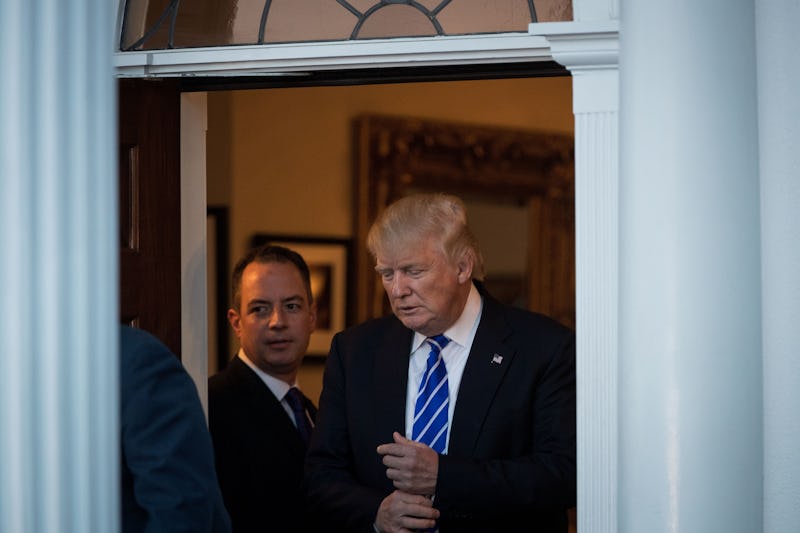 Drew Angerer/Getty Images News/Getty Images
It seems soon-to-be former White House Chief of Staff Reince Priebus isn't looking to leave the White House on bad terms. In an interview with CNN's Wolf Blitzer, Priebus said he'd be a lifetime "Team Trump" member despite the fact his departure from the White House comes amid a swirl of rumors regarding his increasingly fractured relationship with President Donald Trump.
"I'm always going to be a Trump fan," Priebus told Blitzer on air late Friday night. "I'm on Team Trump, and I look forward to helping him achieve his goals and his agenda for the American people."
It remained unclear, however, given Priebus' impending departure from the White House, in what capacity he planned to assist President Trump in achieving his agenda. Although Priebus refrained from commenting on what - or with whom - his next job might be, he did dismiss rumors he'd become the next U.S. ambassador to Greece.
While Priebus continued to insist it had been his decision to resign, he offered few specifics regarding his reason, saying only that he and the president had decided to go in different directions. "I think the president wanted to go a different direction," Priebus said. "And like I said a couple weeks ago, I said the president has a right to change directions. A president has a right to hit a reset button. I think it's a good time to hit the reset button."
However, he claimed Trump knew "intuitively" when things needed to change, a comment that seemed to suggest it had actually been Trump who first broached the idea of Priebus resigning. Priebus went on to say he thought President Trump's decision to "hit the reset button" by appointing Secretary of Homeland Security John Kelly as his new chief of staff was not only "right" but something the White House needed. "I think it's healthy," he said. "And I support him in it."
Priebus also told CNN his departure was so amicable the president had even been open to him weighing in on who should replace him. "He wanted to include me in figuring out how and who would be a great successor and a good chief of staff. I think General Kelly is a brilliant pick," Priebus said. "This is not a situation where there is a bunch of ill will feelings. This is, I think, good for the president."
Yet reports of the bitterness between Priebus and new White House Communications Director Anthony Scaramucci hit their peak Thursday when Scaramucci called Priebus a "paranoid schizophrenic" and "a paranoiac" in an expletive-laced tirade to Ryan Lizza of the New Yorker. Priebus refused to respond to Scaramucci's remarks, telling Blitzer, "I'm not going to get into the mud on those sorts of things." He also brushed off Scaramucci's allegations that he was the leak in the White House.
As for what's next, Priebus said he planned to take a vacation and spend some time with his family but would continue to "honor the president every day."