A Reporter Claimed Trump Once Said There's "Nothing In The World Like First-Rate P*ssy"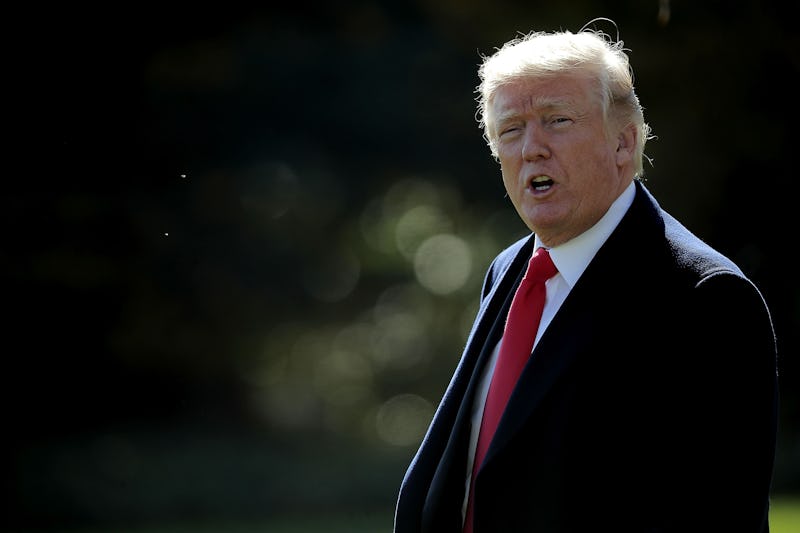 Chip Somodevilla/Getty Images News/Getty Images
President Trump has attempted to cast doubt on the authenticity of the 2005 Access Hollywood tape that features him bragging about grabbing women without consent, but a new report reveals another time he allegedly made similarly lewd statements. Back in 2000, Trump reportedly said there's nothing "like first-rate pussy" to a journalist with Maximum Golf. The former reporter, Michael Corcoran, and his editor at the time confirmed to The Daily Beast that the statement came from Trump, although it was never printed in the now-closed magazine.
Corcoran was at Mar-a-Lago profiling Trump for Maximum Golf when the real estate mogul focused his view on a " young socialite" at dinner one night, reportedly remarking: "There is nothing in the world like first-rate pussy."
Corcoran reportedly wrote the colorful quote as the kicker to his profile of Trump, but his editor, Joe Bargmann, said a top editor (Michael Caruso, now the editor-in-chief of Smithsonian Magazine) wouldn't allow it to be printed.
"I was asked to change the last word of the story from 'pussy.' When I refused, my top editor changed the quote," Bargmann told The Daily Beast.
The story ran in Maximum Golf's August 2000 issue, sans the vulgar word, and readers of Maximum Golf read Caruso's altered quote: "There is nothing in the world like first-rate talent." (Bustle has reached out to Caruso for comment.)
The reported quote isn't far off from what Trump said on the Access Hollywood tape five years later. In a conversation with Billy Bush dubbed "Pussygate" by the media, Trump was recorded saying he can "just start kissing" women and "grab 'em by the pussy" because he's famous. Despite recent reports that Trump privately suggested to a senator and an adviser that the tape wasn't authentic, Access Hollywood assured the nation that it's "very real."
Other journalists have reported Trump using crass language in front of them, including Fox News' Tucker Carlson. In a story published in Politico, Carlson recounted Trump responding to a quip he made on CNN about Trump's hair by leaving a message for him.
"It's true you have better hair than I do," Trump reportedly said. "But I get more pussy than you do."
Carlson wrote that he'd never met Trump at the time, and was surprised by he'd leave such a message. "Now the pattern seems entirely familiar," he added.
Trump also used the same language during the 2016 election, repeating a crowd member's comment during a campaign rally about Ted Cruz. "He's a pussy," Trump said, jokingly reprimanding the attendee who initially shouted the insult.
While Trump continuously makes a point to not be politically correct, the reported quotes are compounded by the fact that he's been accused of sexual assault and harassment by at least 13 women. He denies all allegations of sexual misconduct, and called his accusers liars, prompting one Trump accuser to sue him for defamation. Trump's lawyers are trying to get the case thrown out on the grounds that Trump allegedly didn't grope the former Apprentice contestant and claims the suit is "politically motivated."
Despite his own legal troubles, though, Trump told reporters last week he's "very happy" there's a national discussion about sexual harassment and assault.
"I think it's a very special time, a lot of things are coming out, and I think that's good for our society," he said. "I think it's very, very good for women, and I'm very happy a lot of these things are coming out. I'm very happy it's being exposed."
Trump likely didn't mean vulgar quotes reportedly from his own past "coming out," but those working to expose sexual harassers want to turn the microscope on all men — including the president.