A White House Reporter Announced Her Pregnancy With A Jab At Trump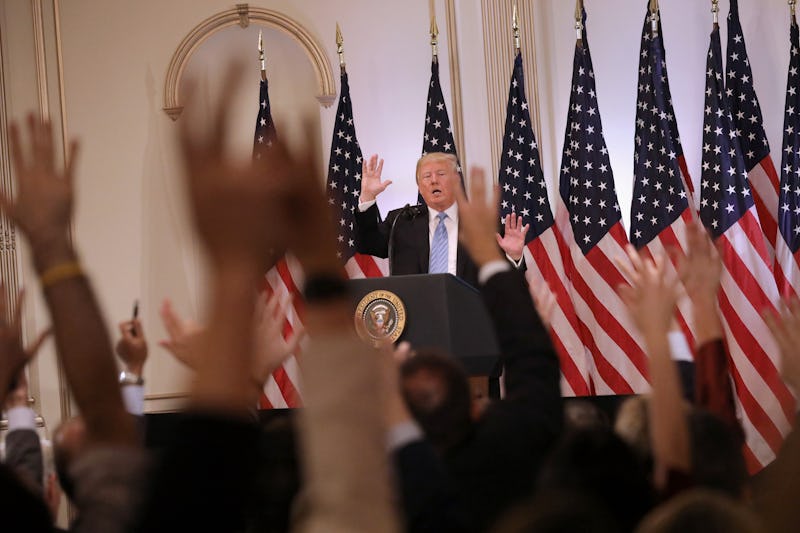 John Moore/Getty Images News/Getty Images
Not everything coming out of the White House press corps is politically divisive news about the president. On Monday, CBS White House correspondent Weijia Jiang announced her pregnancy — and in that announcement, she included a critical message for President Donald Trump.
"Personal news: She made a very public debut during this presser, so it's a good time to share my husband and I are thrilled to meet our baby girl in January!" Jiang tweeted on Monday. "Can't wait to teach her when a man orders you to 'sit down' because he doesn't like what you're saying, do anything but."
The veiled reference to the president came in Jiang's comment about a man ordering her to "sit down," which Trump repeatedly told her to do at a press conference on Sept. 26, as the Hill noted. CNN broadcast the exchange, in which Jiang asked Trump if she could ask a question after he finished ranting and he repeatedly told her to "sit down." When Jiang did manage to get her question out, she asked whether the numerous allegations of sexual misconduct against Trump (which Trump has universally denied) had any affect on his view of the sexual misconduct allegations against Supreme Court nominee Brett Kavanaugh (which Kavanaugh has also denied).
When Trump responded to Jiang's question, he said that the allegations against him did, in fact, have an affect on how he viewed Kavanaugh's situation. "It does impact my opinion. You know why? Because I've had a lot of false charges made against me. I'm a very famous person, unfortunately," Trump said at the United Nations General Assembly press conference. "I've been a famous person for a long time."
More than 20 women have accused Trump of sexual assault, and Trump has called them all "liars," according to PBS. The allegations span across much of the time that he's been a public persona, although many of the women only made them public more recently. The first alleged incident took place in the 1980s, when a woman named Jessica Leeds alleged that Trump groped her while sitting next to her on a plane, as she told the New York Times. The most recent one is alleged to have happened in 2013, when Cassandra Searles claimed that Trump "continually grabbed [her] ass" when she was a contestant at the Miss USA pageant, as Yahoo News reported. Trump, again, has denied all of the allegations.
Going back to Jiang, this is far from the first time that Trump has had a testy exchange with a reporter in the White House press corps. Just on Monday, Trump said "I know you're not thinking, you never do," to ABC News' Cecilia Vega at a press conference about the revised trade deal with Mexico and Canada. He famously verbally attacked CNN's Jim Acosta in 2017, saying "Your organization is terrible ... you are fake news." In each of these cases, though, the reporters — like Jiang — have stood their ground as best they could. After Jiang's daughter is born, at least her mother will have a very interesting story to tell about how the pregnancy went.