A Republican Legit Blamed Human Trafficking On Women Having Sex Outside Of Marriage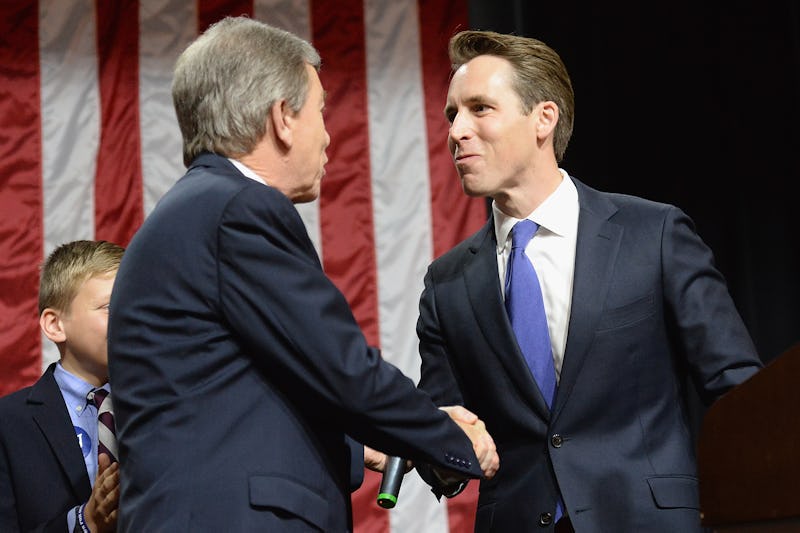 Michael B. Thomas/Getty Images News/Getty Images
Missouri Democratic Senator Claire McCaskill is facing reelection in 2018, and one of her Republican challengers is already facing scrutiny for some extremely inflammatory remarks he made recently. During a religious event in December, Missouri state attorney general and GOP senate candidate Josh Hawley blamed human trafficking on the "sexual revolution" of the 1960s and 1970s.
According to The Kansas City Star, which was the first outlet to report on Hawley's remarks on Wednesday, the 38-year-old told attendees at the "Pastors and Pews" event, held by the Missouri Renewal Project, that American women's sexual liberation was responsible for "our culture" losing its way. He also condemned "the false gospel of anything goes," insisting that "cultural elites," "Hollywood," and "the media" have worked to "denigrate the biblical truth about husband and wife, man and woman."
Following the reporting from The Kansas City Star, which has also since been picked up by CNN and The Washington Post, among others, the Hawley campaign released the full audio of his appearance at the December event. It runs about 35 minutes in length, and the relevant portion ― in which Hawley condemns the sexual revolution and blames it for the exploitation of women around the world ― is queued up below.
Let me briefly mention one other major area, one other major source of challenge I think that we are facing. And this is the effects on our society of the so-called sexual revolution. You know what I'm talking about — the 1960s, the 1970s, It became commonplace in our culture and among our cultural elites ― Hollywood, and the media ― to denigrate the biblical truth about husband and wife, man and woman ... and the appropriate place for sexual practice and expression within the family, within marriage. And we're living now with the terrible aftereffects of this so-called revolution, which was in fact a great step backward. ... And one of those effects is a crisis in our country by the name of human trafficking... human trafficking, and more particularly, trafficking in sexual labor.
On Wednesday afternoon, McCaskill responded to Hawley's remarks on Twitter, pointing out that human trafficking and exploitation of women are problems that have been around for a long time, a lot longer than just the last 50 or so years.
At present, Hawley is running in the Republican primary, vying for a chance to face off with McCaskill in the general election later this year. If he manages to secure the nomination, it would be far from the first time McCaskill would find herself matched up against a hyper-conservative controversy magnet.
Back in 2012, she faced a general election challenge from former GOP Representative Todd Akin, and she ended up winning soundly following his explosive comment about "legitimate rape."
Responding to a question about whether rape victims should be allowed to receive abortions, Akin said, "If it's a legitimate rape, the female body has ways to try to shut that whole thing down." The remarks essentially set fire to his electoral prospects, and he lost to McCaskill by approximately 15 points, despite running in the traditionally deep-red state of Missouri.
It's not yet clear whether Hawley will get as far as Akin did. He's going up against a number of GOP challengers in the state's primary, including Courtland Sykes, who was embroiled in his own sexism controversy last week, calling feminists "nail-biting manophobic hell-bent feminist she-devils" with "snake-filled heads."
While it remains to be seen just how well he fares come Election Day, it's safe to say that Hawley might not even be the most inflammatory candidate in the GOP primary field this year.