This GOP Senator Doesn't Get Why There Aren't More Republican Women In Congress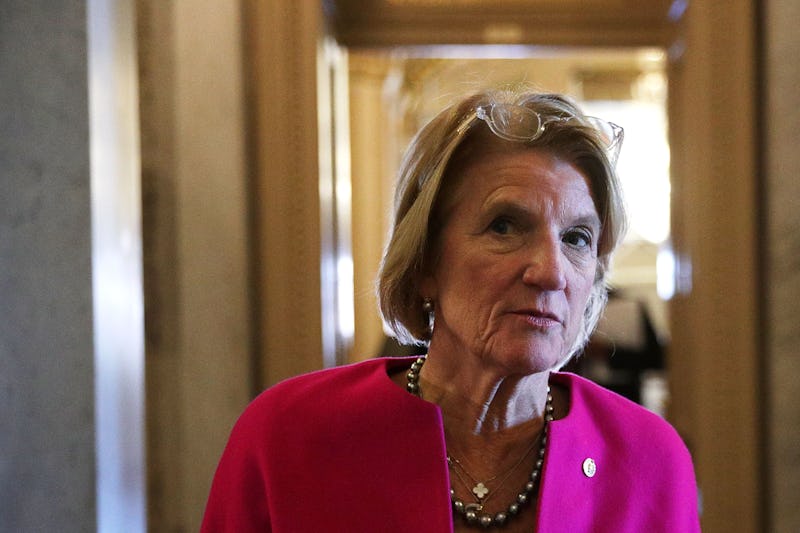 Alex Wong/Getty Images News/Getty Images
A record number of women were elected to Congress in the 2018 midterms, many of whom also made history in other ways. But while Democratic women were generating headlines and shattering records, Republican women actually suffered losses. During a recent appearance on Politico's "Women Rule" podcast, West Virginia Sen. Shelley Moore Capito acknowledged the lack of Republican women in Congress, but could not understand why this was the case.
Of the 102 women elected to Congress during this year's midterm elections, only 13 were Republicans, Politico reported; the other 89 were all Democrats. Capito told Politico that Republican women have performed well at the local level, but could not explain their notable absence at the federal level.
"This is something that stumps me," Capito said. "I don't understand. We have a lot of Republican women that have local offices, they're commissioners, they're active in their states. ... We're falling way short."
Following the numerous victories by women in the midterms, Capito — who was the first woman elected to the Senate from her state — celebrated the news, telling 7News that "our country realizes that we need good, strong women leaders to make decisions and forge compromise." But Capito told Politico that she and her fellow Republicans are aware that it was primarily Democratic women who achieved those victories.
"The Democrats are outshining us, no doubt on that," Capito said. "I don't know if there's not enough of us to sort of mentor people through their campaigns, to get more and more. But we're definitely well aware of it and focusing on it."
Despite the fact that there are fewer Republican women in the next session of Congress, Capito still believes that women are making progress at the federal level.
"We are breaking out of the mold, I think, of the stodgy all-male club, and it's been a gradual thing," Capito told Politico. "I think this year is going to make a big impact."
Capito is not the only Republican woman talking about this issue. In an interview with Roll Call earlier this week, New York Rep. Elise Stefanik said that she plans to expand her leadership PAC in an effort to support female candidates. She also wants to "play big in primaries" to promote these candidates, Stefanik said.
Meanwhile, Wyoming Rep. Liz Cheney — who ran uncontested to become the House Republican Conference chairwoman — told The Washington Post that Republicans need to adopt a more assertive strategy to get "more women running for office."
"I think the Republicans have to get off of defense on this issue," Cheney told The Washington Post.
Cheney also argued that Democrats' behavior toward women — particularly in how they handle women's issues — is "paternalistic" and "offensive." Capito, however, took a slightly different tack; she told Politico that women tend to be better at working across the political aisle.
"We seem to be able to ask each other to join on bills together, iron out differences when we have them in the bills, talk one-on-one without getting raised voices or disagreeing to the point where you turn the other person off," Capito said.
Although Republicans' gender gap widened following the midterm elections, women and people of color achieved numerous victories, with Democrats electing the first Muslim, Native American, and LGBTQ candidates in certain states.