Republicans Are Selling Trump-Themed Mother's Day Gifts & They Cost A Pretty Penny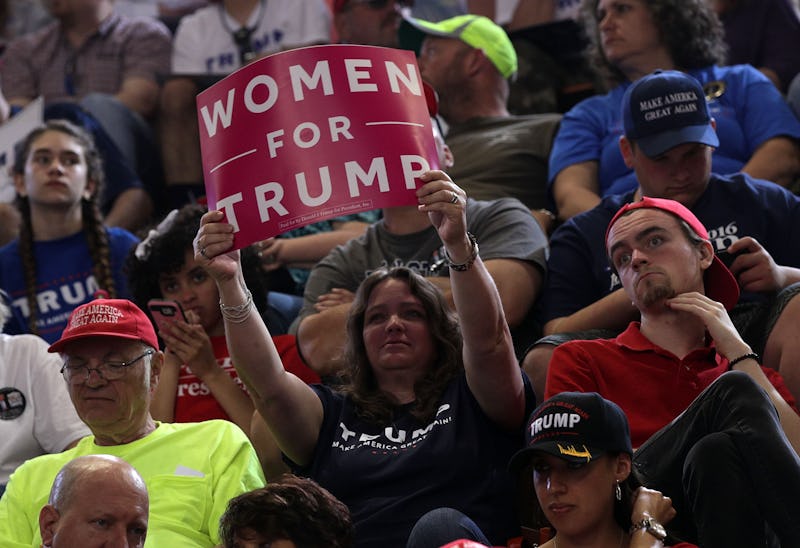 Alex Wong/Getty Images News/Getty Images
It looks like the Republican National Committee is selling Donald Trump-themed Mother's Day merchandise. On Tuesday night, the official GOP Twitter account tweeted an image of the Mother Day's items and said, "#MAGA gear for Mother's Day! Order by MIDNIGHT to get by Sunday." The RNC's themed merch is a pink paradise: pink Make America Great Again caps, pink water bottles with the same slogan, pink pins, pink T-shirts that proudly state, "Women for Trump."
Proceeds from the Trump-themed Mother's Day items will go to the president's Make America Great Again Committee, according to HuffPost. Although Trump seemed to have branded himself as America's working class hero in his presidential bid in 2016, the Trump-themed Mother's Day caps, shirts, and other items don't exactly appear affordable.
For instance, the pink Make America Great Again hat for moms is priced at $30. In fact, the hat is actually pricier than both the aluminum water bottle and shirt, both of which are priced at $25. But it isn't just the slightly eyebrow-raising price of the items that riled some observers up; on Twitter, several social media users said that the GOP was making a mockery of Mother's Day.
"Leave it to the GOP to cheapen and materialize Mother's Day. I would never give my Mother such gaudy, tawdry and tasteless items. She deserves so much better," one Twitter user said.
Here's what the actual merchandise looks like.
Other Twitter users recalled Trump's less-than-appropriate commentary on women while reacting to the GOP tweet. "Before I order one of these shirts for my wife, I just want to confirm that it doesn't say 'Grab them by the p***y' on the back," a Twitter user said.
In 2016, The Washington Post released a 2005 Access Hollywood tape in which Trump could be heard saying, "You know, I'm automatically attracted to beautiful — I just start kissing them. It's like a magnet. Just kiss. I don't even wait. And when you're a star, they let you do it. You can do anything."
In another instance, Trump said, "Grab 'em by the pussy. You can do anything." Later on, Trump apologized for his 2005 remarks but ultimately passed them off as "locker room" talk. The revelation about his crass commentary led to a barrage of criticism from both Republicans and Democrats, while some analysts even said that Trump's remarks may have motivated people to speak out about sexual assault in Hollywood.
Some Twitter users responding to the GOP tweet also Photoshopped the shirt so it looked like it was repeating Trump's lewd remarks. In one case, a Twitter user responded with an image of the pink Trump-themed Mother's Day shirt that repeated Trump's comment from 2005. The bottom of the shirt read, "Move on her like a b*tch."
Another Twitter user asked, "Does the back say, 'Turning back a century on women's rights?'" Amid the sea of criticism leveled at the GOP tweet, one Twitter user lamented the "trolling" from critics and said, "I asked my wife what she thought about a pink #MAGA hat for mothers day. She was actually really excited. Sadly, I had to tell her I was just checking."
But a cursory glance at the responses to the GOP tweet show that lots of observers were pretty disgusted by the idea of buying Make America Great Again hats, pins, shirts, and carrying similar bottles. From GIFs of people throwing up, angry emojis, and calling the GOP "hawks" for trying to commodify the special day for moms, the criticism for the RNC's Mother's Day merchandise was loud and clear.
For some, it seemed to be a matter of keeping their loved ones away from such items. One Twitter user said, "I love my mother so I won't be buying her a MAGA anything."