This One Tweet About Trump's DACA Plans Proves Even Republicans Are Outraged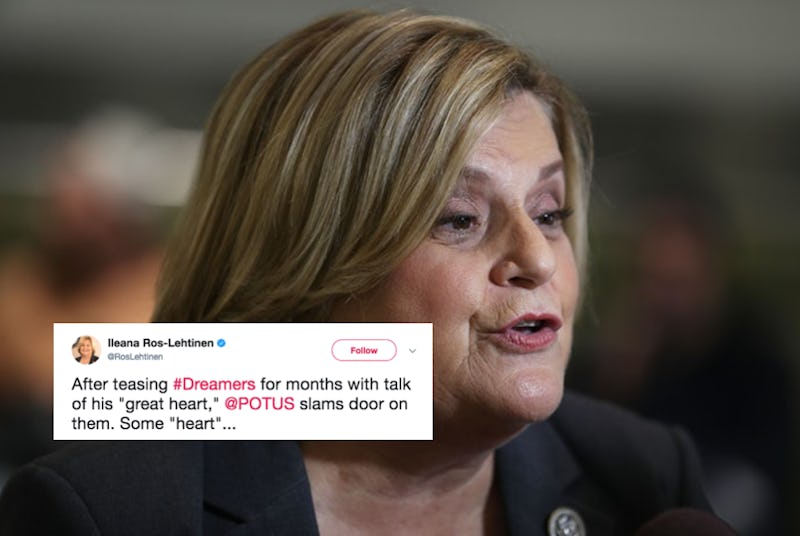 Joe Raedle/Getty Images News/Getty Images
On Sunday, news came out that President Donald Trump has reportedly decided to end the Deferred Action for Childhood Arrivals (DACA) program, something which would place the lives of hundreds of thousands of DACA recipients — otherwise known as Dreamers — in lurch. In response to this news, many legislators, including some Republicans, have been heavily critical of the prospect of ending the DACA program. Indeed, this one tweet about DACA from Republican Representative Ileana Ros-Lehtinen epitomizes what is wrong with Trump's impending decision. UPDATE: On Tuesday, Jeff Sessions announced during a press conference that the White House plans to "rescind" DACA.
DACA is a program that former President Barack Obama initially implemented in 2012. It provides temporary (and renewable) work permits and reprieve from deportation to recipients, all of whom were brought to the United States as children without documentation. Currently, there are almost 800,00 DACA recipients in the United States.
Trump has vacillated in regards to continuing the DACA program. As The Atlantic reported, during campaign season he promised to immediately end the program, but subsequently wavered after he took office, at times publicly praising Dreamers and also refusing to sign a drafted Executive Order that would have ended the program.
Now, as Trump actually does looked poised to end the program, many are criticizing him for his misleading stance, including Representative Ros-Lehtinen, a Republican representing south Florida. Ros-Lehtinen took to Twitter early Monday to condemn the president's reported decision about DACA, saying "After teasing #Dreamers for months with talk of his 'great heart,' @POTUS slams door on them. Some 'heart.'"
In addition to Ros-Lehtinen, other Republican legislators have also openly condemned ending DACA and expressed their support for Dreamers. Senator Jeff Flake of Arizona tweeted on Friday that "Congress needs to take immediate action to protect #DACA kids."
Moreover, Senator Orrin Hatch, a Republican from Utah, released a statement on Friday requesting that the president not end the program.
I've urged the president not to rescind DACA, an action that would further complicate a system in serious need of a permanent, legislative solution ... I've long advocated for tougher enforcement of our existing immigration laws. But we also need a workable, permanent solution for individuals who entered our country unlawfully as children through no fault of their own and who have built their lives here ... That solution must come from Congress.
It appears that, despite balking at the prospect in the past, some Republican leaders (and likely Democrats as well) believe that a long-term solution for Dreamers needs to arrive through Congressional legislation (like the 2001 bipartisan DREAM Act, which was ultimately never passed). However, repealing DACA in the meantime will likely only cause unnecessary chaos and uncertainty and not do anything to help the lives of Dreamers.
It is refreshing to see Republicans, as well as a plethora of Democrats, speaking out against a potential DACA repeal. Hopefully they will continue to do so and encourage Trump not to proceed with a decision to eliminate DACA, as the president is scheduled to make his announcement regarding the program's future on Tuesday.