Republicans In Utah Want Their Own "Trump Highway" & Democrats Are Trolling The Idea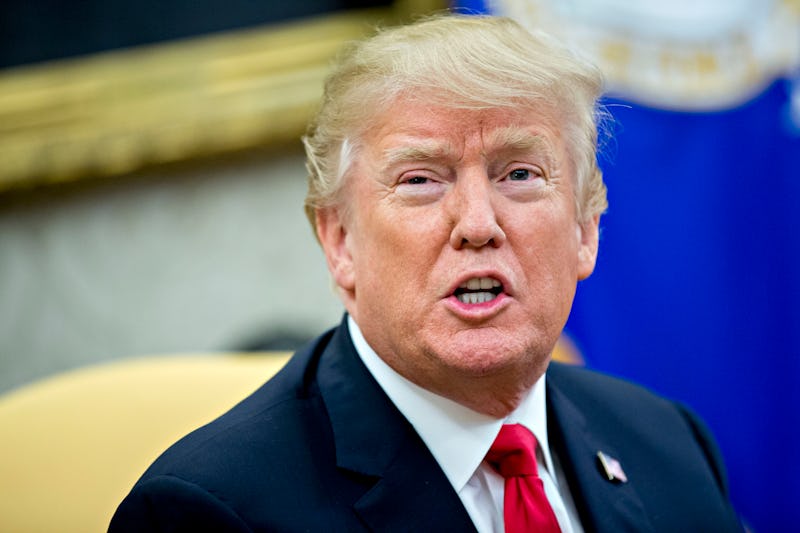 Pool/Getty Images News/Getty Images
A stormy political debate is ramping up in Utah over plans to rename a local highway after President Trump. Republican state legislators proposed tacking Trump's name onto the Utah National Parks Highway as a thank you for the White House's December decision to reduce the size of two national monuments in the area. But Utah Democrats are trolling the Trump highway plan in a major way.
State Sen. Jim Dabakis (D) threatened that if the "Donald J. Trump Utah National Parks Highway Designation" becomes a reality, he'll propose a "Stormy Daniels Rampway." He tweeted out his plan with a photo of Stormy Daniels, an adult film star who said she had an affair with Trump a year after he married Melania. The president has denied the alleged 2006 affair, but his lawyer reportedly paid Daniels $130,000 to not speak publicly about it.
The Republican-sponsored bill adding Trump's name to the Utah National Parks Highway passed through a state House committee this week, but has not yet been voted on. It was introduced by state Rep. Michael Noel (R) on Thursday. "For me personally, I was really, really happy that [Trump] downsized the Grand Staircase monument and Bears Ears because I believe that multiple use of public lands with adequate environmental protections is better than taking everything off the table," Noel told The Salt Lake Tribune.
Bears Ears National Monument was reduced by 85 percent, while the size of Grand Staircase-Escalante was cut down by about half. Bears Ears was designated as a national monument by former President Obama in 2006, and Grand Staircase-Escalante by former President Clinton in 1996. "Some people think that the natural resources of Utah should be controlled by a small handful of very distant bureaucrats located in Washington," Trump said at the Utah capitol. "And guess what? They're wrong."
As CNN notes, shrinking the national monuments makes it easier to mine for coal and drill for oil in Utah. Stephanie Meeks, president and CEO of the National Trust for Historic Preservation, made the same point in a December statement following Trump's announcement. "Rolling back the designation of Bears Ears leaves thousands of extraordinary archaeological sites vulnerable to looting and vandalism," she said. "The President's action also opens the remarkable Bears Ears' landscape to incompatible oil and gas development."
U.S. Sen. Mike Lee (R-UT) praised Trump's decision after criticizing Obama's designation of Bears Ears back in 2006. He argued in a statement that "excessively large national monument designations like this are very controversial, because they ignore state and local government land management policy and silence the voices of local residents impacted by the monument by excluding their elected representatives in Congress from the designation process."
Republican lawmakers in the state seemed to agree, and now want to show their gratitude to President Trump for significantly decreasing the size of the monuments. However, it's unclear how much public support the proposed "Donald J. Trump Utah National Parks Highway Designation" has. State Rep. Joel K. Briscoe (D) told The Cut he only received one email out of 300 in support of the bill to attach the president's name to the road. The bill says installing signs along the highway featuring the new name would cost approximately $124,000.
If the proposal passes the state House and Senate and Dabakis retaliates with his "Stormy Daniels Rampway" idea, the Democrat's measure is unlikely to pass. Republicans currently constitute 80 percent of the Utah state Senate.
Nevertheless, Dabakis' "Stormy Daniels Rampway" project is expert-level trolling of his Republican colleagues' desire to plaster Trump's name along a highway. Picking a route through Utah could potentially become a lot more politically charged.