Trump Reportedly Told Stormy Daniels She Was "Just Like His Daughter" (After They Had Sex)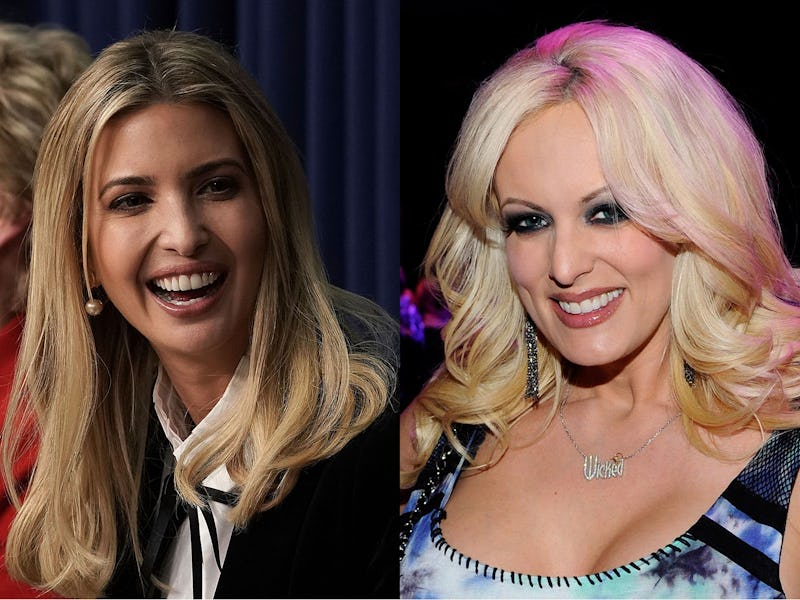 Alex Wong/Getty Images News/Getty Images; Ethan Miller/Getty Images Entertainment/Getty Images
In Touch magazine reportedly is set to release a 5,500 word interview with adult film star Stormy Daniels this week, the highlight (or lowlight) of which appears to be that Daniels claims Trump compared her to his daughter during a sexual affair that the two allegedly had back in 2006. The affair allegedly took place the year after Trump's marriage to his wife Melania, and just months after the birth of Trump's youngest son, Barron.
In the final weeks of the 2016 presidential campaign, Donald Trump's attorney, Michael Cohen, reportedly paid Daniels $130,000 in exchange for her silence about the affair. President Trump, through Cohen, denied having an affair with Daniels, and Cohen also released a letter he said was from Daniels also denying that the affair took place. Now, it sounds like the world is going to learn a lot more about the story.
Given that the interview describes events that allegedly transpired in 2006, the daughter Daniels refers to is presumably Trump's eldest, Ivanka (his only other daughter, Tiffany, was a child at the time). The Daily Beast reported that the full interview between Daniels and In Touch includes that detail, which is already drawing a huge amount of attention and scrutiny.
"We had really good banter. He told me once that I was someone to be reckoned with, beautiful, smart, just like his daughter," Daniels told the magazine, as quoted by The Daily Beast. In Touch conducted the interview in 2011, five years prior to Daniels reportedly signing a nondisclosure agreement with Cohen.
The pair allegedly had sex at a hotel in Lake Tahoe, Nevada — and Daniels is not the only adult film star Trump allegedly hung around with at that time. During the 2016 presidential campaign, Jessica Drake claimed the president invited her to his Lake Tahoe hotel suite and kissed her without consent. Trump has aggressively denied all allegations of sexual misconduct against him, calling his many accusers "horrible, horrible liars."
It's somewhat surprising that the details of Daniels and Trump's alleged relationship took this long to be publicly revealed. Fox News, which has provided broadly favorable coverage of Trump, reportedly had Daniels' story prior to the 2016 election but declined to run it. (The head of head of Fox News digital, Ken LaCorte, wrote a piece detailing why the outlet decided not run Daniels' story.)
Slate's editor-in-chief Jacob Weisberg allegedly got the story from Daniels in the run-up to the election, too, but opted not to make it public because her account couldn't be independently verified.
To be clear, Daniels has not confirmed these reports since they've been made public. The interview In Touch is releasing was conducted back in 2011, prior to the reported nondisclosure agreement she reached in 2016. In a letter released by Cohen, Daniels says claims she had a sexual affair with Trump and was paid "hush money" are "not true."
"I recently became aware that certain news outlets are alleging I had a sexual and/or romantic affair with Donald Trump many, many, many years ago. I am stating with complete clarity that this is absolutely false," the letter says. "Rumors that I have received hush money from Donald Trump are completely false."
Reports suggest that Daniels told a different story to the magazine seven years ago, however. According to The Daily Beast, a source claims the full In Touch interview also includes salacious and highly personal details about the alleged affair, including "pillow talk," and "what he's like in bed." In other words, precisely the sort of things that few people, much less the president of the United States, would probably want released to the world.
Editor's note: This article has been updated to include Ken LaCorte's piece on why Fox News didn't run Daniels' story.