Here Are All The References & Lyrics About Calvin Harris On 'Reputation'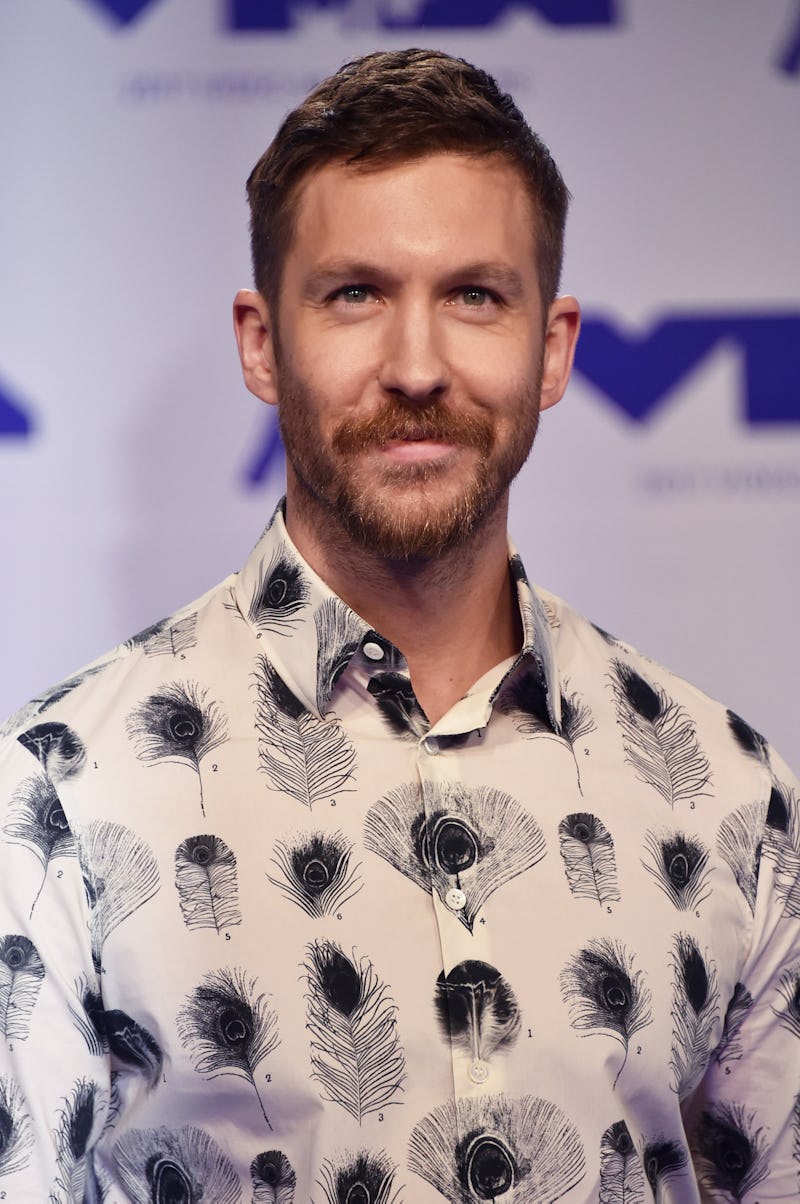 Frazer Harrison/Getty Images Entertainment/Getty Images
Well, it's officially time. After months of anticipation and skepticism alike, Taylor Swift's newest album, Reputation, has finally arrived. The record was released at midnight on Friday, Nov. 10, and already, fans are completely freaking out. Since this is a Swift album, the freak-outs aren't only about the quality of the songs or the nature of the record's release; they're also about the romantic interests Swift is possibly referencing in each track's lyrics. In addition to lines that seem to be about the singer's current boyfriend Joe Alwyn and her exes Tom Hiddleston and Harry Styles, there are plenty of Reputation references to and lyrics about Calvin Harris, whom Swift dated for about a year.
The fact that Swift would shout out Harris in the album is no surprise at all, considering that the singer has a long history of referencing past boyfriends and crushes in the lyrics of her songs. From "Dear John," rumored to be about John Mayer, to "Back to December," reportedly about Taylor Lautner, to "Call It What You Want," which many people think is about Swift's new love Alwyn, so many of the star's songs seem to note her past and present relationships. So, without further ado, here are all the references that seem to be about Harris on Reputation.
1. "Younger than my exes but he act like such a man, so"
In the album opener, "Ready For It," Swift sings this line about a new romantic interest. The person is apparently younger than her exes, and Alwyn is 26, while Harris is 33.
2. "If a man talks sh*t, then I owe him nothing / I don't regret it one bit, 'cause he had it coming"
This lyric in "End Game" could very well reference all the not-so-nice things Harris tweeted about Swift and her famous feuds after their relationship ended.
3. "I've been breakin' hearts a long time / Toyin' with them older guys"
Once again, the age of Swift's exes come into play (this time in "Don't Blame Me") and as said, Harris is older than most of the singer's other love interests have been.
4 "You should take it as a compliment / That I got drunk and made fun of the way you talk."
This "Gorgeous" lyric could very well could be about a number of Swift's current or past romantic interests, since Alwyn, Styles, and Hiddleston are all British, while Harris is Scottish, aka they all have accents. They're all contenders for this one.
5. "I got a boyfriend, he's older than us/ He's in the club doing I don't know what"
Harris is a DJ and producer, so...
6. All of "Getaway Car"
So much of this song seems to be about the tumultuous end to a relationship and Swift moving on fast with someone else, which seems to be what happened with her romance with Harris (she was spotted with Hiddleston shortly after the break-up). From I wanted to leave him / I needed a reason" to X marks the spot where we fell apart / He poisoned the well, I was lyin' to myself" to "Well, he was runnin' after us, I was screamin', "go, go, go!" / But with three of us, honey, it's a sideshow," many of these lyric seem to totally be about Harris and that relationship.
7. ... And all of "This Is Why We Can't Have Nice Things"
So much of this song seems to be about Harris. Swift sings, "Did you think I wouldn't hear all the things you said about me?" which seems like a reference to those infamous tweets. Then there are these lines: "It was so nice being friends again / There I was, giving you a second chance / But then you stabbed my back while shaking my hand." Harris and Swift reportedly were on good terms for a bit after their break-up, until those tweets and the ensuing controversy. Sure, these lyrics could be about Kanye West, but Harris is a definite possibility.
Only time will tell if Swift reveals if Harris truly is the person referenced in many of the songs on Reputation, or if the producer will respond on his own time.