Richard Madden Watching The Red Wedding From 'Game Of Thrones' Will Break Your Heart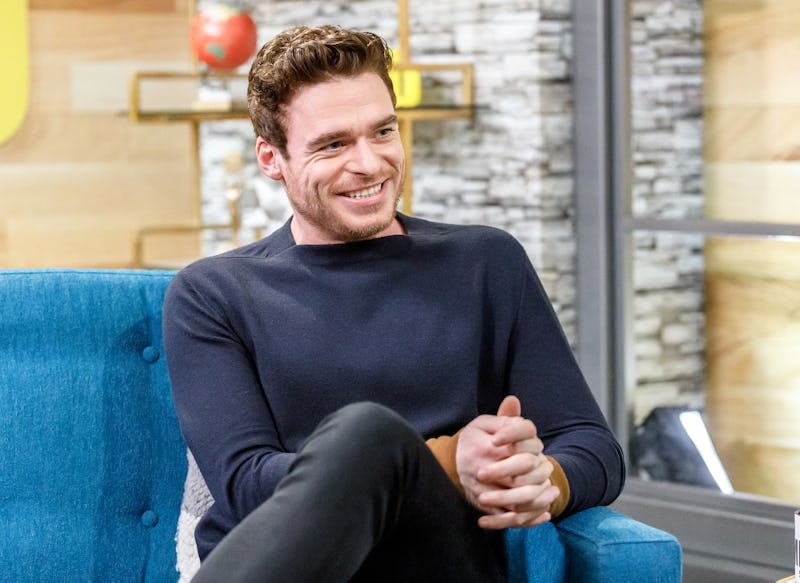 Rich Polk/Getty Images Entertainment/Getty Images
Before he was Prince Charming or a bodyguard, Richard Madden made a name for himself by portraying the King in the North, Robb Stark. And so British GQ cruelly, but oh-so brilliantly, made Madden rewatch the Red Wedding from Game Of Thrones. Spoilers obviously follow. The Bodyguard actor is on the cover of the U.K. version of GQ for its January/February 2019 edition and for his feature, Madden relived his Game of Thrones death all over again. It has been more than five years since the "The Rains of Castamere" aired, but as Madden's reaction shows, the blood is still fresh.
The penultimate episode of Game of Thrones Season 3 saw Robb, his pregnant wife Talisa (Oona Chaplin), and his mom Catelyn (Michelle Fairley) attending the wedding of Roslin Frey to Edmure Tully. But the nuptials memorably became a massacre when Walder Frey and Roose Bolton betrayed the Starks on behalf of the Lannisters and murdered them all. "I think it's really rude you've made me watch this," Madden quipped as he anxiously watched the scene. Madden's rewatch was the inaugural video for GQ's new video series Action Replay and the publication really couldn't have chosen a better TV moment to revisit.
Madden admitted he was nervous to watch the Red Wedding since last time he had done so, he had been with Fairley and they ended up crying. No tears were shed in this rewatch, but Madden did offer up plenty of trivia that some Game of Thrones fans may not have known or remembered. Like how the drummer for Coldplay, Will Champion, was the drummer in the band at the wedding. (You might have missed it because unlike another musician cameo, it was far subtler.) The band started playing the Lannister victory song, "The Rains of Castamere," which acted as an warning sign to Catelyn that bad things were coming.
And bad things did in fact come. Poor Madden cringed as he was forced to watch how Robb's wife and unborn child are killed. Another fun fact (or, morbid, depending on how you view it) is that the actor who stabs Talisa Stark in the belly — Tom Brooke — is also in Bodyguard with Madden. "This is quite an emotional sequence, I mean just as an actor to do, watching your unborn child be murdered and your wife slowly dying in your arms — not a comedy," Madden cheekily observed.
He also explained how all his blood that helps to give the Red Wedding its name came from a hydraulic pump placed over his chest. And if you need to remove fake "spurty blood" in a pinch? Madden suggested shaving foam.
Madden also recognized the acting ability of his on-screen mom. "Michelle Fairley is such a brilliant actress," he said. Then, after the Lannisters send their regards by stabbing Robb, Madden complimented that harrowing scream Catelyn gives after she watches her oldest son die. He then sat captivated as he viewed Fairley slit Walder Frey's wife's throat and stand in silence before she's murdered herself. "She's so good," he whispered to the camera.
The last insight Madden offered was how he quickly left his last-ever Game of Thrones scene to fly back home. As he explained in his GQ cover story, "I just don't like saying goodbye." So he didn't hang around after filming and boarded a plane in his blood-covered costume. "I remember being on this flight back to London, covered in fake blood, exhausted, and just sobbing very loudly on the plane and people looking at me quite strangely," he said in the video. "Cause it looks like I'd just murdered someone and got on a flight, which in fact I hadn't — I'd been murdered." Sure sounds like he could have used his shaving foam trick.
Like the rest of the world, Madden still watches Game of Thrones, but he said, "I kind of forget I was in it now." However, he may be the only one since the Red Wedding was truly unforgettable. And since Robb's half-brother (but really cousin) Jon Snow has taken up the mantle of King in the North, it feels right to rewatch how that all came to pass. Because the King in the North always has a way of capturing — and then breaking — Game of Thrones fans' hearts. And viewers should expect the outcome of the series in spring 2019 to be no different.