Here's What Rihanna Was Really Doing During The AMAs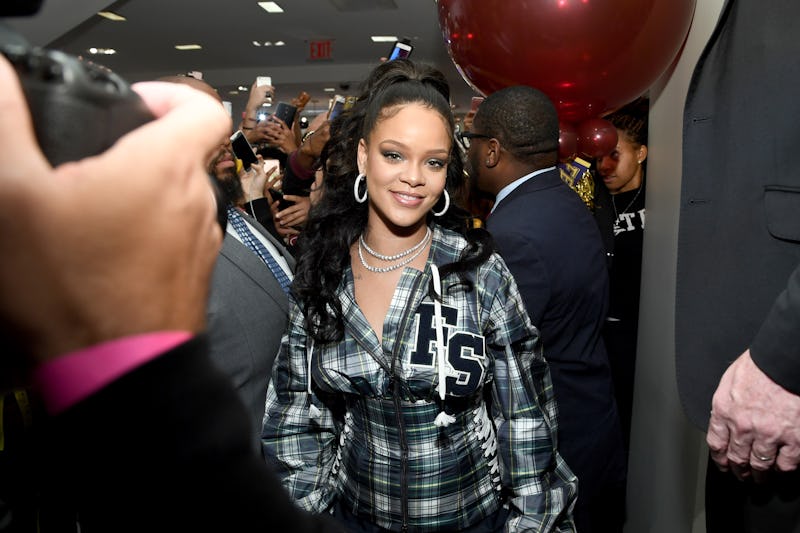 Dimitrios Kambouris/Getty Images Entertainment/Getty Images
Rihanna is no stranger to blowing off red carpets and major events. She was a no-show at the 2016 American Music Awards and red carpet, but she made up for it with her epic two-piece gown at the 2017 Grammys. The singer and Puma Creative Director is nominated for two 2017 AMAs, so we expected her to make an appearance, rocking an unexpected and unpredictable ensemble or perhaps something from her latest university-themed Puma x Fenty fashion collection.
However, Rihanna skipped the red carpet and the ceremony, electing not to grace us with her sartorial presence. She did tease us a little, though. Rih posted a photo to her Instagram, rocking super long and pitch black hair and statement, Old Hollywood, crimson lips, which were no doubt the work of her soon-to-be-released Fenty Beauty Stunna Lip Paint.
A major music industry awards show would certainly present the perfect opportunity to show off her beauty brand's latest "must own" product, which drops in a few days. But alas, twas not to be!
In the image, Rih was also rocking iridescent eyes, which were a soft contrast to those statement scarlet lips. She didn't post a caption nor did she share any information about her location, keeping us guessing if she would be turning up at the ceremony.
She looked as though she were getting glammed up for an appearance.
But then again, she's Rihanna and she does whatever she wants. Here's the Insta image featuring Rihanna and her "look at me!" lips that had us thinking and hoping Rihanna would be hitting the AMAs. Her necklace and earrings also seemed like the right accessories for getting dressed up to go out and turn heads of fans and peers.
Stunna is a seriously anticipated product. The blood-red color is so "Wow!"-inducing. The cap also mimics the shape of a stiletto.
Rihanna also posted a photo of the ruby red custom Alaia gown that she wore to the 2013 Grammys. She was paying homage to designer Azzedine Alaia, who passed away this week. That post had fans and fashion watchers wondering if Rihanna would rock an Alaia gown to the AMAs in his honor.
Flashback to that dress on the person! It was totally breathtaking. Rihanna also slayed a matching and equaly epic red lip. Perhaps this was the inspo, however direct or indirect, for Stunna. You never know.
Rihanna's last AMAs appearance was in 2015. She made headlines at the time for wearing a doobie wrap on her head, paired with her sexy, see-through black gown.
As of late, RiRi's Instagram feed has been full of promotional posts that tout her upcoming product launches, from Stunna to her latest line of Stance socks, as well as her various Puma pieces. Her page is devoid of much else, like images of her partying on yachts or in exotic locales with her pals. She hasn't shared too much about where she is or what she is doing and her feed is decidedly less personal and less revelatory than it has been in the past.
While Rihanna decided not to attend to the 2017 AMAs, she took time out of her day to promote a product that both her fans aka "The Navy," and makeupistas are waiting impatiently for. The image further gives Fenty Beauty fanatics an idea of the texture, depth, and dimension of Stunna.
The post also further ups the anticipation and excitement over this launch. Yes, our fashion-loving hearts broke a little at the lack of a new Rihanna ensemble to gawk over. But she made up for it with a teaser of her latest makeup innovation so we'll take it.