This Alternative Rihanna Cover Is Everything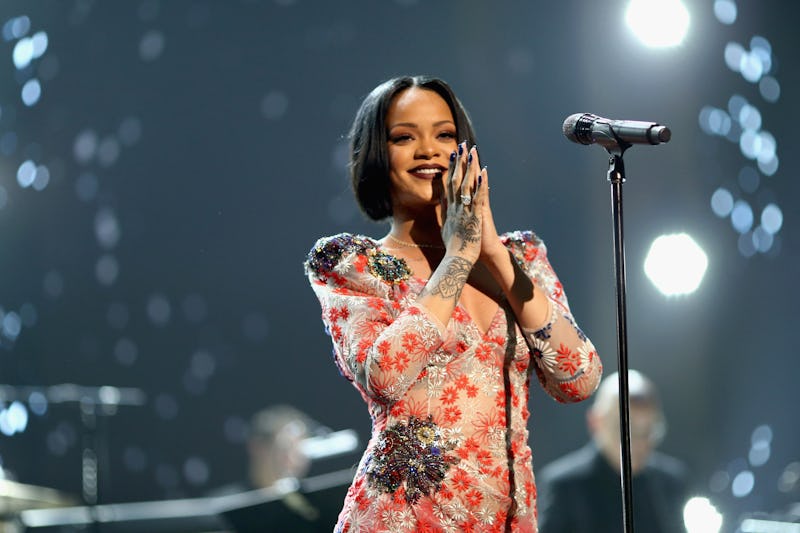 Christopher Polk/Getty Images Entertainment/Getty Images
I'm not a huge fan of alternative music. But, once I heard rockers Cold War Kids and Bishop Briggs cover Rihanna's "Love on the Brain," I felt compelled to share the song all over social media. Let's just say, I fell in love instantly. For starters, I'm obsessed with the ballad, but mainly because it sounds way better live than on the studio album. Rihanna proved this to be true when she belted the track for all of MTV and Billboard Music Award viewers to see in 2016. And you can fight me if you disagree. With so much passion, the singer pretty much had me on the verge of tears. I could hear every bit of pain and emotion in her voice. And admittedly, when listening to more blues-y, rock tracks, that's exactly what I'd expect to hear from the vocalists as well. That's why Rihanna's "Love On The Brain" getting an alternative makeover is almost too perfect.
Apparently the members of Cold War Kids are just as obsessed with the Anti ballad as I am. In a statement provided to Entertainment Weekly, lead vocalist Nathan Willett said, "I have stayed up all night watching a hundred YouTube live versions of Rihanna singing this song." And for their studio cover, they wanted to do something a little different. The group paired up with "Wild Horses" singer Bishop Briggs to give a tug-of-war type spin on the 2016 track, and it's literally music to my ears.
The group debuted the powerful version first in an unaired performance on Jimmy Kimmel Live with a bunch of lucky audience members earlier this month. And just like their intimate, live-in-studio performance, it is pure magic.
But, the fun doesn't just stop there for the musicians. Willet has high aspirations for future collaborations with Bishop, and explained just what he's envisioning to EW. He said, "I would love to do a whole duet record of covers with Bishop someday — Lee Hazlewood-Nancy Sinatra style." All I can say to this is "yes, please."
With this cover, Bishop Briggs and Cold War Kids just created a new fan out of me.