Rita Ora's Reaction To Avicii's Death Is SO Moving & Heartbreaking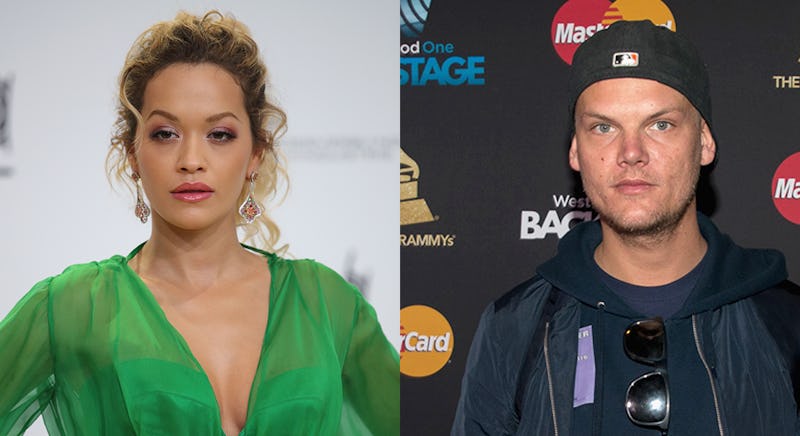 Andreas Rentz/Getty Images Entertainment/Getty Images; Christopher Polk/Getty Images Entertainment/Getty Images
On Friday, April 20, it was reported that Tim Bergling, aka Avicii, was found dead. He was 28. After the news broke, the artist featured on what ended up being the beloved Swedish DJ's final single expressed her grief on Twitter. Pop singer Rita Ora tweeted a moving tribute to Avicii after the tragic news surfaced. She wrote,
"I have no words. I remember how amazing it was to make Lonely Together and it felt like just yesterday we were talking. Condolences to Avicii's family, friends, and the fans who supported him. May he rest in peace. Gone too soon. I'm devastated. Heartbroken."
The cause of Avicii's death is not yet known. His publicist, Diana Baron, released the following statement regarding his passing to Billboard:
"It is with profound sorrow that we announce the loss of Tim Bergling, also known as Avicii. He was found dead in Muscat, Oman this Friday afternoon local time, April 20th. The family is devastated and we ask everyone to please respect their need for privacy in this difficult time. No further statements will be given."
Ora and Avicii joined musical forces for 2017 song "Lonely Together." The terrific track was the second single off of Avicii's EP, Avīci (01), and it would end up being the last single he released before his death. After the EP dropped on Aug. 10, 2017, "Lonely Together" made TIME's weekly must-listen list. The publication celebrated the single's "strong, pared-back melody," "irresistible EDM drop," and Ora's "distinctive pop vocal." That same week, MTV UK called Avicii and Ora's collaboration "a gorgeous synth-pop banger with the kind of sing-along chorus that's made for screaming at the top of your lungs on the dance floor." No truer words.
Avicii burst onto the top 40 scene in 2011 with his smash tune, "Levels." From that moment on, it was one Avicii hit after another. He gifted audiences with jams like "Wake Me Up" featuring Aloe Blacc, "Hey Brother" featuring Dan Tyminski, "I Could Be the One" featuring Nicky Romero, "Waiting For Love," "Silhouettes," and, as previously mentioned, "Lonely Together" featuring Rita Ora.
In 2016, Avicii announced via a letter on his website that he would be retiring from touring. He wrote (h/t Rolling Stone),
"Two weeks ago, I took the time to drive across the U.S. with my friends and team, to just look and see and think about things in a new way. It really helped me realize that I needed to make the change that I'd been struggling with for a while.
My choices and career have never been driven by material things, although I'm grateful for all the opportunities and comforts my success has availed me. I know I am blessed to be able to travel all around the world and perform, but I have too little left for the life of a real person behind the artist.
I will however never let go of music - I will continue to speak to my fans through it, but I've decided this 2016 run will be my last tour and last shows. Let's make them go out with a bang!"
In the years leading up to this decision, he suffered a number of serious health issues. He ended up in the hospital in 2012 for 11 days for acute pancreatitis, which was reportedly caused by excessive drinking. In 2014, he had to have both his gallbladder and his appendix removed. After the operation, he jumped right back into performing.
However, several months later, Billboard reported that Avicii had cancelled the rest of his tour dates due to concerns regarding his health. Two years after that, he ultimately decided to stop touring altogether. After he posted his retirement letter in 2016, he told The Hollywood Reporter,
"To me it was something I had to do for my health. The scene was not for me. It was not the shows and not the music. It was always the other stuff surrounding it that never came naturally to me. All the other parts of being an artist. I'm more of an introverted person in general. It was always very hard for me. I took on board too much negative energy, I think."
In what is now an especially heartbreaking interview from August 2017, Avicii spoke to BBC Radio 1's Pete Tong about his post-tour life. According to Billboard, he told Tong,
"This is the first year I felt like I've been able to kind of live normally for the first time in eight years or something. So it's been really cool to have a year off."
Avicii was a great artist who was loved by so many. He will be missed.