These 'Riverdale' Clues & Spoilers From The Cast Will Get You So SO Ready For Season 3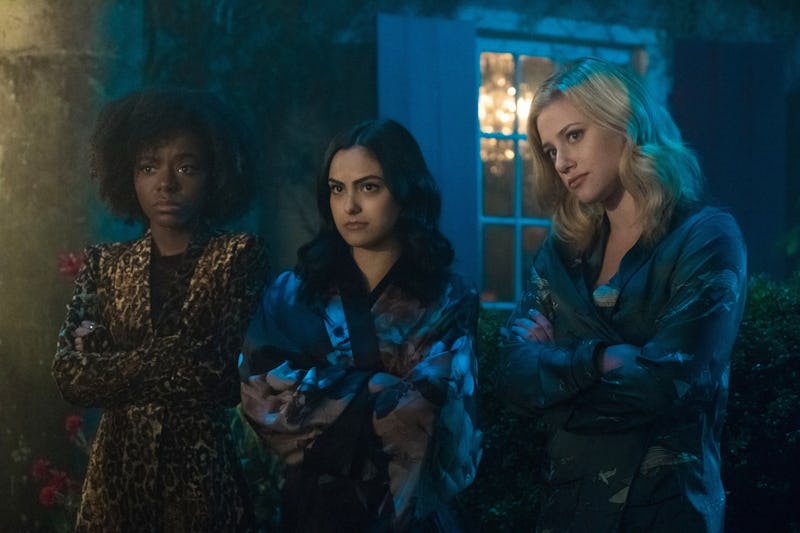 Dean Buscher/The CW
Ever since the jarring finale of the CW's flagship series, fans have been anxious for Riverdale Season 3 clues and spoilers. The season ended with more than a few giant twists: Archie is arrested for murder thanks to Hiram Lodge's scheming, Hiram's evil plan seems to be on its way to fruition, Cheryl officially becomes a Serpent while Betty tells Jughead she wants to join, Veronica makes plans to open a speakeasy under Pop's diner, and Fred Andrews shares an extremely charged handshake with Veronica Lodge after she defeats him in the mayoral race.
Now, as we head into Season 3, the gang is trying to enjoy one last fun moment of summer, on Labor Day weekend. As we saw in the Riverdale Comic-Con trailer, the previous summer days have been pretty grueling (I imagine Archie going from arrested to free and piloting a jalopy has something to do with it). But this is Riverdale, and in this town, nothing ever stays idyllic and calm. Someone's always in danger, and as the final moments of the trailer teases, things are about to get extremely creepy all over again.
But there's a lot in this upcoming season, and to help us make wildly uneducated guesses about it all, is the cast and crew, who spoke to Bustle at San Diego Comic-Con about what might be coming down the pike for everyone's favorite teens — and their parents.
Jughead's Life Is Not Going To Get Any Easier
"For Jughead, his mother and his sister are coming back into town, which is gonna breed discontent between him and his leadership of the serpents and much of that. But otherwise we're still kind of in the dark for most of it," says Cole Sprouse, who does his best to tease what he knows. The cast and crew have only completed a single episode when we speak, which means that we're probably going to get a pretty early glimpse at the rest of the Jones family when the season starts up.
The Love Triangle Will Always Be Around — Sorry, Bughead Stans
"Look, the very core of Archie comics is that love triangle, that's the core of the show. I wanna be very careful with what I say because Bughead fans are very passionate and I don't want them yelling at me on Twitter so I will be very careful, but there is that connection that Archie and Betty have from growing up, there's always, I think, there's a very special place that they both hold in their heart for each other," says Riverdale executive producer, Sarah Schecter. "And timing is everything."
OK, so she didn't say explicitly that there is a time and a place for Archie and Betty, but she also didn't say there wasn't a time and a place for them. And while I stan Bughead as much as the rest of you, this show is also a soap, and it's a rule in soaps that the OTP has to get broken up a few times before they live happily ever after.
Moose & Kevin Are SO On
"He's got a new boyfriend," teases actor Casey Cott, who plays Kevin Keller. Upon further pressing he spills the details: "It's Moose. It's just Moose." And now we can all breathe a sigh of relief that all that waiting isn't going to be ruined by some new kid in town that Kev met over the summer. (We've all been burned like that by teen shows before, OK?)
Josie Will Finally Get A Lot More Screen Time
"We have some very exciting plans for Josie this year. There's a new set that will allow Josie a lot more singing, which I think we all want more of," offers Schechter. "If you're a Josie fan this season you'll be very pleased."
That set is very clearly Veronica's new speakeasy in the basement of Pop's, which she now owns. It's something Josie actress Ashleigh Murray was more than happy to share, adding that Josie will also be "working on her sound" this year. So we probably shouldn't expect the Pussycats to let her back in anytime soon, I'm guessing?
Fred & Hermione Might Be A Thing Again. Maybe.
"We built that relationship up so much in the first season, and then it's kind of been away, because you know, [gestures towards Hiram actor Mark Consuelos], but I don't think that's gonna end," says Marisol Nichols, who plays Hermione Lodge, referring to the extremely sexual handshake (it's a thing now, thanks to Riverdale) between her and Fred Andrews in the Season 2 finale. "We're not done, or obviously we wouldn't have that handshake. But how that's gonna play out or what that relationship will be, we'll have to see, but I don't think we're done with that yet."
Fans who live for parental drama on this show (present!), go ahead and squee.
Cheryl Won't Be A Serpent The Way Everyone Else Is A Serpent
"Her through-line for me has always been that she needs to be loved and she needs to be supported and she's never really had a family base. So for me this feels like the first time of having a familial base more than anything else," says actor Madelaine Petsch. "I don't think for her it's a gang thing, even though maybe it should be and it will become that, but right now it's more of about having a unit think more than anything."
And you know, after seeing the downright cruel things that Cheryl was put through simply for living her truth and being herself in Season 2, this is a very, very welcome start to Season 3.
Things Will Continue To Be Dark AF, But Also More... Fun?
Petsch won't delve into why she thinks so, but offers up that the new season will be "ominous but also younger."
"Season 1 was very relationship and school [related] and then Season 2 became very familial. Season 3 is going back to the basics of Season 1, where we're working on their relationships," she explains. "The integral mystery involves the kids, all of them intertwined, it's gonna be much more ominous but also much more fun. I don't know if those things really go together but it feels like that when you shoot it."
Sprouse offers some insight into what might make the season feel more fun. "I know [showrunner Roberto Aguirre-Sacasa], at least in these first two episodes we're working on, is making a much more conscious effort for us all to be together in the storylines we're working on, as opposed to being so A side, B Side, this is Archie and Veronica, this is that team up, and this is this team up. It's going to be a much more of an ensemble."
I'm not totally sure what this all means, but having the whole gang back together does make me extra eager to finally watch Season 3.
And Yeah, That Was A Cult At The End Of The Comic-Con Trailer
Sprouse says that while Season 1 was a murder mystery, Season 2A was a horror story, and Season 2B was a crime drama, Season 3 is going into new territory. "This season is, as of now — it's hard to pin down exactly what is it — but it's looking like a cult narrative is going to be sort of the overarching theme, or sort of bubbling underneath," he says. Oh great. More nightmares.
Of course, those who've paused on the end of the trailer numerous times by now know that the all-white clothing and baby-raising at the end very clearly includes Polly Cooper. We also know she joined a collective called The Farm and has generally had a creepy, cultish vibe about her ever since. I'm guessing that's going to be important. Just a thought.