If You Love RMS Beauty, You'll Love Their New Full Coverage Lipsticks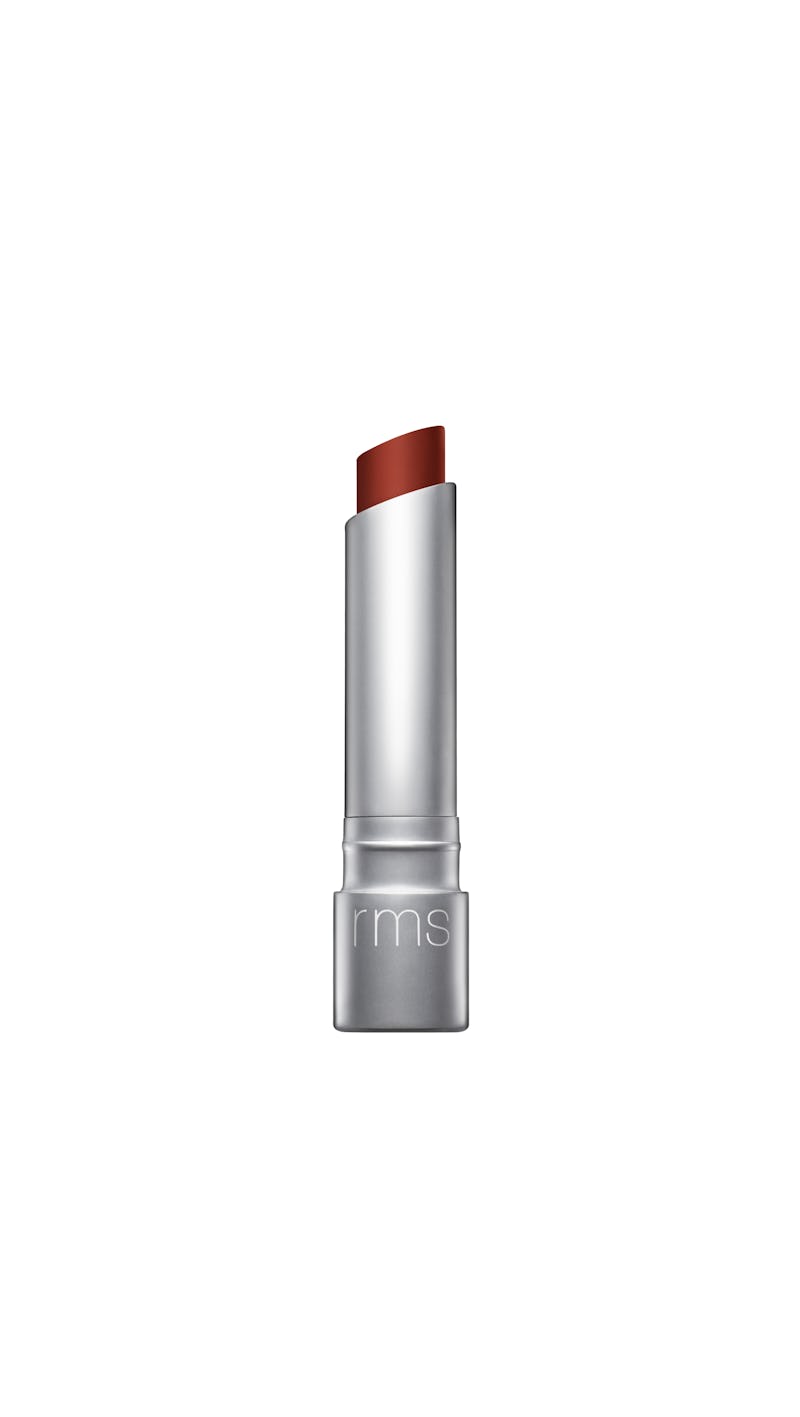 Courtesy of RMS Beauty
When it comes to lippies, finding a full coverage lipstick that is also made of natural ingredients can be a feat. Of course, tons of great brands are cruelty-free, but that doesn't mean that your new favorite hue is natural. Thanks to RMS Beauty's Wild With Desire lipstick, however, you can officially get a full coverage, stunningly pigmented lipstick that won't make you concerned about chemicals or other unnatural ingredients.
RMS Beauty was founded by makeup artist Rose Marie Swift, and the brand holds natural, nourishing, and non-toxic products above all else. According to their website, RMS "is dedicated to transforming the way women use makeup, and it's about more than simply using organic ingredients. In fact, that's only the first step in creating a product that's not only non-toxic, but that actually heals and nourishes skin."
The brand goes on to explain on their website that while other brands use natural, organic ingredients, the way they're processed impacts how their able to nourish your skin and how those ingredients easily become altered. RMS doesn't do this, and they're not doing it with the Wild with Desire lipsticks.
The lipsticks are oil based and feature ingredients such as kaolin, castor oil, and beeswax that will all nourish your lips will providing gorgeous color.
RMS Wild With Desire Lipstick, $28, Amazon
The brand isn't just offering three or four shades, either. They're giving customer a ten color range from gorgeous reds to lavender hues.
RMS Wild With Desire Lipstick, $28, Amazon
However, if you want to shop RMS Beauty's Wild with Desire lipsticks, you'll have to wait a bit. The lipsticks aren't set to launch until Oct. 24.
RMS Wild With Desire Lipstick, $28, Amazon
If you love natural, organic products and full coverage beauty, RMS Beauty's Wild With Desire lipstick is going to be your new must-have lippie.
Why make natural beauty a part of your life, though? Does it really matter? The truth is that if you're health conscious, beauty can be more than seeking cruelty free products. While the transition to natural beauty can be challenging, it's worth it.
RMS Beauty explains that when you change your beauty routine to natural and organic products, you're moving all of your beauty routine to non-toxic products. Not only do your products become non-toxic, but with RMS, the ingredients inside retain all of their nourishing and beneficial products. The brand does not alter the ingredients through processing. On their site, RMS says the products, "are formulated with raw, food grade and organic ingredients in their natural state, allowing their living, healing attributes to penetrate and rejuvenate the skin. In their purest form, enzymes, vitamins, antioxidants and their healing properties remain fully intact, encouraging amazing potential for anti-aging effects."
In good news, if you are interested in natural beauty, the market is growing. According to a Nielsen 2015 study, natural beauty grew by 24 percent in the beauty market and 53 percent of participants factoring in natural attributes into the purchasing decisions. With a growing number of seeking natural beauty, RMS's Wild with Desire lipsticks present both a way in which to begin to switch over your favorite products and way to keep the gorgeous pigment you're accustomed to.
What other products can you snag from RMS Beauty, though?
Cream Eye Polish
RMS Cream Eye Polish, $28, Amazon
These moisturizing, pigmented polishes are a great choice.
Lip Shine
RMS Lip Shine, $25, Amazon
Nourish your lips with this shiny gloss.
Mascara
RMS Mascara, $28, Amazon
Think mascara can't be natural? Think again. This volumizing formula should definitely be on your list.
If you want to expand your collection of natural beauty products, RMS Beauty's Wild with Desire lipsticks are a great place to start, but clearly, they aren't the only place. Now, it's just time to go shopping.