Here's Where You Can FINALLY Listen To The Full Version Of Robyn's Long-Awaited Song "Honey"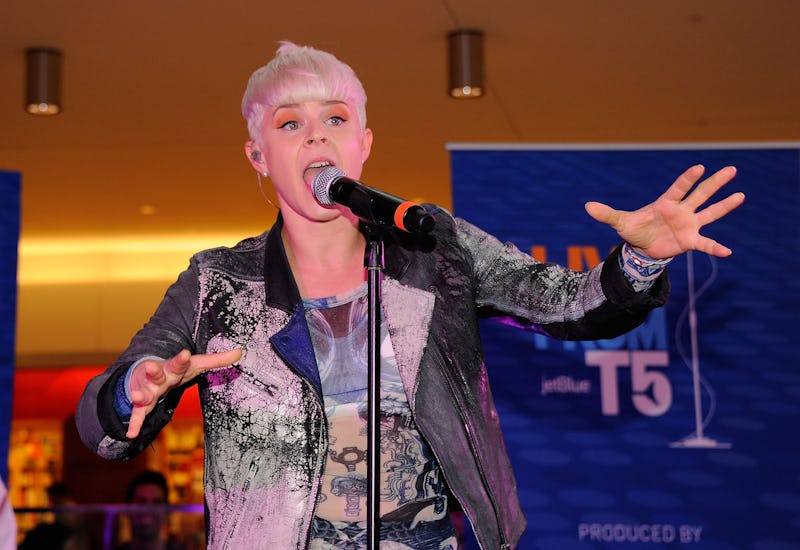 Andrew H. Walker/Getty Images Entertainment/Getty Images
It's the thing that literally everyone has been waiting for: New music from Robyn. And Robyn's song "Honey" was finally just released in its entirety, and there's no question it's about to rescue everyone's week from the depths of despair. Because seriously, how can anyone go online these days without wanting to scream until they close their computers? The antidote may just be this new song.
It's not the first glimpse that fans have had of Robyn's new music, but this is the first time she's released the song, unedited, since... ever. As Vulture points out, there was previously a snippet made available from the credits of the last season of Girls — and that makes sense, considering how prominently Robyn's songs have been used before — but it wasn't enough. Not that folks don't have love for the sound of Adam Driver's voice, but still.
In an age where every single news cycle seems terrible by design, having sweet, heartfelt, dance-pop music from a Swedish goddess is a relief that almost defies description. But "Honey" is here, finally, and it's ready for listeners to devour it.
So, with that in mind: Sit back, plug in your headphones, and turn the volume up to 11. Listen to the complete version of "Honey" below, and a slightly shorter version as well:
"Honey" is the second new song from Robyn this year. She dropped "Missing U" over the summer, and Twitter went wild for it. "Missing U" and "Honey" aside, the tracklist for Robyn's forthcoming album Honey hasn't been publicly released yet. That said, Vulture did note that the album includes "collaborations with Metronomy's Joseph Mount, Klas Alund, Kindess's Adam Bainbridge, Mr. Tophat, and Zhala". In other words, it should be full of exactly what the artist does best: Lovely, somewhat melancholy bangers you can dance to for days. Somewhere between her 2011 hit "Call Your Girlfriend" and Mitski's 2018 single "Nobody", it seems.
Also, until you read the complete lyrics to "Honey" on Genius, you'd be forgiven for not realizing how delightfully sexual the imagery is. Robyn is truly, finally back. Definitely take a five-minute dance break. You've earned it! The news is so terrible, and to keep up with any of it is escapable; Robyn's signature upbeat dance-pop is exactly what you need to buoy you for the rest of the week. Particularly for those who make a living by keeping up with every piece of news that hits the media. Fans needed this release, and Robyn generously bestowed it unto them.
Now, dance it out!
"Honey" is also the title track of her new album, Honey, which will drop on October 26. Per Entertainment Weekly, when Robyn made the announcement over the summer, she called it a "deeply personal album" that she was excited to share with fans. The singer also revealed that she had shared some of the music she was working on with Lena Dunham, who chose "Honey" in particular to close out the episode of Girls.
The October 26 release date means there are just a few weeks left until the first new full-length LP from Robyn in eight years. Start stretching now, because this winter is definitely about to be the dance party of a lifetime.