Rochelle Humes Is Embracing Her Natural Curls & We're So Here For It — Exclusive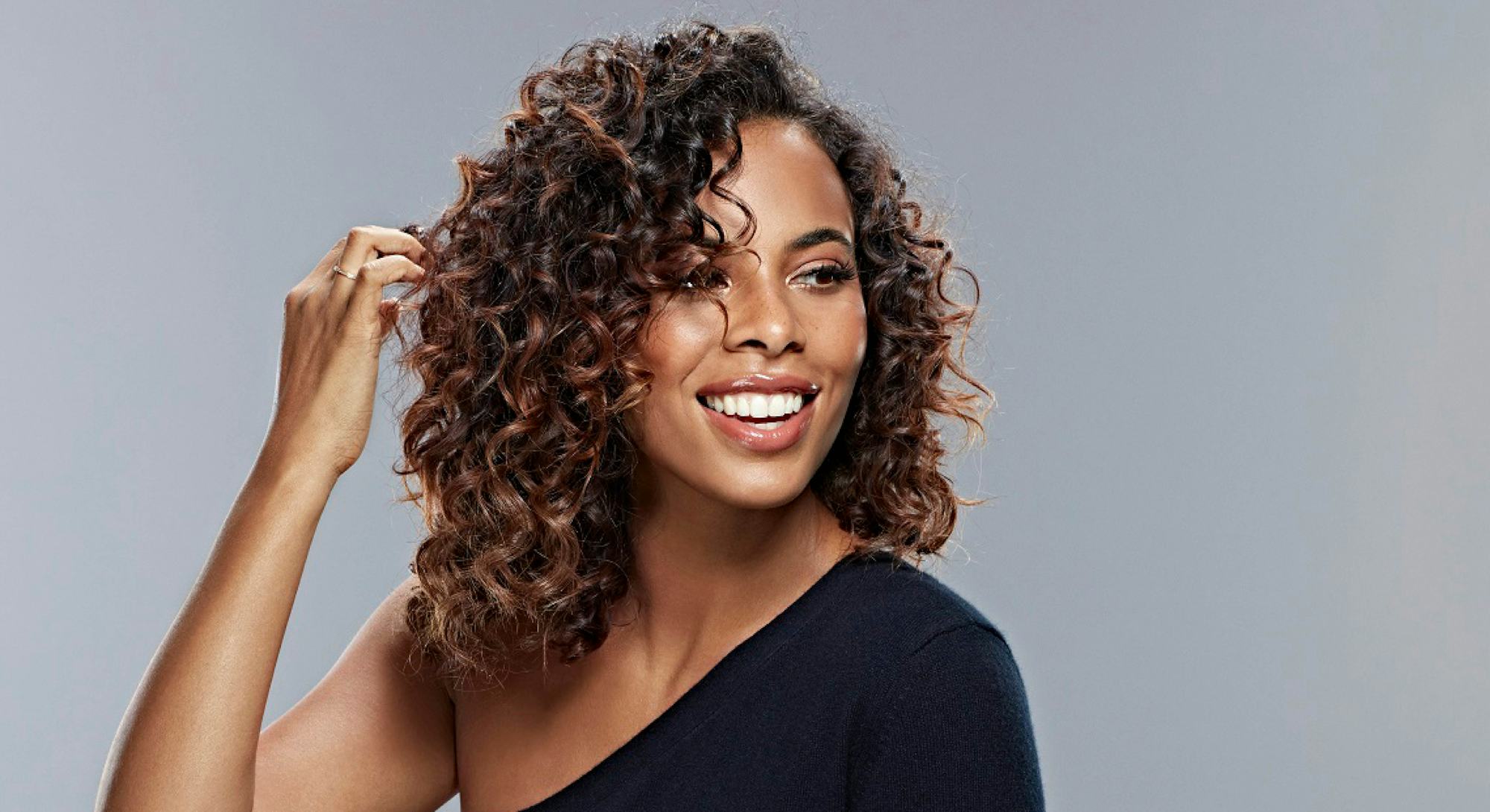 For presenter and former Saturdays singer Rochelle Humes, embracing her natural hair was a simple parenting choice. Curls Like Us, the curl positivity passion project which has now become a dedicated platform for curly hair with an Instagram page and website, started as a way to help her daughter feel good about her own hair. As Humes explains: "I think at the time I didn't even think of it beyond Alaia, I just thought that was my take on parenting at that time. 'Mummy has the same hair as you as well' and to embrace that... It's all well and good me saying there's not enough Disney princesses that represent [curly hair] or there's not this there's not that — look closer to home. If she's seeing me shy away from my natural hair then she's going to want to do the same."
Humes' singing career began with S Club Juniors, which she joined when she was just 12. But it was in pop group The Saturdays that she really found fame. Alongside band members Frankie Bridge, Una Healey, Mollie King, and Vanessa White, she had a string of top 10 singles and sold over 5 million records. Since the band went on hiatus in 2014, Humes has built a successful career as a TV presenter. As well as regular stints filling in for Lorraine Kelly on Lorraine, she hosts ITV gameshow Ninja Warrior UK with Chris Kamara and Ben Shephard. Since December last year, Humes has been working on Curls Like Us, a website and platform where she shares inspiration, tips, and tutorials for women and girls with curly hair.
Given that she's taken direct action to help provide her daughter and other young women with a more positive image of curly hair, it's perhaps surprising that Humes says she finds it "hard to give young girls advice." Rather than being dogmatic, she's keen that women feel free to experiment in their younger years, while hoping they eventually come to embrace themselves as they are. "Everyone goes through that sort of experimental phase and that's just life. And I wouldn't knock anyone for that because I did the same thing," she adds. "You wonder what you'll look like with curls, what you look like without curls. You always assume the grass is greener."
Humes continues: "But I think to just be comfortable in yourself. It's nice now in 2018, how everything is acceptable.
"You're not always going to look like your best friend [...] And you're not supposed to, because you're you and that's what makes you special. It's a hard thing but everyone is beautiful and everyone is individual and that's what makes the world amazing."
Her Curls Like Us work led to her appointment as an ambassador for John Frieda, working on their new curl positivity campaign. Humes hopes the partnership will help young women to feel inspired rather than limited by their curly hair. "I think that it's nice to see someone who's fronting a campaign who hasn't got straight hair," she explains. "Because that's what will inspire people to think, oh actually maybe I shouldn't look to that campaign because my hair's more like this. That's helpful. Hair really can affect people and how they feel in themselves."
Humes points to her teens as a period when she began developing anxieties about her own hair. The presenter joined S Club Juniors aged 11, and told me she'd be reluctant to let her daughter do the same. "Now if my little one comes to me at 11 [and asked to audition for a band] I'd be like no," she says. Instead, she wants her children to make the decision to put themselves in the public eye as adults, which is why you won't see pictures of her daughters' faces on social media.
During her own childhood, Humes' curly hair sometimes made her feel left out in groups of friends. "I'm not sure if it was a wanting to be more like my friends [...] all my friends would say, when we were getting ready to go out, 'I might get my hair done today,' 'I might get my hair blow dried,' or 'I might get my friend to blow dry my hair,'" she says. "I guess it was a conversation, something that I wasn't part of. [I wanted to feel] like I was getting ready as well, rather than just scrunching my hair and feeling like I looked the same as I did yesterday." She later began straightening her hair at 16, before abandoning the practice in December 2017.
"You assume when you're younger that curly hair limits you. It's not until it's put on a bigger platform, and you see other people and bloggers and influencers, that you think actually, there's a lot you can do with curly hair."
It's messages from users of her platform today that make her effort worth it. "[I get] people being like 'oh my goodness thanks for sharing this info' or saying 'I've shown my little girl this and told her your story and she now wants to wear her hair curly because she wants to look like the girls that you've featured.' Those sorts of messages [are the best]. I'm not getting anything out of doing it, I'm just doing it because I wish there was something when I first started doing this to my hair that I could read and find out the info on."
After it launched, the campaign was criticised on social media for not representing a sufficiently broad range of curly hair types. In the spectrum of black hair, Humes' would be considered a fairly loose curl, one that is much more visible in advertising campaigns than say a tight 4c. Humes is open about the fact the campaign can't speak to everyone's experience of curly hair and the many different hair types and textures under that umbrella. "I'm not trying to represent straight hair, or courser afro hair. I'm just trying to be me," she explains of the campaign. "And I think if people have similar hair to me then it's nice to see someone doing that.
"No two curls are the same there are so many different hair types and so many different curl types that it's hard to cover that... I'm not saying that what I'm doing will work for everyone but it definitely works for me and there's got to be people out there with my hair type."