Jaime Camil Teases What's Ahead For Rogelio & Rafael's Budding 'Jane The Virgin' Friendship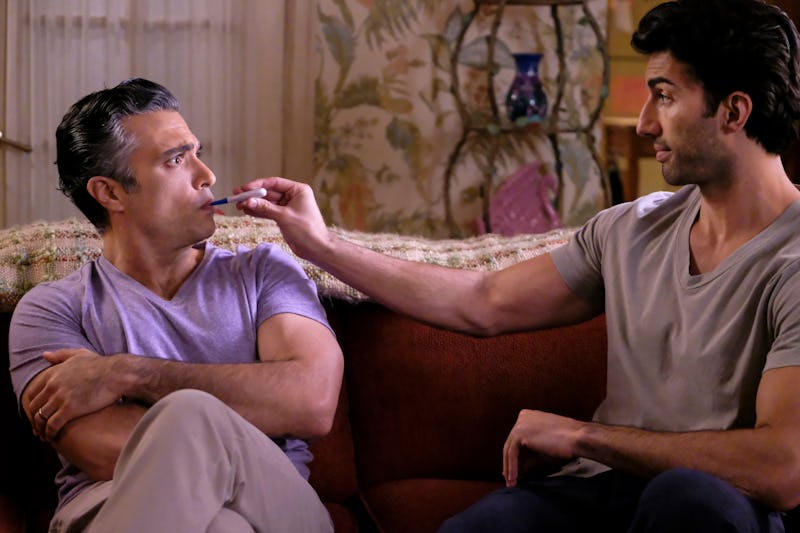 Patrick Wymore/The CW
A lot went down during the Season 4 midseason finale, but Rogelio and Rafael's friendship on Jane the Virgin is one development that needs to be discussed. Though their relationship has been nowhere as close as Rogelio and Michael's, it seems that the telenovela star (played by Jaime Camil) is warming up to his daughter's love interest and the father of his grandson. While chatting with Bustle last week, Camil discussed Rogelio and Rafael's slow-building bond.
"It was only touched on in [the midseason finale] a little bit," Camil says, before adding that since the show hasn't taped many episodes beyond that one, and there haven't been many Rogelio-Rafael scenes, their friendship may take a little bit longer to develop.
"You know, Jennie [Snyder] Urman, our showrunner, she's brilliant at developing the stories of the principal characters, but there are a lot of principal characters," he says. "So, sometimes, we might tap into something, like, 'Oh, yeah, Rogelio's going to be friends with Rafael', but then over three or four or five episodes you need to develop the other story lines in the show. So, that will probably put that relationship on pause."
However, that doesn't mean these two "devastatingly good-looking [men]," as Camil puts it, won't ever develop a stronger friendship similar to what Rogelio once had with Michael — it just seems like it will take time.
As it was showcased in the midseason finale, not only did Rafael help take care of Rogelio while he was sick, but he also gave Jane's dad some helpful advice about his current marriage troubles with Xiomara. Furthermore, Rogelio even broached the topic of Jane and Rafael's possible future as a couple. For Rogelio to even discuss that with Rafael, the man who he initially saw as a "ladies man", was huge. They've taken major strides in their relationship.
While Rafael and Rogelio may butt heads, it's likely because they have more in common than they both would like to admit, including how they once played the field. They've also both grown and matured a lot individually — in relationships and as fathers. Now that Rogelio is a dad both to Jane and Baby, the way he views Rafael will probably shift, Camil says.
"I think, eventually, [Rogelio] will understand that Rafael is Mateo's dad and he needs to be around and he's changing," the actor explains. "He's becoming a more responsible guy, not so much of playboy, and, of course, eventually that's going to surface in Rogelio's heart for Rafael."
It would be a positive move for Rogelio to take even more of a liking to Rafael, especially since there's a high chance he could reunite with Jane sooner rather than later. Jane and Rafael kissed at the end of this season's fall finale and, according to Camil, their heated smooch will not be glossed over. First of all, he wants everyone to know that "the kiss wasn't a fantasy." If you're shipping Jane and Rafael, you can rest easy in knowing the narrator will not dash your hopes by revealing it was only a dream — they really kissed.
Where Jane and Rafael go from there will be addressed in upcoming episodes. "It's funny, because the episode we're about to shoot, there's a line where Jane and Rafael are discussing with the family what's going to happen, what the dynamic will be," Camil teases. He also says that "everybody has an opinion" about Jane and Rafael's relationship, especially Rogelio, but Jane, obviously, shuts them down.
"It's going to get complicated with Jane and Rafael when it comes to Mateo's dynamic," Camil adds. "That's something they're going to be exploring in the future." He also says Jane and Rafael's possible romance is a story that's being developed right now by Urman and the writers, making it sound like their relationship is a primary focus.
"I think we have read like two episodes or three after the one you saw," he explains. "Jennie Urman and her amazing writers, they're still in the process of addressing Jane and Rafael [and] if they're going to get back together, or no, or yes, or how they're going to do it with Mateo, is this good for Mateo or not?"
And for those looking forward to more from Rogelio, Camil says that something exciting will happen for his character. "Let's say that a new character is going to be introduced that is going to make Rogelio's life amazingly complex, amazingly rich, and it's going to bring a lot to the show," he coyly reveals. "On a personal level, I am extremely honored and humbled and extremely happy that this is gonna happen."
Unfortunately, he couldn't elaborate further, but it certainly sounds like the rest of Season 4 will be filled with exciting new friendships, romance, and mystery when it returns on January 26, 2018.