Rogelio Still Misses Michael On 'Jane The Virgin'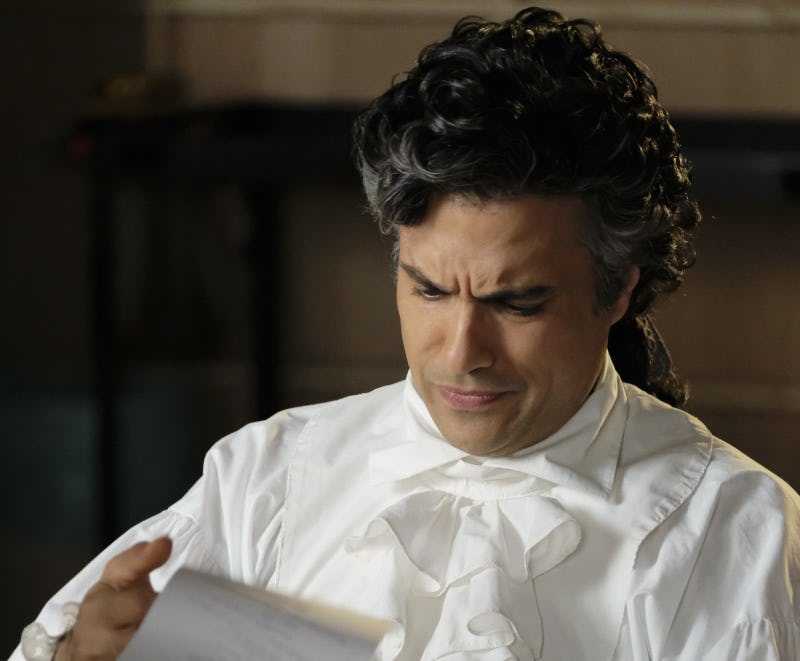 Tyler Golden/The CW
While Rogelio's feelings toward Fabian started with him seemingly just being resentful toward the younger actor on his new telenovela, Ro's feelings are much deeper than animosity. During "Chapter 60," Rogelio reveals he is still sad about Michael's death on Jane the Virgin. Although the series has focused on Jane's grief since her husband died three years and six episodes ago, Jane the Virgin hasn't shown the other characters dealing with the loss as much. As Rogelio and Michael were friends on Jane the Virgin, it only makes sense that Jane's father would be grieving too and the April 24 addresses that in a truly teary moment.
Rogelio is characteristically threatened by his new costar Fabian in "Chapter 60," but something else is upsetting him. I feared Rogelio was sick or something when he turned down manicures with Fabian, but while the reason for Rogelio skipping one of his favorite activities is less dramatic, it is far more real. Rogelio opens up to Xo and explains how he still misses his best friend — Michael. With Jane dating Fabian and Fabian trying to get closer to him, Rogelio doesn't want to feel like he's replacing his brogelio. Whenever Rogelio shows genuine emotions, it's always particularly painful and Jaime Camil's performance as Rogelio reminisced about Michael had fans in tears.
Although Michael may have sometimes been a bit of a reluctant participant in the friendship that was his and Rogelio's, these men did genuinely love each other. And considering how in touch with his own emotions Rogelio is, he is bound to miss his best friend every day.
Yet, Rogelio is also kind enough to know that he can't tell Jane how he is feeling about Michael's death and her relationship with Fabian. And so while Jane is worried that she's forgetting about Michael as she moves on to another stage of grief, Rogelio goes back a step with Fabian being introduced into their lives.
It's just another example of how Jane the Virgin continues to realistically capture what losing a loved one is really like, as the show leads its audience through their own stages of grief with candid and touching moments like this one.