Rosario Dawson Just Confirmed That She's Cory Booker's "Boo"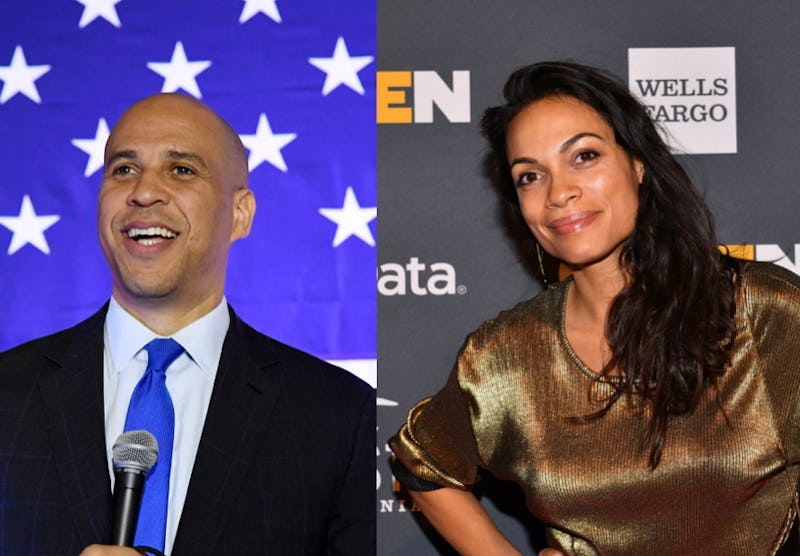 Ethan Miller/Getty Images News; Dia Dipasupil/Getty Images Entertainment/Getty Images
The rumors are true: According to TMZ, Rosario Dawson and Cory Booker are dating. The actress confirmed their relationship with the New Jersey senator and Democratic presidential candidate in a brief interview at Reagan National Airport in Washington D.C., TMZ reports.
"Yes, very much so," Dawson said when asked if she and the senator were in a relationship. "He's a wonderful human being. It's good to spend some time together when we can." When asked how their relationship has been going, Dawson replied, "So far, so wonderful."
Booker's relationship status has been a topic of conversation in political circles ever since he declared his candidacy for the presidency, and not only because of the rumors that he's romantically involved with Dawson. Unlike the vast majority of presidential candidates, Booker isn't married, and if elected, he'd be the first unmarried person to win the presidency since Grover Cleveland's 1884 triumph over James G. Blaine. In an interview with The Philadelphia Inquirer, Booker said that this doesn't worry him.
"Clearly, the norms of family relationships have been changed dramatically, as you've seen people across this country being elected to offices with all different kinds of family situations, including the president who has had three spouses," Booker said. "So I think a lot of that conventional thought on that doesn't apply."
Booker and Dawson were rumored to be dating long before the Sin City actress's comments on Thursday. The speculation kicked off in January, when E! reported that the two were seen attending a Broadway show together with their families. Dawson was heard serenading Booker at that show, according to Page Six, and the two were reportedly spotted seeing a movie together as well. Booker added fuel to the rumor mill when, in February, he confirmed that he's "got a boo" — but wouldn't identify the boo in question.
Dawson is an activist as well as an actress. She co-founded Voto Latino, a nonprofit devoted to empowering Latinx Americans who want to be politically active, and was arrested in 2016 while protesting money in politics in Washington D.C. She endorsed Bernie Sanders during the 2016 election — a notable fact, given that Sanders is now running against Booker for the 2020 Democratic nomination — before ultimately throwing her weight behind Green Party candidate Jill Stein in the general election.
During Booker's unsuccessful 2002 candidacy for mayor of Newark, allies of his opponent spread rumors that he was gay, NJ.com reports, and ever since then, Booker's sexual orientation has been the subject of speculation. When asked during his 2013 Senate race if he is gay, Booker didn't answer, explaining that his sexuality was irrelevant to his abilities as a politician.
"People who think I'm gay, some part of me thinks it's wonderful," Booker told The Washington Post, "because I want to challenge people on their homophobia. I love seeing on Twitter when someone says I'm gay, and I say, 'So what does it matter if I am? So be it.'"
After launching his presidential campaign five years later, though, Booker confirmed that he isn't gay, telling The Philadelphia Inquirer that "every candidate should run on their authentic self."
When asked by TMZ if she and Booker are planning on getting married anytime soon, Dawson dodged.
"I have no idea," she said. "I am just grateful to be with someone that I respect, and love, and admire so much, [who] is so brilliant, and kind, and caring, and loving."