Rose McGowan's Twitter Account Has Been Suspended & She's Fighting Back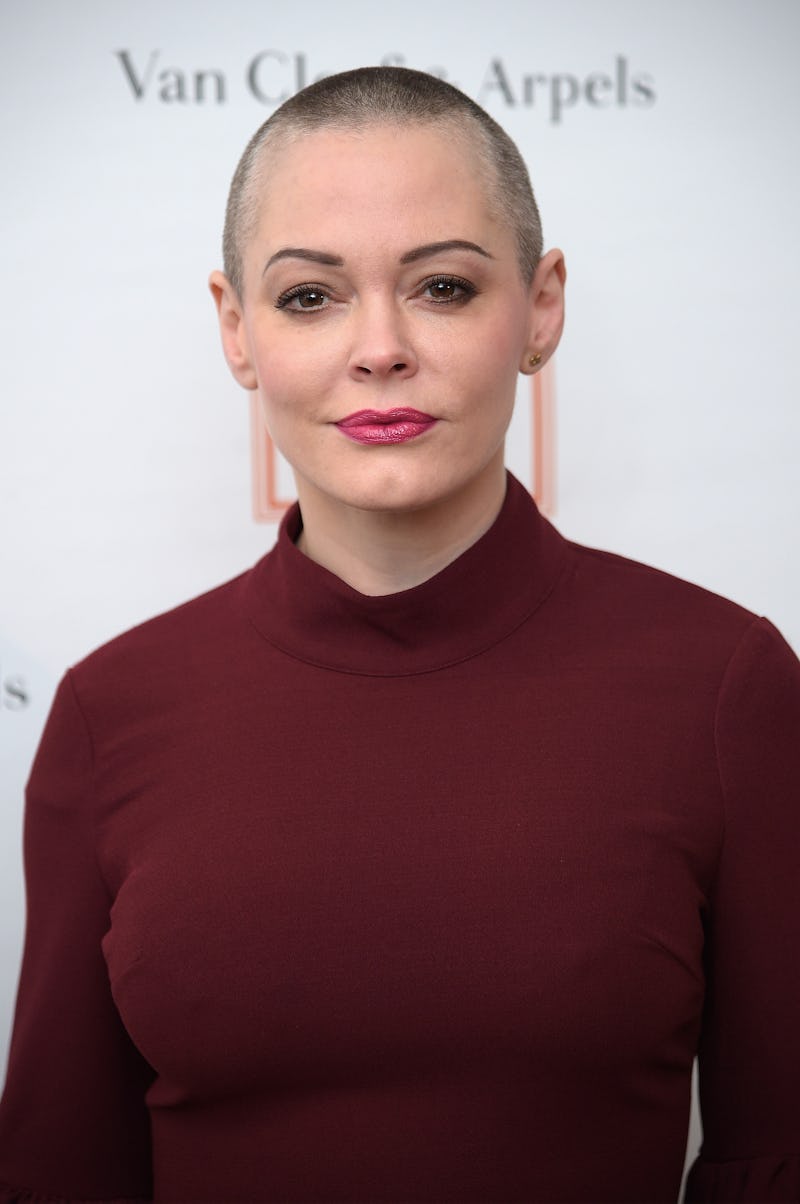 Dimitrios Kambouris/Getty Images Entertainment/Getty Images
On in the early hours of Thursday, Oct. 12, it was announced that Rose McGowan's Twitter account was suspended. The former Charmed star shared the news on Instagram and wrote, "TWITTER HAS SUSPENDED ME. THERE ARE POWERFUL FORCES AT WORK. BE MY VOICE. #ROSEARMY." According to the notice she received from the social media network, she "violated the Twitter Rules," resulting in her account being temporarily suspended. "Your account will be restored to full functionality in: 12 hours and 0 minutes," the alert she received also reads. If she wishes to regain access to her account more swiftly, Twitter suggested she delete the tweets violating its rules.
UPDATE: In a series of tweets, Twitter explained why McGowan's account was suspended and noted that it has now been unlocked. The tweets read:
We have been in touch with Ms. McGowan's team. We want to explain that her account was temporarily locked because one of her Tweets included a private phone number, which violates our Terms of Service. 1/3
The Tweet was removed and her account has been unlocked. We will be clearer about these policies and decisions in the future. 2/3
Twitter is proud to empower and support the voices on our platform, especially those that speak truth to power. We stand with the brave women and men who use Twitter to share their stories, and will work hard every day to improve our processes to protect those voices. 3/3
EARLIER: Bustle has reached out to Twitter and to McGowan for further comment, but did not receive a response at the time of publication.
It's unclear exactly why such action has been taken against McGowan's account, but the suspension comes on the heels of the actor tweeting about the sexual assault and harassment allegations brought against Harvey Weinstein reported by The New York Times on Oct. 5. She has refused to remain quiet, especially since, she, herself, is connected to the Weinstein allegations.
As described in the Times exposé, in 1997, Weinstein reportedly reached an undisclosed settlement with McGowan after an alleged hotel room incident that allegedly took place at the Sundance Film Festival. According to legal documents obtained by the Times, the settlement was "not to be construed as an admission" by Weinstein, but a way to "avoid litigation and buy peace." McGowan declined to comment to the Times, but soon after the newspaper's piece was released, she tweeted, "Women fight on. And to the men out there, stand up. We need you as allies. #bebrave."
Regarding the Times article, a statement from Weinstein was also released, which reads in part: "I appreciate the way I've behaved with colleagues in the past has caused a lot of pain, and I sincerely apologize for it. I realized some time ago that I needed to be a better person and my interactions with the people I work with have changed." In his statement, Weinstein didn't confirm or deny any of the allegations specifically. After the publication of the Times story, Weinstein was fired by The Weinstein Company and there were four other resignations from his all-male board.
Weinstein's lawyer, Charles Harder, told The Hollywood Reporter on Oct. 5 that his client would be suing the New York Times. "The New York Times published today a story that is saturated with false and defamatory statements about Harvey Weinstein," Harder wrote. "It relies on mostly hearsay accounts and a faulty report, apparently stolen from an employee personnel file, which has been debunked by nine different eyewitnesses. We sent the Times the facts and evidence, but they ignored it and rushed to publish. We are preparing the lawsuit now. All proceeds will be donated to women's organizations."
Ever since allegations against Weinstein were published, McGowan has been extremely vocal on Twitter by supporting his accusers and calling out those who she claims knew of Weinstein's alleged sexual assault and harassment, but remained silent. One of the individuals the 44-year-old star has targeted is Ben Affleck.
Like many celebrities, the Batman v Superman actor tweeted in response to the news surrounding Weinstein. "This is completely unacceptable, and I find myself asking what I can do to make sure this doesn't happen to others," part of his statement read. He also wrote, "We must support those who come forward, condemn this type of behavior when we see it and help ensure there are more women in positions of power." One of McGowan's tweets directed at the Oscar winner reads: "Ben Affleck f*ck off."
The Weinstein Company board of directors also released a statement on the allegations to Deadline. It reads:
The Weinstein Company's Board of Representatives – Bob Weinstein, Lance Maerov, Richard Koenigsberg and Tarak Ben Ammar – are shocked and dismayed by the recently emerged allegations of extreme sexual misconduct and sexual assault by Harvey Weinstein. These alleged actions are antithetical to human decency. These allegations come as an utter surprise to the Board. Any suggestion that the Board had knowledge of this conduct is false.
We are committed to assisting with our full energies in all criminal or other investigations of these alleged acts, while pursuing justice for the victims and a full and independent investigation of our own.
At this time, McGowan's Twitter can still be read, but it's unclear if she's able to post on it again just yet. Based on her Instagram announcing her Twitter suspension, one thing remains clear: McGowan isn't going to back down anytime soon. This is another call to action from her — and one that she hopes others will help her fight.
If you or someone you know has been sexually assaulted, call the National Sexual Assault Telephone Hotline at 800-656-HOPE (4673) or visit online.rainn.org.