Roseanne Barr's TV Comeback Might Be Sooner Than You Think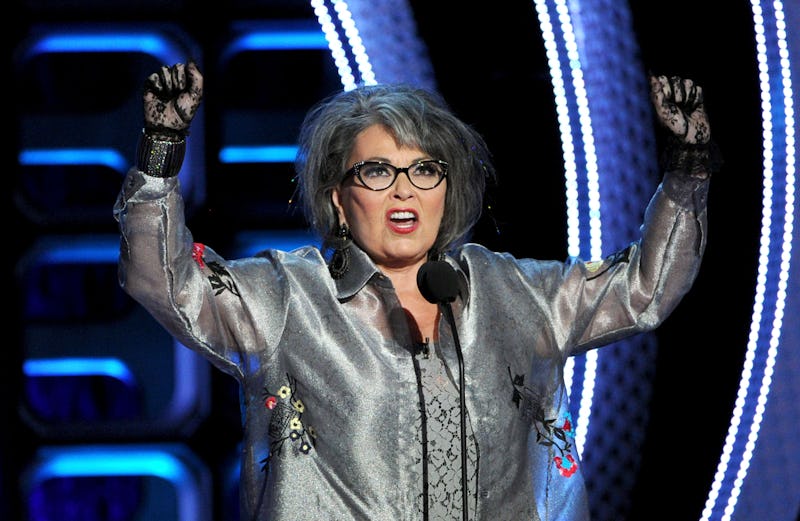 Kevin Winter/Getty Images Entertainment/Getty Images
It's been a rollercoaster of a month for Roseanne Barr, what with the racist tweet that led ABC to cancel her sitcom reboot, Roseanne. Then, trailing the rightfully angry media firestorm that followed, the network announced three weeks later that the Conner family was actually getting another spinoff — albeit, this time, without its fallen matriarch. But judging by Roseanne Barr's recent comments about a possible TV comeback, it sounds like the actor is focusing on doing her own thing. That, or she's trying to save face in the aftermath of a real mess of a situation. (To that end, it seems only time will tell.)
"Inside every bad thing is a good thing waiting to happen," Barr told Rabbi Shmuley Boteach during the most recent episode of his podcast, which was first released on Sunday, July 1. In a pretty stark departure from the tenor of her first interview with Boteach (included in his podcast's inaugural episode, which premiered just more than a week ago, on June 24), which saw the actor deliver what sounded like a pretty emotional, tear-filled apology for the racist tweet that prompted ABC to cancel her sitcom, this time around, Barr's spirits were comparatively higher. At least, that's what it sounded like. "I feel very excited," she told Boteach. Why? To that end, Barr seemed to reveal a bit of news as to what's next for her in the aftermath of the Roseanne cancellation. She said,
"I've already been offered so many things and I almost already accepted one really good offer to go back on TV and I might do it."
Barr wrapped up her admittedly already vague tidbit of personal information with another maybe. Promptly following that particular string of comments, the actor added that, while she might very well be considering the supposed "really good offer" to return to television, she's apparently not totally sure. "We'll see," she told Boteach. So perhaps fans (and haters) shouldn't be holding their breath on that one, then. At least, not just yet.
A return to television for Barr would be a big surprise, considering the dramatic circumstances that led to her firing from her own hit sitcom. For those who need a quick recap of the Roseanne cancellation, here's the gist of what went down: On May 29, Barr tweeted a racist comment about Valerie Jarrett, President Barack Obama's former advisor, which many people found to be Islamophobic as well as just plain offensive. Though the actor quickly deleted the tweet and later issued an apology, which has since been removed from Twitter, but went like this:
"I apologize to Valerie Jarrett and to all Americans. I am truly sorry for making a bad joke about her politics and her looks. I should have known better. Forgive me-my joke was in bad taste."
Mea culpa's aside, Barr's racist remark had already conjured up a fierce wave of upset on social media, spearheaded by Roseanne fans and cast members alike who condemned the actor's behavior. Some, like Wanda Sykes (who worked as a consulting producer on the Roseanne revamp), said they no longer wanted anything to do with the series.
Suffice to say, the network didn't seem to think Barr's apology was enough to remedy the gnarly ordeal, either. Later that same day, on May 29, ABC decided to cancel the Roseanne reboot altogether. ABC Entertainment president Channing Dungey issued the following statement to Bustle, in which the network confirmed the show's cancellation:
"Roseanne's Twitter statement is abhorrent, repugnant and inconsistent with our values, and we have decided to cancel her show."
At the time, Bustle reached out to Barr's rep about the Twitter backlash, as well as the cancellation, but did not receive an immediate response.
Then, almost a month later on June 21, ABC ordered a Roseanne spinoff called The Conners, which is slated to air this upcoming fall. The spinoff series will feature a medley of familiar Conner family faces — like Dan (John Goodman), Jackie (Laurie Metcalf), Darlene (Sara Gilbert), Becky (Lecy Goranson), and D.J. (Michael Fishman). That being said, the network was also pretty clear about the fact that Barr will not be making an appearance in the spinoff, nor will she have any financial or creative involvement in its production. In a statement to Bustle, Barr responded to the spinoff news and confirmed that she won't be taking part, saying,
"I regret the circumstances that have caused me to be removed from Roseanne. I agreed to the settlement in order that 200 jobs of beloved cast and crew could be saved, and I wish the best for everyone involved."
During Barr's most recent conversation with Boteach, she told the Rabbi that she didn't barter for any kind of financial settlement when she relinquished her own rights to Roseanne over to ABC (which, in effect, allowed the network to develop a spinoff series without her input or having her benefit financially). "I thought signing off of my own life's work and asking for nothing in return, I thought that was a penance," she explained. Whether or not her actions will be enough to convince an audience and a network to give her a second chance remains to be seen.