The 'Buffy' & 'Friends' Connection You Missed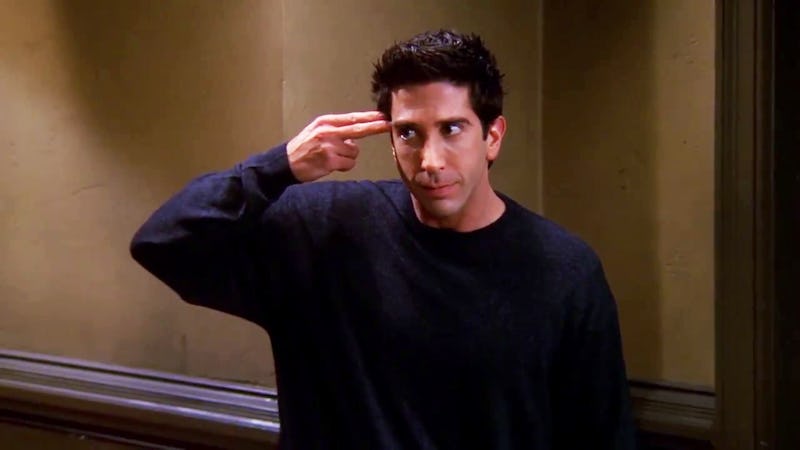 Warner Bros. Television
Sometimes, it's fun to imagine that all of our favorite TV characters live in the same world. While crossovers do happen, most shows exist in their own bubbles within the safe boundaries of the network they air on. But it's hardly surprising that TV writers love TV shows other than their own, which would explain this amazing connection between two very different series. Brace yourselves, because Xander from Buffy The Vampire Slayer and Ross from Friends are basically the same person. The evidence will blow your mind and make you wonder if the two characters were related to each other in an alternate universe.
Bustle's Associate Movies Editor Rachel Simon made the most important pop culture discovery of 2017 while marathon watching Buffy The Vampire Slayer on Netflix. You see, Season 2, Episode 14 "Innocence" contained a particular scene that had dialogue extremely reminiscent of Friends.
In an exchange between besties Xander and Willow in "Innocence," it's revealed that Xander is the treasurer of the "We Hate Cordelia" club. This comes out because Willow is understandably upset that Xander and Cordelia have started hooking up, especially since his hatred of her supposedly ran so deep. This episode of Buffy The Vampire Slayer originally aired on Jan. 20, 1998.
Flash forward to Nov. 22, 2001. Friends is still going strong, and an actor by the name of Brad Pitt appears in "The One With The Rumor" (Season 8, Episode 9). In hindsight, Pitt's cameo was probably a bad idea, considering his eventual divorce from Jennifer Aniston, but it was fun at the time.
His character, Will, was friends with Ross in high school, and hated Rachel... a lot. So much so, in fact, that he was a part of the "I Hate Rachel Green" club. Sound familiar?
Much like the "We Hate Cordelia" club, the "I Hate Rachel Green" club was small and consisted of Will and Rachel's sometime boyfriend Ross. When Rachel pulls Ross aside to question him about his involvement in the club, Will reveals that Ross wasn't just in the club; he was the co-founder of it. Classic Ross.
The fact that both Buffy The Vampire Slayer and Friends used this story line is too good to be true, and it connects Xander and Ross in the most interesting way. It highlights how similar the pair are, especially as both characters were in love with popular women, who end up reciprocating their feelings. And, perhaps more importantly, while in high school, both men expressed that love via the medium of hate.
Whatever the founding of these clubs means, it's clear that Xander and Ross are kindred spirits, who were incapable of channeling their emotions in a straightforward fashion. Which, when you think about it, is classic Ross, and classic Xander.
Additional Reporting by Rachel Simon