Olivia & Rowan Are Alike In 'Scandal' Season 6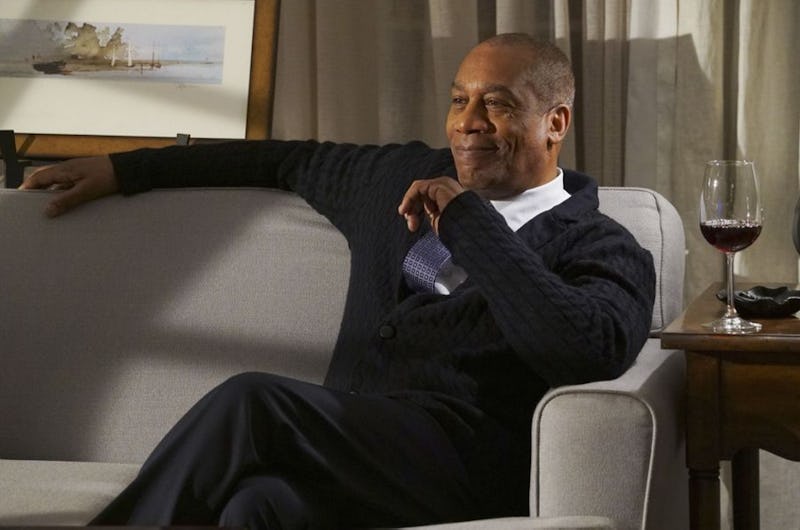 Byron Cohen/ABC
What's it like to play one half of one of the most complicated (and often deadly) father-daughter relationships on TV? For Scandal actor Joe Morton, who plays Olivia Pope's dastardly and efficacious dad Rowan, it's consistently surprising and fun. "When we have those kinds of scenes, we rarely talk about it before we do it," Morton tells Bustle of going toe-to-toe with Kerry Washington for some of Rowan and Olivia's more explosive showdowns. "We just sort of jump in at the first rehearsal and just let things happen, unless something specific comes up that needs to be discussed. And then we talk about how much we enjoyed it when the day is over." Olivia and Rowan's Season 6 relationship on Scandal is no less explosive, but things are shifting for the two, Morton teases. They seem more on the same page than ever, and it's Papa Pope's page that they're on.
Morton says that Season 6 finds Rowan and Olivia more in sync than they've ever been. "I'm still trying to get her what she wants, which is to usher her into the Oval Office somehow," he says. "So I think for the most part we're sort of OK. We seem to be on the same page." Scandal is one of the most verbose series on television right now, and Morton notes that Olivia's words have been hinting at how she's come around to Rowan's way of thinking. "She's using a lot of his phraseology," the actor points out.
The actors have had a blast creating a combative but ultimately symbiotic dynamic between these two DC power players over five seasons of Scandal, and that's a little lost on the people who love them in real life. "We joke because [Kerry Washington's] parents have a hard time understanding why we keep saying we enjoy those scenes so much," Morton says.
You can't blame Washington's folks for being taken aback, since the bond between Rowan and Olivia has historically been expressed through hostility, tears, and the occasional gunshot. But, for the record, Morton doesn't think of Rowan Pope as a villain. And that's not just because Scandal presents a cast of complex characters who each blur the line between "white hat" and "black hat." The Emmy winner believes that actors can't and shouldn't make those calls; it impedes the work. "It's my view that any so-called villain is doing whatever quote-unquote villainy that they are about, because they think they're either making their world or the world the better place," he explains. "You have to find some positive reason for what you're doing."
So though Rowan has masterminded some shocking schemes, his conscience remains clear. Because all's fair in love, war, and politics. "With Rowan, it's handed to me in that the two things that are most important to him are his daughter and his country," Morton continues. "So everything he does is to protect those two elements, even if they're in conflict with one another."
Scrolling through Morton's extensive IMDB credits takes a while. He has done, well, practically everything, from playing an ill-fated A.I. inventor in Terminator 2: Judgment Day to a resident of the strange Syfy town of Eureka to famed civil rights activist Roy Wilkins opposite Bryan Cranston's Lyndon B. Johnson in HBO's biopic All The Way. So it's an immense compliment to Scandal that Morton was already planning on calling his agents to see if there might be a part for him when he was approached about this role. And if there had been any remaining doubt about coming on board, it was eliminated completely when he was told in confidence how Season 2 — Rowan's first season — would end: With the reveal that he's the father of the show's heroine. "It was too delicious to turn down," he says. When I ask if Morton found it difficult to keep the secret of his character's identity from all of his coworkers, including Washington, he reveals a kinship with his alter ego's passion for covertness. "I loved it!" Morton says. "It was part of the character."
Also a part of the character are those famous Rowan Pope speeches: In Morton's expert hands, towering and nigh-Shakespearean works of art. He comes at them like a trained stage performer, because that's what he is. (Morton will soon be reprising his Off-Broadway role of real-life comedian Dick Gregory in the play Turn Me Loose at Chicago's Goodman Theatre and hopes to eventually take the show to Broadway.) "I think for every actor, what [preparing a monologue] comes down to is, what is it that you want? And to what extent are you willing to get what you want?" he says. Morton highlights the invaluable contribution of his scene partners, whose responses to those long strings of sentences prompt him to alter his performance so that they can meet one another half-way. "Fortunately, we're all theater actors and we kind of know how to do that," he says.
Big, bold emotions, soapy reversals, and prioritizing diversity are the calling cards of ABC's TGIT line-up, benevolently ruled by producing powerhouse Shonda Rhimes. Her impact is obvious to a layperson, but her actors have a more intimate view of how she's racked up her accomplishments. "She writes a real world, and I think she's successful because she actually is a real person," Morton says of Rhimes. "It's not about glitz and glam, it's not about the power. It's about creating things." Though Morton says the Scandal showrunner has moved up the ladder while "coincidentally being black," he's very conscious of how the casting and writing of the show has revolutionized the medium. He uses the dinner scene between Olivia and new FBI director Angela Webster (Saycon Sengbloh) in the Feb. 2 episode as an example: "Two very powerful black women literally vying over the white Southern President of the United States. I just thought that, 20 years ago, you never would have seen that on TV."
It's been a long hiatus for Scandal, but the show and Joe Morton's Papa Pope are back to keep the shocking drama's audience forever on their toes.