The 'Scandal' Season 6 Poster Is Powerful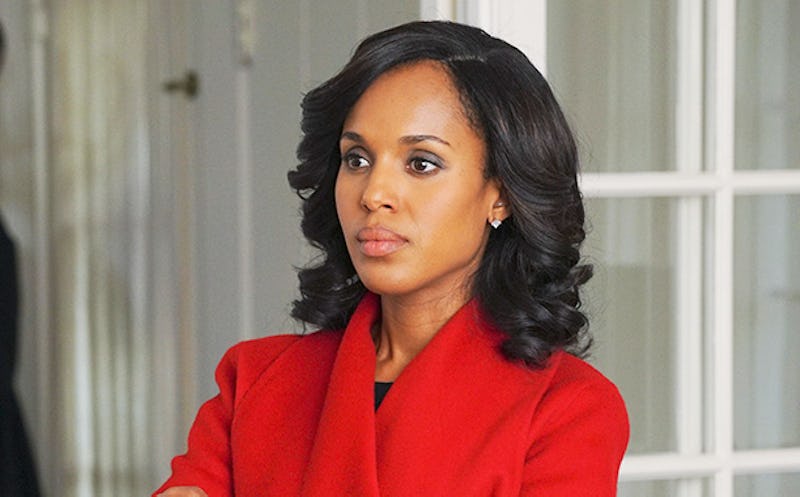 With the end of 2016 fast approaching, it's appropriate to start getting excited about all of the TV shows scheduled to return mid-season. Luckily, there are only a few weeks left until Scandal returns to our screens for Season 6, and all signs point to the show being a roller coaster of emotions. Olivia Pope is working on Mellie Grant's campaign to become President, and the fixer is still caught between all of the incredibly attractive men in her life (I'm looking at you, Scott Foley). It's time for fans to get overexcited because the Scandal Season 6 poster shows that Olivia Pope is in charge, and there are some major power struggles ahead.
The ominous poster tagline, "the balance of power is about to shift," suggests that Season 6 of Scandal will be as plot-twisty as ever. With Olivia Pope staring straight into the camera, dressed in a power suit, it's clear that everyone's favorite fixer is in control of the situation. But was there ever any doubt?
As the trailer for Season 6 has already revealed, we'll finally find out the election results in new episodes of the show, and it's entirely possible that Mellie Grant is the next President. With a showdown between Mellie and Olivia on the cards, it's guaranteed that Season 6 of Scandal will be anything but predictable. The briefest of trailer clips also shows Fitz embrace Olivia, hinting that the connection between the pair is still very much alive in the new season, which is bound to cause more problems for everyone.
If there's anything the world needs right now, it's a fixer like Olivia Pope taking charge and fixing, well, basically everything. In the midst of a heated political climate, I can't think of anything better than knowing that Olivia Pope was behind the scenes, working her magic like always. Unfortunately, Scandal isn't real life, but, since the series takes place in the world of politics, the shocking and heartbreaking twists it's become renowned for have never felt more true to life.
With calls for a recount of the 2016 Election votes, Scandal's Presidential Election is more prescient than ever. It'll be interesting to see whether the show passes comment on Hillary Clinton or Donald Trump, or the way in which such a split vote has affected the country and the world.
Scandal returns to our screens on January 19. Until then, re-watch the trailer a million times, and invest in a power suit as amazing as Olivia Pope's.
Images: ABC