These Facebook Groups Are Planning Epic Celebrations For The Royal Wedding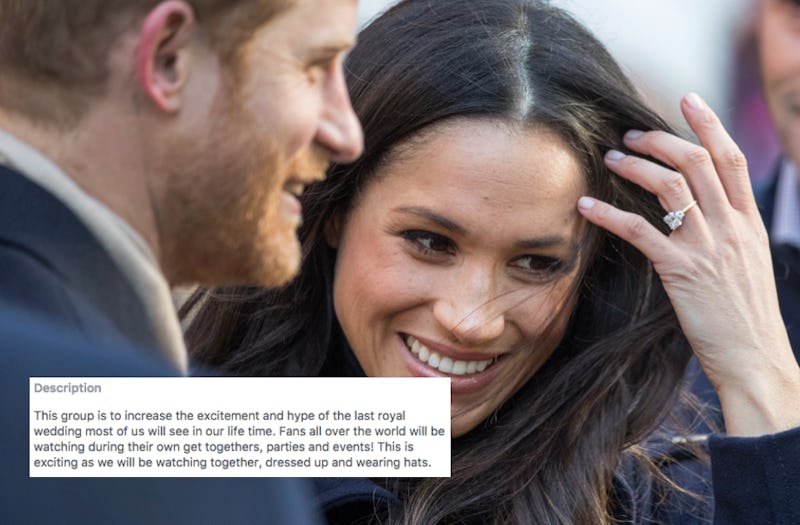 Christopher Furlong/Getty Images Entertainment/Getty Images
Excited doesn't even begin to describe the feeling people are experiencing over the royal engagement of Prince Harry and actor and humanitarian Meghan Markle. We all need something positive to focus on, and the glamor of the royal engagement has spawned Facebook groups dedicated to celebrating the royal wedding. While the royal engagement has all the makings of a hit Netflix series, it's happening IRL, which has people around the world coming together online to discuss the details of the impending nuptials with a fervor usually reserved for dissecting Game of Thrones storylines.
"Facebook's mission is to give people the power to build community and bring the world closer together," Jennifer Dulski, Head of Groups on Facebook, tells Bustle. "When events, such as the news of the royal engagement, spark excitement around the globe, we see many communities come together on Facebook to celebrate."
The Facebook group Prince Harry & Meghan Markle Official US Wedding Party-Viewing Celebration includes members from around the world who have all vowed to watch the Royal wedding together while dressed up like real royal wedding guests complete with hats and other royal-wedding appropriate accessories. "Our Facebook group, Prince Harry & Meghan Markle Official US Wedding Party-Viewing Celebration, was started by my sister, Julie, and I," group moderator Jennifer Corbett tells Bustle. "We have been long-time royal watchers. As soon as the engagement was announced my sister and I were immediately on the phone with each other fantasying about what we were going to wear on the big day!"
Just because royal watchers can't attend the wedding in person, that doesn't mean they're not going to celebrate like they are. "Julie and I decided that we'll host a big party, [and] serve tea and crumpets," Corbett says. "Everyone must wear big hats, just like they do across the pond at royal weddings. With our Facebook group, we are able to all share in these royal wedding celebrations without physically being in the same place."
If your friends IRL aren't into the royal wedding, you can join myriad Facebook groups to find others who are just as gaga as you are over the biggest wedding in years. In addition to Corbett's Facebook group, other royal engagement groups have popped up, too, including Prince Harry And Meghan Markle, which already has 12,000 members, Prince Harry (ROYAL), which began as a fan group of Princess Diana, We Love Prince Harry And The British Royal Family!, and Prince Harry & Ms. Meghan — The Royal Wedding, which invites you to: "Join us for seriously unserious commentary on the upcoming wedding of Prince Harry and Meghan Markle. Just wedding, no screed — the gown, the guest list, royal wedding history ... Let the tiara watch begin!"
"It's more fun and exciting to experience the royal wedding with our Facebook community because we are with a group of like-minded people," Corbett explains. "Each person in the group is just as excited as the next. When I am chattering like a magpie in excitement, they are doing the same thing at the same time." Let's face it, it's always way more fun to share your uncontrollable excitement with others who feel the same way. And, it's pretty clear that royal watchers online, and IRL, are beyond obsessed with Prince Harry and Markle.
While 2017 has been an epically awful year for many, the royal engagement is giving people something positive to bond over, and the plans being hatched in these Facebook groups are just the antidote for the doom and gloom that's hung over this past year. Because, everyone loves a wedding, especially a royal celebration unfolding on a global stage. And, in times of turmoil escaping into a fairytale can provide a much-needed respite from the outside world.
"In our Facebook group, discussing everyone's plans for the royal wedding is like a shot of adrenaline," Corbett says. "Some members are booking their timeshares, and others are applying for passports. Some women in the group are even planning to stay with one another in Ireland for the big day as well. We're also planning a hat shopping trip —potentially in a few big cities around the world!"
Even though the wedding date has yet to be confirmed, the official engagement announcement noted the royal couple will be married in May, giving royal watchers are still finding plenty to talk about. And, Corbett says that once the date is firm, plans will definitely amp up within the Facebook groups. "Once the wedding date is released, we know the group will be even more exciting as we countdown to and plan the wedding day viewing party."
More than 23 million Americans tuned into watch Prince William and Kate Middleton's wedding in 2011, and over 17 million watched the marriage of Prince Charles and Princess Diana, according to Deadline. While it's hard to pin down exactly why people are so obsessed with the royal family, actors from the Netflix series The Crown speculated in Town & Country that it's the air of mystery that has long surrounded the royal family that keeps everyone following their every move. If you want to get in on the excitement of the royal wedding — or anything else — Facebook has a group for you.
"In Facebook groups, people have the opportunity to create and be a part of communities that are meaningful to them," Dulski says. "Whether it's counting down to the royal wedding with others who share your excitement or finding people with other shared passions from travel to fitness, there's a community for everyone on Facebook."