Royal Wedding Bishop Michael Curry Receiving Cancer Treatment After Recent Diagnosis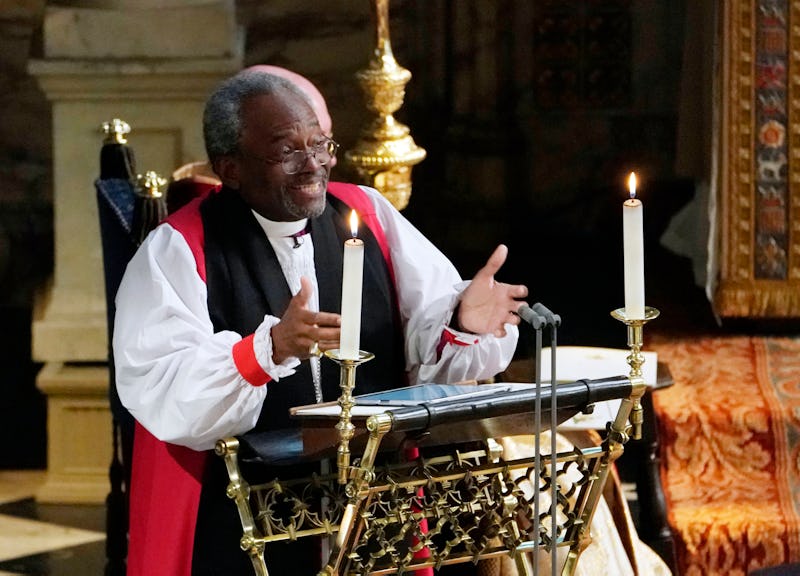 WPA Pool/Getty Images Entertainment/Getty Images
One of the most powerful moments of the Royal Wedding undeniably came from Episcopal Bishop Michael Curry, who's sermon was a moving celebration of joy, love, and the bride's African-American heritage. Sadly, Royal Wedding Bishop Michael Curry announced via a statement on Wednesday that he has been diagnosed with prostate cancer, and will undergo surgery next week as part of his treatment programme.
Curry's style of preaching could not be further removed from the traditional, stiff upper lip style of the Church Of England. Invited to speak personally by the royal couple, as the New York Times reported, he spoke "to British aristocrats and members of the royal family in the cadence of the black American church." He even read the bloomin' sermon off an iPad!
The presiding Bishop and Primate of the American Episcopal Church is the first African-American to hold this title. His powerful, inspirational, no—holds—barred sermon traced history and love and fire and all of the things that brought Harry and Meghan to that alter and all of us to this point in time. His sermon came away as one of the most discussed things about the wedding, leaving even the most resolute atheist feeling actual chills.
His recent diagnosis was made after a regular annual check up and various tests and examinations. In a statement he released through the Episcopal News Service, he chose to share with his signature honest and direct manner, what is happening in his private life. "A few months ago, through my annual physical, I was diagnosed with prostate cancer," he explained. A few months ago? Could this mean that perhaps during his historical sermon, he already knew about his diagnosis?
He went on to explain that with the help of his tight knit family and professionals, he has decided which sorts of treatments to undertake, with surgery being the best option.
"After a variety of tests, consultations, and conversations with my wife and daughters, I decided on a surgical treatment course. On this coming Tuesday, July 31st, I will have surgery to remove the prostate gland".
The Bishop also shared that the prognosis is looking pretty good and that he feels optimistic.
"I am happy to say that the prognosis looks very good and quite positive. I have spoken with several others who have gone through this, and who have offered both encouragement and helpful advice. I will be in the hospital for at least a day, then at home to recuperate".
He was eager to reassure people that he is in good hands both personally and professionally and that he appreciates all of the support. His followers will also be pleased, I am sure, that he is hoping to be back in work by September.
"I am very blessed with a wonderful family, a first-rate medical team, a great staff, dear colleagues and friends, a calling to which I have given my life, and above all a good, great and loving God in whose hands we always remain. So, do say a prayer. And know that I look forward to being back at my post in September".
With what hopefully will be a speedy recovery, it is important to remember that this great man is also bringing awareness to prostate cancer. He chose to share his illness instead of keeping it private, despite being entitled to do so. According to Prostate Cancer UK, about 1 in 8 British men will be diagnosed with prostate cancer during their lifetime. Hopefully Bishop Curry's diagnosis will lead to people knowing more about prostate cancer, men getting checked earlier and countless lives being saved.