The Episcopalian Bishop's Sermon At The Royal Wedding Had People Shocked — In A Good Way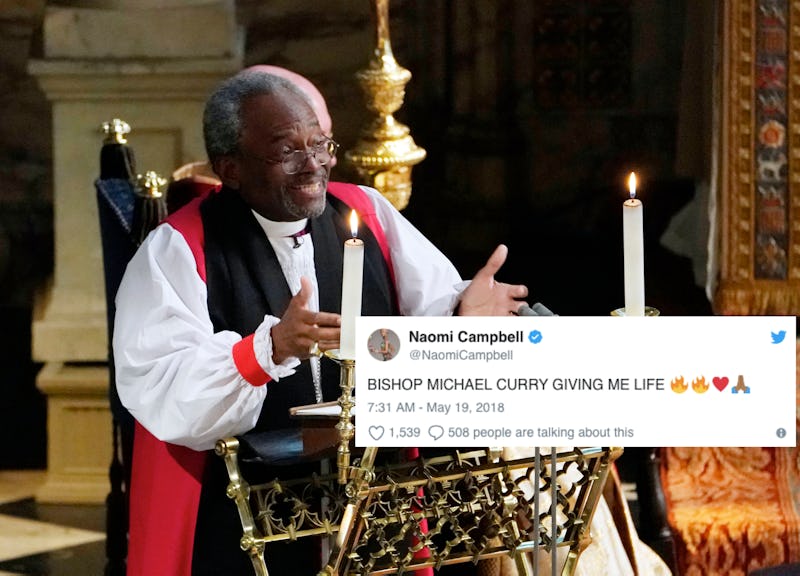 WPA Pool/Getty Images Entertainment/Getty Images
Going into the royal wedding, it was clear that this one was going to be different from the start. There's been much talk about the many ways Meghan Markle is not the "typical" royal bride — she's American, she's divorced, she's 36, she's biracial. And there was also said to be a lot of personal involvement from the couple in the wedding. This was shown both through their musical selections and the fact that an Episcopalian bishop spoke at the royal wedding. His sermon was in stark contrast to the words delivered by the Archbishop of Canterbury, and it really had people talking.
American Bishop Michael Curry delivered his sermon about halfway through the ceremony, and unlike the traditional Anglican service presided over by Archbishop Justin Welby, it was much more lively and would probably seem more familiar to any American Episcopalians tuning in. But it wasn't just that he was so animated that the pulpit shook or that the fact that he was reading off of an iPad (really) that stood out. There were also the topics Bishop Curry touched on that made an impact. It's doubtful that anyone expected to hear Martin Luther King, Jr. and American slavery come up during the royal wedding, but they did in Curry's sermon. And it was wonderful to see and hear, especially because Markle is American and half-black.
Amid making jokes about social media and how he needed to hurry up so the couple could get married already, royal wedding viewers took to Twitter to praise Bishop Curry's inclusion in the big day — and also to point out how some of the English audience members looked pretty surprised at what they were witnessing.
"I'm Cryinggggg"
There were many reasons to cry during the wedding, but this viewer was a fan of a lighter moment from the ceremony.
It Was Definitely A Change
I don't know about the royals, but for us in America, it was nice to have some added energy so early in the morning.
The Slavery Reference
This choice did not go unnoticed, nor should it have.
The "Liveliest Priest"
Unless someone was really going for it in olden times who we don't know about, this just might be true.
THIS
The Naomi Campbell was even here for it.
Martin Luther King, Jr.'s Daughter
MLK's daughter Bernice King tweeted about the sermon, too, and pointed out that her dad's "teaching and words still matter so much." And they always will.
The Press Room Loved It
Daily Mail royal correspondent Rebecca English said there was quite a reaction in the press room, and, naturally, she wanted to see more of Zara Phillip's face. Princess Anne's daughter became a meme after reacting to Bishop Curry like this.
It Was A Long Sermon
But don't worry, the Queen didn't really take to drink.
Mic Drop
Surely, this is what was going on in Prince Harry's mind.
Yes, Yes, Yes
It was EVERYTHING.
Of Course
To the surprise of no one, this GIF came up.
Bishop Curry was invited to speak at the wedding by the now Duke and Duchess of Sussex themselves, as Kensington Palace confirmed. The invitation marked a break in tradition as the address is usually given by a senior clergy member from the Church of England, according to CNN. Curry became the first black leader of the Episcopal Church in 2015.
In addition to including Curry in the service, Harry and Markle also made the ceremony personal by including a variety of music, including gospel choir Karen Gibson and the Kingdom Choir, and 19-year-old cellist Sheku Kanneh-Mason. All in all, it was a wonderful ceremony, and one that definitely stood out to many viewers as a very positive change of pace.