This Nonprofit Is Starting A Convo About Lingerie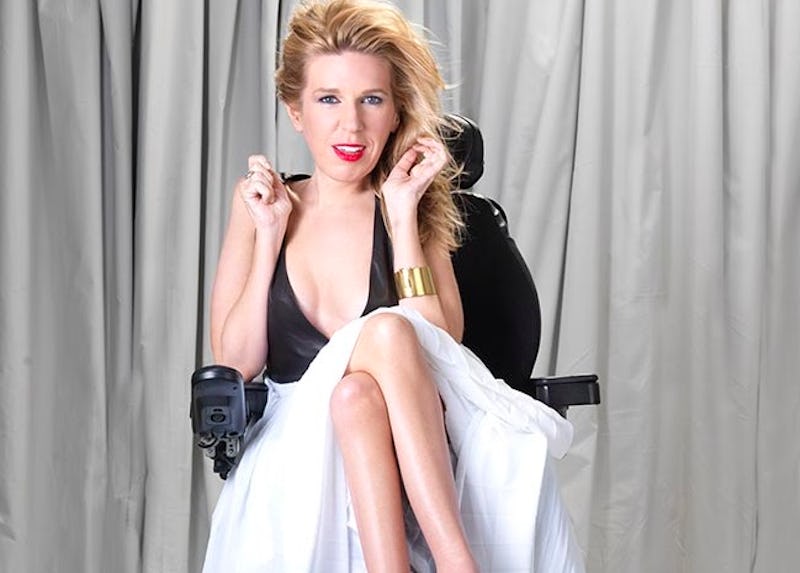 Valentine's Day is more like Valentine's Season — in the weeks leading up to the holiday, lingerie ads pour into every corner of the internet, offering the newest, sleekest, sexiest pieces. But for people with disabilities, the lack of adaptive lingerie on the market means the onslaught of ads is another reminder that creators just don't design with us in mind.
Now, nonprofit organization Runway of Dreams and its founder Mindy Scheier are tackling the dearth of adaptive lingerie by seeking partnerships with established brands to produce designs friendlier to folks with disabilities.
Runway of Dreams' mission is to team up with "top brands and retailers [...] to integrate wearable technology and design modifications into clothing, making it adaptive and wearable for all." Creating adaptive clothing involves implementing design changes to make dressing and undressing easier for people with disabilities, who may have difficulty with things like mass-produced buttons, snaps, and zippers designed for able-bodied people.
There is a need for disability-friendly clothes of every kind, but the stigmas surrounding disabled folks and sex make it imperative that lingerie isn't left behind in the push for adaptive clothing. Dr. Danielle Sheypuk, who is a sex and relationship expert, a Runway of Dreams brand ambassador, and was the first model in a wheelchair to model at New York Fashion Week, tells Bustle in an email that disabled people are often left out of conversations about sex and sexiness.
"Most adaptive clothing today is more practical and recognizes that the lives of people with disabilities are active," she explains. "We have friends, we have careers, we go to school and we're educated. But there's also an important, super neglected part of our lives, and that's dating and sexuality. We're left out of it."
She adds, "We're told by society that we're not sexy, we aren't good romantic partners, which is enforced by the fact that there's no lingerie designed for people with disabilities. It's all for able-bodied people. It's like we're not even thought of when it comes to that market, and that feeds into the misconceptions and stereotypes."
Those misconceptions and stereotypes filter down into disabled folks' love and sex lives, too. "I am still surprised by lack of knowledge or rudeness expressed by able-bodied individuals," Sheypuk says. "This happens most when I'm working with clients who are online dating who receive really rude, ignorant responses that can be completely shocking. They receive messages like 'I just wanted to say hi, you're beautiful and I find you really inspiring,' or 'What happened to you, I"m so sorry,' or 'Can you have sex? What positions can you do?'"
The dichotic nature of able-bodied people's engagement with disabled people's sex lives — either bordering on fetishistic or treating disabled folks like they're all asexual — is not only harmful to disabled folks on an individual level, but it inspires a systemic problem that is leaving one in five Americans without a market willing or knowledgeable enough to embrace them, Scheier says.
"There's an exciting opportunity for brands to engage with this community and develop mainstream adaptive clothing, including lingerie, that will truly impact so many lives for the better," she tells Bustle.
And the mechanics of producing adaptive lingerie involve including simple changes, as well as basic wearable tech (like these magnetic closures). Scheier says, "Adapting intimates by using easy-to-maneuver closures would provide someone living with a disability greater independence when self-dressing. Through wearable technology and designs that take into account the many different needs of people of all abilities, adaptive lingerie could be made a reality without sacrificing style."
Sheypuk says she's definitely had to sacrifice style when buying — or attempting to buy — mainstream lingerie produced for able-bodied people. "On a personal level, I go into Victoria's Secret and most of the lingerie would not look good on my body or would be extremely difficult to put on," she explains. "There are very few pieces [which] would work for me."
She continues, "For people without a disability, there are much more options. And that's a huge market that brands are missing out on. I walk into Victoria's Secret with money to spend. I went something hot, loud and sexy, but I only have two options? Most likely I'm gonna leave there buying one thing and spending little money, but I really wanted fantastic pieces."
Scheier says that improving the market by adding adaptive intimates, including lingerie and underwear but also everyday bras, is imperative. "There are designers like AnaOno that are focusing on lingerie specifically for breast cancer patients, which is amazing!" she says. "Through our research and focus groups with the differently-abled community, we consistently receive feedback that bras specifically pose challenges because of how they fit and the difficulties of maneuvering bras independently."
Runway of Dreams partnered with Tommy Hilfiger in 2016 to create a line of adaptive clothing for kids; some of Runway of Dreams' future partnerships will aim to improve intimates, Scheier explains. She tells Bustle, "Runway of Dreams continues to explore partnerships with mainstream brands and retailers across fashion spaces, including lingerie, to increase access to mainstream adaptive clothing options for people of all abilities."
Although Scheier and Runway of Dreams haven't released specs or images of potential future products, companies like Silvert's currently produce adaptive bras, most of which feature front closures that use VELCRO or easy snaps.
She adds, "I hope to not only increase access to mainstream adaptive fashion for the differently-abled community, but to inspire the fashion industry to be more inclusive. Runway of Dreams is working to give a voice to the community and hopefully break down stereotypes. In doing so, we want to help empower the differently-abled community with confidence, independence and self-expression."
Sheypuk says shifting the rhetoric around disabled folks and sex will have a positive ripple effect on disabled and abled people alike.
"I want to show people with disabilities that they can get fulfillment in these areas," Sheypuk says. I want to show the world that we have this aspect to our lives. If you look at it that way and see us as potential, amazing dating partners, your dating and sex life can be radically improved too," she says. "It's not just preconceived notions of sex, 'cause that often doesn't work for a lot of people Think outside the box, and don't forget about this group of amazing people that you're excluding."
Images: Courtesy Interviewees