2016's Fashion Wins For People With Disabilities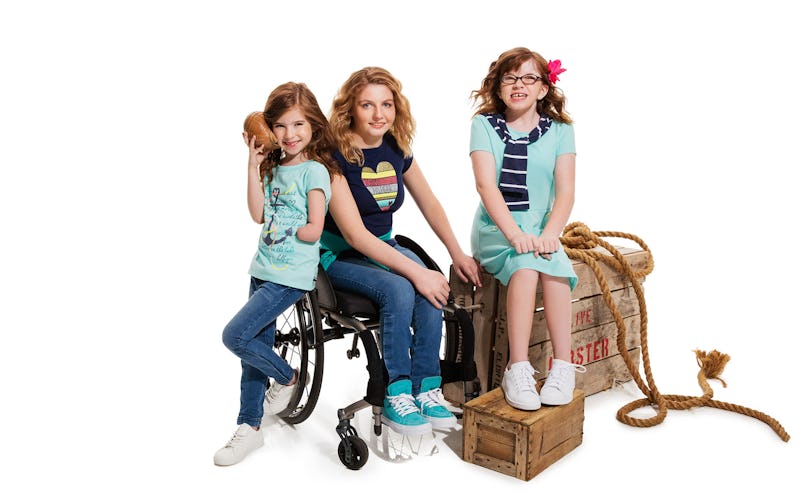 The push for feminism has, in many circles, rightfully been clarified to mean the push for intersectional feminism — the idea that marginalized people must fight for one another's rights, not just the rights of the marginalized group(s) they belong to. But when we say "intersectional feminism," people with disabilities tend to be left out. That's why we need to highlight some of this year's fashion and beauty triumphs for people with disabilities.
According to the U.S. Census Bureau, about one in five Americans live with disabilities — which can mean everything from having chronic pain to using a wheelchair 24/7 — yet people with disabilities struggle for recognition and support. Now that 2016 has given us a president-elect who has no compunctions about openly mocking people with disabilities, it's more imperative than ever that industries give them opportunities to be represented positively.
When it comes to this, the fashion industry has been questionable at best. Most notable was the massively uncool Kylie Jenner incident last year, when she posed for Interview in a wheelchair. Upon being contacted with criticism about the spread, Interview senior editor Chris Wallace told Mashable the point of the shoot was to show how Kylie is an "object of Internet fetishization and curiosity and wonder and celebrity," which, yikes, implies that being in a wheelchair makes a person an object.
And unfortunately, the industry as a whole isn't progressing quickly enough. While incredible disabled vloggers like Mindy Tucker, a lifestyle vlogger who has cerebral palsy, and Emily Davison, a fashion and beauty vlogger with a visual impairment, continue to rock the internet with their awesomeness, the fashion and beauty spheres are obviously struggling with giving disabled folks room to show their skills. Unlike plus size people and people of color (other communities who certainly need more inclusion in 2017), people with disabilities don't even have research readily available about their representation on magazine covers or in fashion campaigns, since it's just that rare.
This year's list of fashion and beauty events which uplifted people with disabilities is a short one. Next year, we need to do better.
1. The Design for Disability Gala
The Cerebral Palsy Foundation (CPF) collabbed with students from the Fashion Institute of Technology (FIT) to produce functional clothes for women with disabilities. Clothes for people with disabilities need to reflect their bodies' needs, which is why apparel specifically designed for people with disabilities is often referred to as "adaptive clothing."
According to the CPF's website, it invited 22 students from the FIT to submit designs, then selected five semifinalists, who each turned two of their designs into full-fledged, runway-ready pieces, which were judged on "overall design, originality, and responsiveness to addressing the needs of women with physical disabilities." Their designs were modeled at the gala by women with disabilities, who basically looked like utter badasses in the students' beautiful, body-positive pieces.
Gala winner Grace Insogna, a FIT sophomore, told TODAY in an interview, "I wanted to accentuate their features, not hide them. I think sometimes people think accessibility or adaptability means it needs to be big or oversize, because that allows for more movement. But I made the choice to work with stretch fabric, which is more comfortable and doesn't wrinkle easily. It has a lot of stretch so it's easy to take on and off, and it allows for movement across the body, so you can move the shoulders — if you need to wheel a wheelchair, it's easy to do."
2. Tommy Hilfiger & Mindy Scheier Launch Adaptive Clothing Collection
Speaking of adaptive clothing, designers Tommy Hilfiger and Mindy Scheier launched their co-created collection of clothes for kids with disabilities in 2017. Scheier founded nonprofit org Runway of Dreams in 2013 after she was inspired by her son, who has muscular dystrophy and can't work the zippers and fasteners on clothes produced for able-bodied people.
According to the Runway of Dreams's website, the org works by "partnering with top brands and retailers...to integrate wearable technology and design modifications into clothing, making it adaptive and wearable for all."
The collab with Tommy Hilfiger is Runway of Dreams's first partnership with a major brand. Scheier told People she worked with Hilfiger's technical design team to replace traditional fasteners with MagnaReady, an entirely magnetic system which is designed for people with disabilities and/or limited mobility.
In a statement to NJ.com, Tommy Hilfiger CEO Gary Sheinbaum said, "Our company has always embraced the diversity of our customers. Runway of Dreams helped further our understanding of the differently abled community's unique needs, and with this knowledge, we hope that we will be able to better serve them."
3. Reshma Qureshi Walks At NYFW
Reshma Qureshi made headlines in 2014 when her sister's estranged husband attacked her, pouring acid on her face — a disturbingly common method of violence in India. Since her attack, Qureshi has stepped back into the spotlight on her own terms as a beauty vlogger and activist, and this year, she rocked the NYFW catwalk, modeling a gown by Indian designer Archana Kochhar.
Qureshi, who's now just 19 years old, was tapped by FTL Moda, the company which previously cast model Madeline Stuart, who has Down's syndrome.
The Guardian reported that after the show, Qureshi told AFP through a translator, "I feel really good and the experience was great. I feel as though it has definitely changed my life."
As you can see, folks with disabilities were definitely shorted opportunities this year. Compared to improvements in representation of people of color and transgender folks, the improvements for people with disabilities are disappointingly few. But with vloggers like Tucker and Davison sharing their insight with the internet, Reshma Qureshi rocking her activism onstage and off, and fashion moguls like Tommy Hilfiger finally producing much-needed clothes with friendly technology, we're heading into a 2017 with loads of potential for folks with disabilities.