3 Women Have Accused Russell Simmons Of Rape In A New Report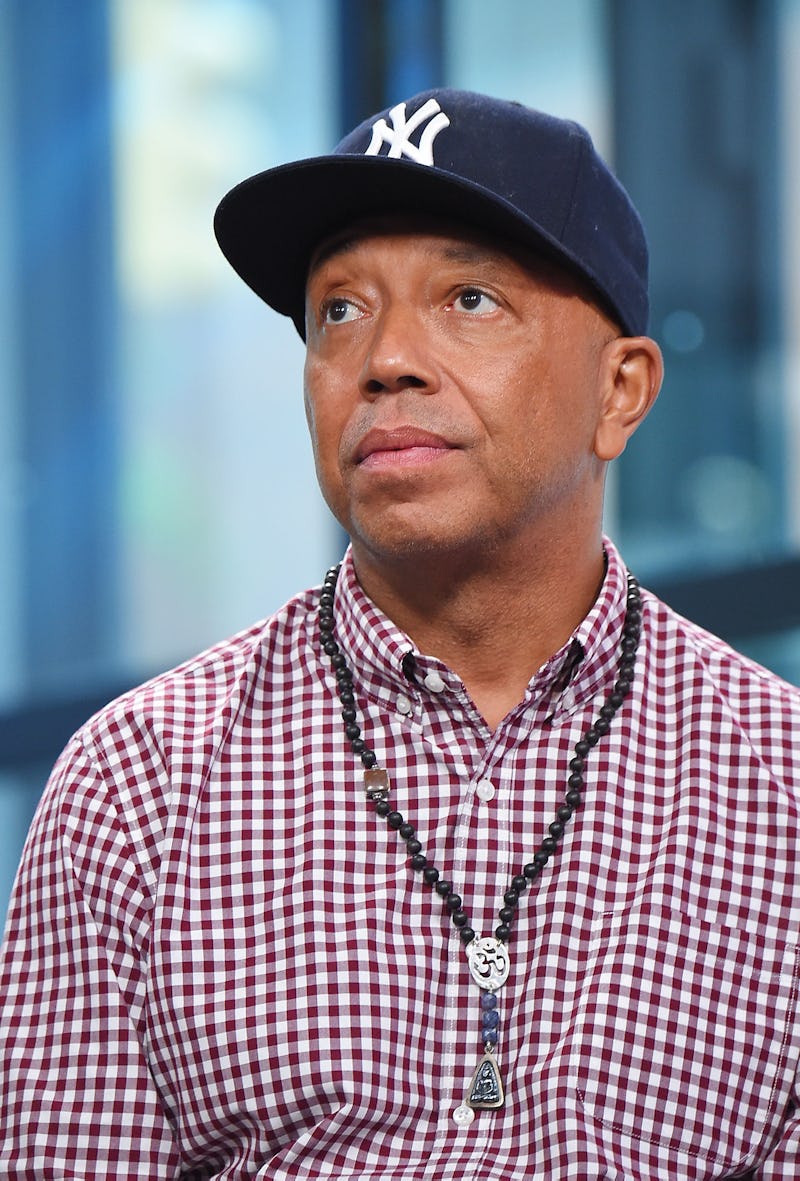 Michael Loccisano/Getty Images Entertainment/Getty Images
Two weeks after music mogul Russell Simmons stepped down from his companies following multiple accusations of sexual misconduct, more allegations have come to light. The New York Times released a report on Wednesday night, in which multiple women accused Simmons of rape, which he has denied. The newspaper interviewed four women in total, who claim "a pattern of violent sexual behavior by Simmons" between 1988 and 2014." Three of the women allege that he raped them. (Bustle reached out to Simmons' lawyer for comment.)
UPDATE: In a Los Angeles Times report from Wednesday, five more women came forward with allegations of sexual misconduct against Simmons, including one allegation of rape. Simmons denied the claims to the LA Times in a statement, which reads: "These new stories range from the patently untrue to frivolous and hurtful claims. I want to restate categorically what I have said previously: I have never been violent or abusive to any women in any way at any time in my entire life."
Simmons' lawyer shared with Bustle the same statement as below, along with the following added:
In recent weeks, some former business, creative and romantic partners have aired grievances as claims I categorically reject. In some of these instances, financial motives and direct contradictory witness testimony has been supplied to the media, which has been completely left out of stories. In the last few days, one woman attempted to extort me for $500,000 only to recant her ridiculous claim. The current allegations sent to me by the New York Times and Los Angeles Times range from the patently untrue to the frivolous and hurtful. The presumption of innocent until proven guilty must not be replaced by "Guilty by Accusation."
I have already apologized for the instances of thoughtlessness in my consensual relations. I have separated myself from my businesses and charities in order to not become a distraction. I have re-dedicated myself to spiritual learning, healing and working on behalf of the communities to which I have devoted my life. I have accepted that I can and should get dirt on my sleeves if it means witnessing the birth of a new consciousness about women. What I will not accept is responsibility for what I have not done. I have conducted my life with a message of peace and love. Although I have been candid about how I have lived in books and interviews detailing my flaws, I will relentlessly fight against any untruthful character assassination that paints me as a man of violence.
EARLIER: Simmons denied the new allegations in a statement to The New York Times. His legal team shared the same statement with Bustle:
"I vehemently deny all these allegations. These horrific accusations have shocked me to my core and all of my relations have been consensual.
I am blessed to have shared extraordinary relationships, whether through work or love, with many great women; and I have enormous respect for the women's movement worldwide and their struggle for respect, dignity, equality and power. I am devastated by any reason I may have given to anyone to say or think of me in the ways that are currently being described."
What was described to The New York Times by the four women is an alleged pattern of sexual assault and harassment that allegedly ruined careers. Drew Dixon — who worked at Def Jam, the label Simmons co-founded — claimed that she suffered "prolonged and aggressive sexual harassment" by Simmons, who was her supervisor. (Bustle reached out to Universal Music group, which owns Def Jam, for comment, but did not receive an immediate response.)
Dixon claimed Simmons openly talked about how she aroused him, allegedly "regularly exposed his erect penis to her," and once pushed her into a broom closet and tried to kiss her. She told the Times that fending off Simmons "was a full-time job," and Simmons, through his lawyer, acknowledged that he engaged in "inappropriate conduct" with Dixon. She alleges that in 1995 Simmons raped her in his apartment and shortly after she quit her job. (According to his lawyer's statement to the Times, Simmons "emphatically states that he did not have sex with" Dixon.) She reportedly sued Simmons for sexual harassment after leaving Def Jam. The two settled out of court, with Simmons' lawyer confirming the settlement to the Times.
In the same Times report, performer Tina Baker accused Simmons of allegedly raping her in the '90s when he was her manager. She claimed that Simmons invited her to his apartment to talk about her career. When she arrived, he allegedly almost immediately started trying to kiss her. She claimed soon he was "on top of me, pushing me down and him saying, 'Don't fight me.'" Baker alleges he pinned her to the bed. (Through his lawyer, Simmons told the Times that he had "no recollection of ever having any sexual relations with Ms. Baker.")
Meanwhile, Toni Sallie, a music journalist, told the newspaper a similar story. In 1988, Simmons allegedly invited her to his apartment for a party he was throwing his girlfriend. She claimed no one was there when she arrived, so he offered to give her a tour, leading her to his bedroom. She alleged that's where he raped her. "He pushed me on the bed and jumped on top of me, and physically attacked me," she claimed. "We were fighting. I said no."
In his lawyer's statement to The Times, Simmons "acknowledged that he dated Ms. Sallie but denied any non-consensual sex." Sallie told the paper she didn't report the alleged assault to the police at the time because she was afraid. But two of her friends claim she did tell them shortly after. Sallie has since reported the 1988 incident to the New York District Attorney, according to the Times, but the statute of limitations have expired and the crime cannot be prosecuted.
Sallie also accused Simmons of physically attacking her years later at a hotel, claiming he grabbed her hair and chased her into a women's bathroom before she was able to lock herself in her hotel room. (Simmons' lawyer denied this to The New York Times: "At no time did Mr. Simmons conduct himself inappropriately.")
Last month, screenwriter Jenny Lumet accused Simmons of sexual assault, detailing a 1991 incident in a guest column for The Hollywood Reporter, which she said he "sexually violated" her. Following Lumet's allegation, Simmons also released a statement to THR, denying her account of the night in question:
"While her memory of that evening is very different from mine, it is now clear to me that her feelings of fear and intimidation are real. While I have never been violent, I have been thoughtless and insensitive in some of my relationships over many decades and I sincerely and humbly apologize."
Lumet was the second woman to accuse Simmons of sexual assault. On Nov. 19, model Keri Claussen Khalighi accused Simmons of sexual harassment in a Los Angeles Times story. She also claimed that Simmons "coerced her to have oral sex" and "briefly penetrated her without her consent."
Simmons initially denied Khalighi's claims, telling the L.A. Times, "Everything that occurred between Keri and me occurred with her full consent and participation." Later, Simmons again denied Khalighi's allegations in a letter to THR: "I have never committed any acts of aggression or violence in my life. I would never knowingly cause fear or harm to anyone."
In his latest statement regarding these allegations, Simmons wrote that he will not stand back and take responsibility for things he claims he hasn't done:
"I have conducted my life with a message of peace and love. Although I have been candid about how I have lived in books and interviews detailing my flaws, I will relentlessly fight against any untruthful character assassination that paints me as a man of violence."
The women who spoke to the Times, though, tell a different story. One that seems to be consistent in its portrayal of Simmons.
If you or someone you know has been sexually assaulted, call the National Sexual Assault Telephone Hotline at 800-656-HOPE (4673) or visit online.rainn.org.