Russians Pranked Rick Perry Into A Phone Call About Pig Poop & That's Not Even The Funniest Part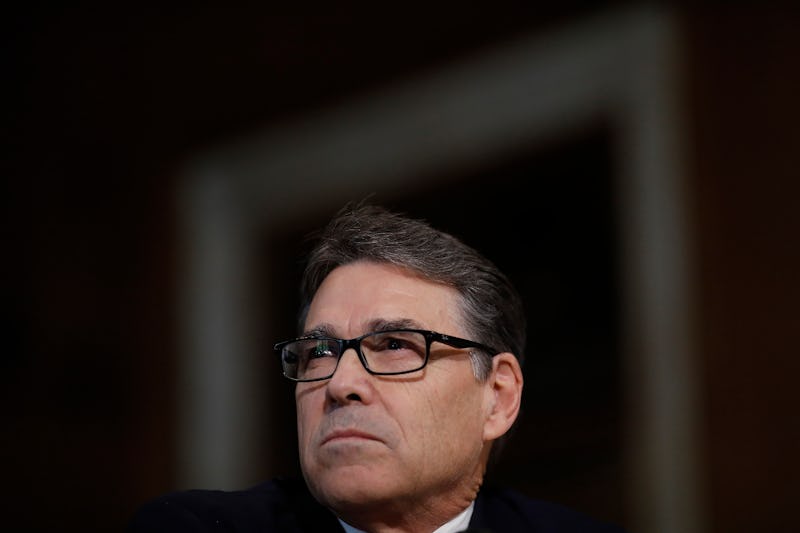 Aaron P. Bernstein/Getty Images News/Getty Images
On Tuesday, news emerged that the Secretary of Energy Rick Perry had been pranked by two Russian men pretending to be Ukrainian Prime Minister Volodymyr Groysman. The Energy Department confirmed with The Washington Post that Perry had indeed been pranked on a telephone call and that the culprits were two Russian pranksters who had previously deceived other public figures.
As the Post reported, Perry had a lengthy call with a man whom he thought was Ukrainian Prime Minister Volodymyr Groysman on July 19. The timing of the call aligned with Perry's recent engagements, as he had hosted the Ukrainian delegation at the Department of Energy in June and the call was portrayed as a follow-up to that meeting.
However, this "follow-up" call was instead actually initiated by two Russian pranksters known as Vladimir "Vovan" Kuznetsov and Alexei "Lexus" Stolyarov, who are also sometimes referred to as the "Jerky Boys of Russia." The two men subsequently posted their conversation with Perry on the Russian news site, Vesti.
Department of Energy Spokeswoman Shaylyn Hynes described the incident in more detail in the aforementioned email to the Post, saying:
Secretary Perry is the latest target of two Russian pranksters. ... These individuals are known for pranking high level officials and celebrities, particularly those who are supportive of an agenda that is not in line with their governments. In this case, the energy security of Ukraine.
TIME reported that the call between Perry and the pranksters lasted about 20 minutes. The conversation covered several weighty topics, including, according to the Post, the U.S. withdrawal from the Paris climate accord, the possible construction of a gas pipeline in the Baltic Sea, and U.S. coal exports.
USA Today noted that Russian media also reported that the pranksters informed Perry that Ukrainian President Petro Poroshenko had created a new type of fuel from a mix of home-brewed alcohol and pig manure (which does not exist). Russian media reported that Perry responded "positively" to this new fuel idea.
Perry reportedly indicated on the call that he would be headed to Ukraine in August and that he looked forward to "...getting a more in-depth briefing … If that's the result, then he's [the president] going to be a very, very wealthy and successful man."
Kuznetsov and Stolyarov are well-known pranksters in Russia and several other celebrities and political officials have been victims of their antics. In 2015, the duo called Elton John pretending to be Russian President Vladimir Putin and had a conversation with the singer about LGBT rights.
According to Bloomberg, calls between Cabinet secretaries and foreign officials are usually highly vetted, so it is unclear how exactly the pranksters were able to directly connect with Perry. However, the Secretary of Energy can perhaps take solace in the fact that he is certainly not the only one who has been deceived by the Russian duo.