Ruth Bader Ginsburg Was Just Treated For Lung Cancer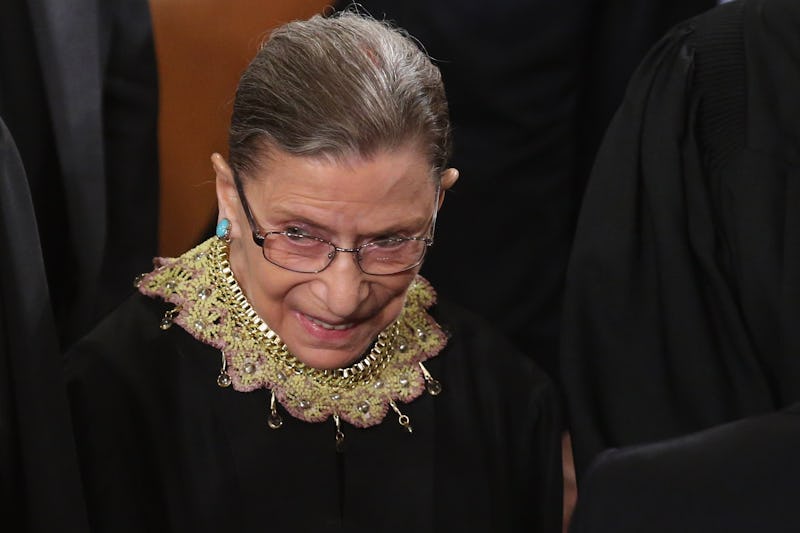 Chip Somodevilla/Getty Images News/Getty Images
On Friday morning, Supreme Court Justice Ruth Bader Ginsburg underwent surgery to remove lung cancer growths. A statement from the court's public information office noted that the justice had no evidence of remaining cancer after the operation and that she was "resting comfortably."
According to the statement, Ginsburg had lobectomy surgery on Friday morning in New York City at the Memorial Sloan Kettering Cancer Center. Doctors removed two cancerous nodules in her left lung, which they'd discovered in November when she was in the hospital last month for an rib injury.
Both of the nodules were malignant, the statement says. However: "scans performed before surgery indicated no evidence of disease elsewhere in the body," and "post-surgery, there was no evidence of any remaining disease." Ginsburg will stay a few days in the hospital, though "no further treatment is planned" at this time.
While some reacted with anxiety to the report on Friday, others argued that the news wasn't extraordinarily serious. "If you're 85 and you break a rib and get a CT, the radiologist will very likely find pulmonary nodules," tweeted physician and Atlantic writer James Hamblin. "Most aren't removed. Since hers are now out and there's apparently no evidence of metastatic disease, the primary issue is recovery from the procedure."
NPR spoke to thoracic surgeons who said that pathology findings of the nodules — which will be available later — should provide a better idea of whether or not this cancer will pose a risk to Ginsburg in the future. Her prognosis will be better if the cancer didn't get into her lymph nodes.
"These days we are seeing more and more patients in their 70s and 80s make relatively quick recoveries, because we are detecting so many more lung cancers at early stages," Dr. Douglas Mathisen of the Massachusetts General Hospital told NPR. He added that post-lobectomy patients are often able to begin doing desk work within a week. So, in Ginsburg time, maybe that's a few days?
The Supreme Court statement notes that the growths were "discovered incidentally" last month while she was getting tested after a fall that fractured three of her ribs. Ginsburg appeared to recover quickly from that incident and even said this Saturday that she'd just returned to doing her normal workout routine. Apparently she was knowingly doing that exercise with two cancerous nodules in her lung.
That episode wasn't the first time Ginsburg had hurt her ribs. A 2012 fall gave her two fractures, and like this experience with lung cancer, she declined to speak about the incident until after she'd seemingly dealt with the worst of it. Ginsburg has also had cancer twice before: pancreatic and colon, in 2011 and 1999.
Despite these health issues, Ginsburg has indicated that she plans to remain a justice for some time. She's hired law clerks through the year 2020, and she said in August that she thinks she'll last "at least five more years" on the court, referencing the fact that Justice John Paul Stevens retired when he was 90. Ginsburg is now 85 and is the oldest member of the court, according to CNBC.
Ginburg's lung cancer surgery surprised many on Friday. "Oh wow. You wouldn't have known," tweeted MSNBC anchor Katy Tur, who says that Ginsburg was on her flight yesterday. "She was moving well yesterday and she spent the entire ride working."
Good wishes for justice dominated social media in response to the news. "All I want for Christmas is good health for RBG," activist Adam Best tweeted.