RBG's Expression In The 2018 Supreme Court Class Photo Is Twitter's Entire Mood RN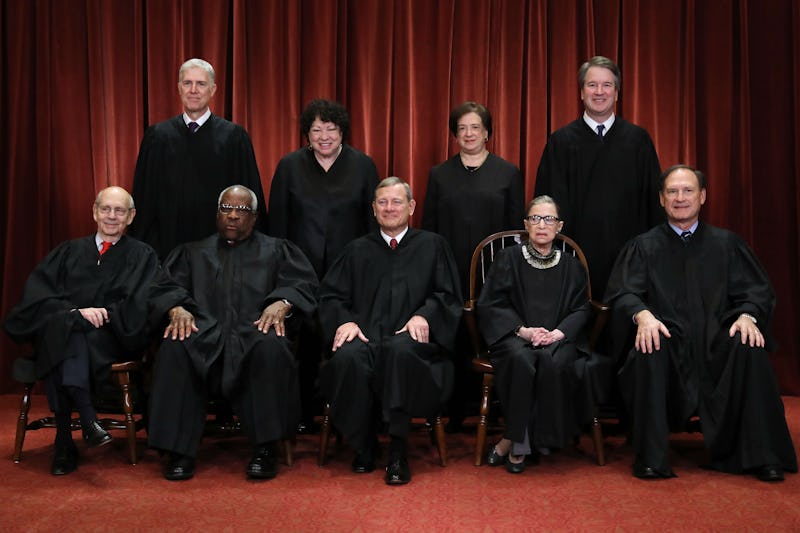 Chip Somodevilla/Getty Images News/Getty Images
The justices of the Supreme Court posed for their first official group photo with recently-confirmed justice Brett Kavanaugh on Friday. Ruth Bader Ginsburg's expression in the 2018 SCOTUS class photo drew a lot of attention on Twitter, as her stone-faced glare seemed to resonate with many of her supporters.
Several snapshots from the photo session were released, some more serious than others. Several of the pictures show the justices laughing or conversing with one another, while others were more traditional class photos. Almost all of them had one thing in common, however: Ginsburg looking dour and unimpressed.
Of course, it's impossible to know what the 85-year-old justice and progressive icon was thinking when the pictures were taken. Some on Twitter suggested that she was side-eyeing Kavanaugh or otherwise expressing disapproval of him, but she's not looking at him, or even in his general direction, in most of them. Although she could have been intentionally making a sour face, it's just as likely that she was distracted, tired, or simply bored.
Nevertheless, many people on social media immediately noticed Ginsburg's expression, and they had quite a bit to say about it. The general consensus was one of resonance: Ginsburg's face, the denizens of Twitter have largely concluded, is all of us.
"#RBG is an entire mood," one person wrote in a tweet representative of the general reaction to the photo.
"Me, I am RBG," another observer wrote.
Some, meanwhile, were instead drawn to Justice Elena Kagan's expression, which was also less than enthusiastic in some of the pictures.
Kavanaugh was confirmed to the court in October after a protracted and highly controversial confirmation hearing. He was accused of sexual assault by Dr. Christine Blasey Ford midway through his confirmation, causing delays and outrage among both Republicans and Democrats. Kavanaugh staunchly denied the allegation, and blamed it on Bill and Hillary Clinton while testifying in front of the Senate.
Ginsburg hasn't publicly commented on Kavanaugh himself, or the allegations against him. However, she did denounce his confirmation process and, more generally, the partisan nature of modern-day Supreme Court nominations.
"The way it was, was right. The way it is, is wrong," Ginsburg said in September at an event at George Washington University Law School, noting that despite her own liberal background, she was confirmed 96-3 after Bill Clinton nominated her in 1993.
Ginsburg also pointed out that Antonin Scalia, a highly conservative judge, was confirmed unanimously.
"That's the way it should be, instead of what it's become, which is a highly partisan show," Ginsburg said. "The Republicans move in lockstep, and so do the Democrats. I wish I could wave a magic wand and have it go back to the way it was." Ultimately, Kavanaugh was confirmed by a vote of 50-48 — the smallest margin of any Supreme Court justice since 1881.
The court began its new term on Oct. 1, several days before Kavanaugh was confirmed and sworn in. At 53 years old, he's the second-youngest judge on the court.