Why Ruth Buffalo Was Surprised To Hear She Beat The Man Behind *That* Voter ID Law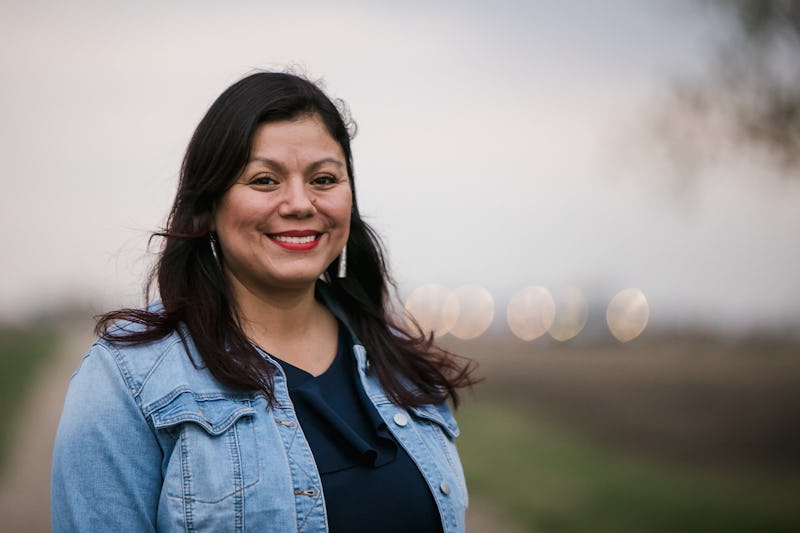 Kari Breker via Ruth Buffalo
Ruth Buffalo found out that she won her election on the way home from a Buffalo Wild Wings last week. She and her husband went to the restaurant to watch the results roll in, but as the hours went by, Buffalo grew convinced that she was about to lose her bid for state representative, and she called it a night. Then on the couple's drive home, texts and calls started pouring in to congratulate Buffalo on her election as North Dakota's first Democratic Native American woman in the state legislature.
"We started screaming and crying," Buffalo, who is an enrolled citizen of the Mandan, Hidatsa and Arikara Nation, tells Bustle. "We thought we lost, and then we were kind of blown away that I actually did win."
This wasn't Buffalo's first run for political office. In 2016, she ran for the statewide seat of insurance commissioner and lost. But that experience inspired her to continue working with the community, and she was elected as the North Dakota Democratic-Nonpartisan League Party's secretary in 2017.
Buffalo's election is even more remarkable because she unseated state Rep. Randy Boehning, the primary sponsor of the state's voter ID law that put yet another barrier to voting in front of some Native Americans in the state.
Buffalo tells Bustle she didn't even realize she defeated the same man who sponsored the voter ID law that motivated so many of her fellow Native Americans to go to the polls this year. Although she says her team did its research on Boehning when she launched her campaign in February, she says "for some reason, that was one thing that was never really pointed out to us."
A mother to a pair of 4-year-old twins, an 11-year-old, and a 15-year-old, Buffalo stresses that her campaign was more about promoting the issues she wanted to focus on than anything else. When she canvassed around the 27th District, which includes the Fargo area, she talked about access to affordable health care, improving education across the board, and community safety. "There was very little focus, if any at all, on my opponent," she says.
Boehning's role pushing for voter ID legislation goes back years; he was first elected as state representative for District 27 in 2002. Dr. Jean Schroedel, a political science professor specializing in Native American voting rights at Claremont Graduate University tells Bustle that "Boehning has been one of the leading people in North Dakota on changing the election laws."
Schroedel adds that the voter ID law is "clearly an issue that he has been involved with for a long time."
The Supreme Court decided in October not to intervene in a lower court's ruling that upheld the voter ID law, which required voters to present identification showing a valid street address. That decision rendered thousands of IDs belonging to Native Americans on reservations who use P.O. boxes completely useless at the polls, just weeks before the election.
She may be headed to the state capitol, but Buffalo says she doesn't consider herself a politician. She ran a "super grassroots" campaign, knocking on what she says was thousands of doors; Buffalo says her 4-year-old daughter asked if she won her "door-knocking" after the election. She acknowledges that she was hesitant to run this year because she worried that becoming a politician would discredit her community work.
Buffalo's diligence, however, paid off. She won 25.7 percent of the vote, according to Ballotpedia, booting Boehning from the district's second seat in the state House.
In a year of heightened enthusiasm around female candidates' campaigns, that Buffalo was running against the primary sponsor of the ID law in North Dakota flew under the radar. Dr. Kjersten Nelson, an associate professor at North Dakota State University, says that she doesn't think many residents knew about Boehning's outsized role in the voter ID law.
"I don't think it was well known at all," Nelson says. "I don't think he earned himself any particular fame or infamy because of it, but there is that irony there nonetheless."
Buffalo's win, Nelson speculates, "was more about the campaign that Ruth ran in the year she ran in, than necessarily anything that Randy Boehning did."
When she assumes office in December, Buffalo says she hopes that being the first Native American woman to represent Fargo will help lend her community a stronger voice in politics, and to help guide discussions about the issues that directly affect them.
"I think about the struggles that my grandparents went through — my grandpa having to change his last name from Buffalo to a more English sounding last name in the early 1950s for socioeconomic reasons so that he could find employment, and then how a group of us changed it back when I was 19," she tells Bustle. "Just trying to change the narrative and say...that we are in the state and we want to stay and help make it a better place for everybody."
The voter ID law, she adds, is "a good snapshot of how much work needs to be done."