Ryan Reynolds Singing "Tomorrow" On Korean TV Will Leave You In Awe Of His Many Talents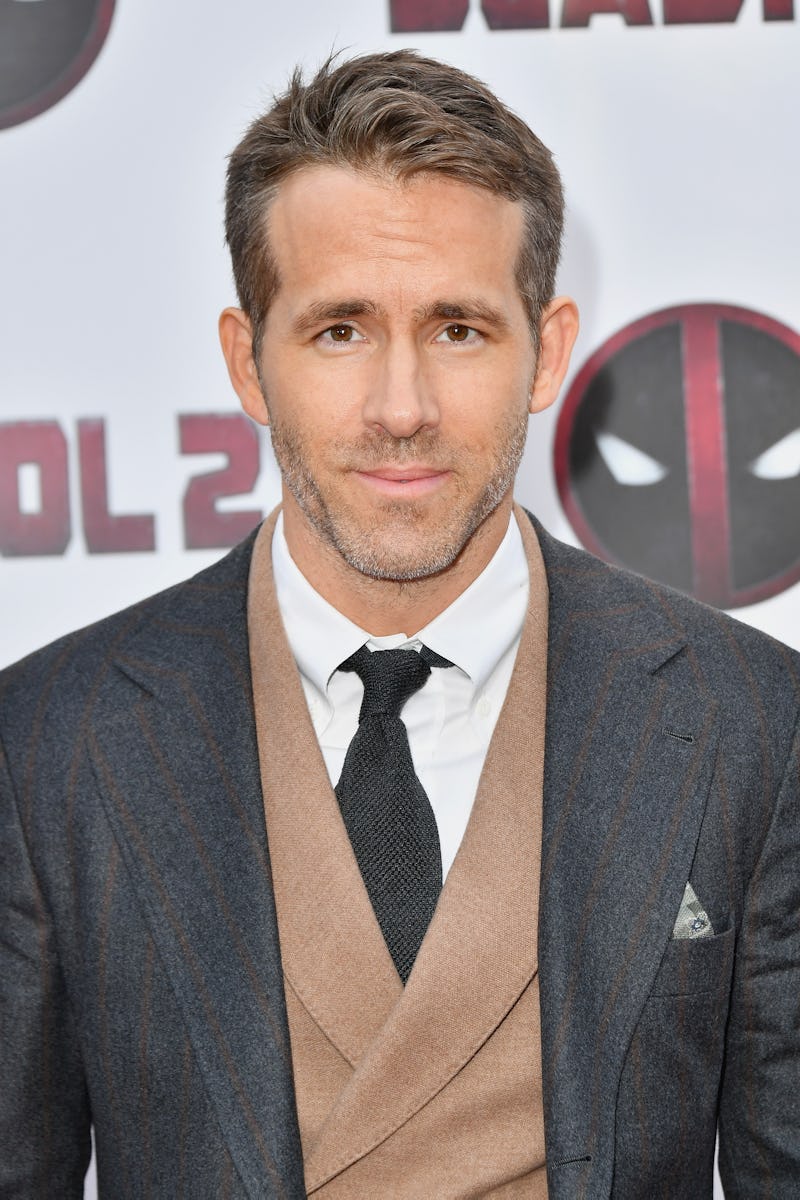 Michael Loccisano/Getty Images Entertainment/Getty Images
If you're not quite sure how to feel about Ryan Reynolds' wonderfully strange new Deadpool 2 promotion tactics, you're not alone. While promoting the upcoming release of Deadpool 2, Ryan Reynolds sang on a Korean talk show — masked and dressed as a sparkly rainbow unicorn. This is not a drill. There is absolutely no tie between the movie and Reynolds' show appearance, unicorn outfit, or song choice ("Tomorrow" from Annie), which is why fans are both confused and in complete awe at the same time. Ryan Reynolds has officially done the most, and Deadpool would be proud.
Over the weekend, Reynolds made a surprise appearance on the reality TV competition show King of Masked Singer. On the show, celebrities are covered head-to-toe in a costume and have to sing for a live audience before contestants guess who they are. No one, seriously no one, was expecting Reynolds to be under the unicorn mask and shimmery cape after his (actually quite impressive) rendition of the Annie classic.
When Reynolds was revealed to the audience after giving it his all on the stage, attendees were totally shocked and freaked out, and there was a whole lot of screaming and cheering. "Hello everybody. I'm so sorry about that song," the actor said after being revealed to the crowd. (He later joked that he was so nervous, he was wearing an "adult diaper.")
Here's Reynolds' legendary performance in all of its glory:
And then came the reveal no one was ready for:
Now that the videos have made their rounds on the internet, fans are definitely experiencing feelings... they just might not know which ones.
Some are applauding the actor and this wild endeavor, given that it's one many celebs probably wouldn't do.
Fans are challenging the gutsy actor to see if there's anything Reynolds won't do.
If fans are wondering why Reynolds' vocals are actually so good, it seems he's had some time to prep. This wasn't his first rodeo singing "Tomorrow" on the Deadpool promotion trail. In late April, Reynolds, as Deadpool, crashed a Hugh Jackman video while lying in Jackman's bed behind him and singing the tune, as Jackman tries to wish his friend a happy birthday.
Over the last few weeks, Reynolds has gone international with his promotion efforts. He's posted photos in cities like Rome and Madrid, with celebrities like co-star Josh Brolin and David Beckham by his side. Additionally, he shared a special video announcing Deadpool 2's European release dates.
In true Deadpool style, the first installment's promotion campaign was unique, super funny, and full of unexpected twists. As pointed out by The Hollywood Reporter, the 2016 film's marketing campaign consisted of dirty jokes, posters with Deadpool in an ugly Christmas sweater, and billboards making the action-packed flick look like a romantic drama. It's clear that Reynolds and the Fox team are amping it up a notch this time around.
Deadpool 2 posters have riffed on and recreated cultural moments from the movie Flashdance and Michelangelo's "The Creation of Adam" painting. In the winter, Deadpool served as a guest editor of Good Housekeeping for a special holiday edition.
More recently, Reynolds tweeted a fake rejection letter from his fellow Marvel member Tony Stark, in which Tony denies Deadpool's request to join the Avengers for Infinity War. And what really got fans talking was Céline Dion's Deadpool music video, which the iconic singer posted in the beginning of March. At the end of the video, Deadpool emerges and tells Dion that she needs to redo the song because it was "too good" and this is "Deadpool 2, not Titanic." She calls him Spider-Man and tells him to "beat it." Iconic.
Whether or not Deadpool 2 wows fans, no one can deny that its promotional efforts have been anything less than award-worthy.