Celebs Snubbed Ryan Seacrest On The Oscars Red Carpet & Twitter Is Shook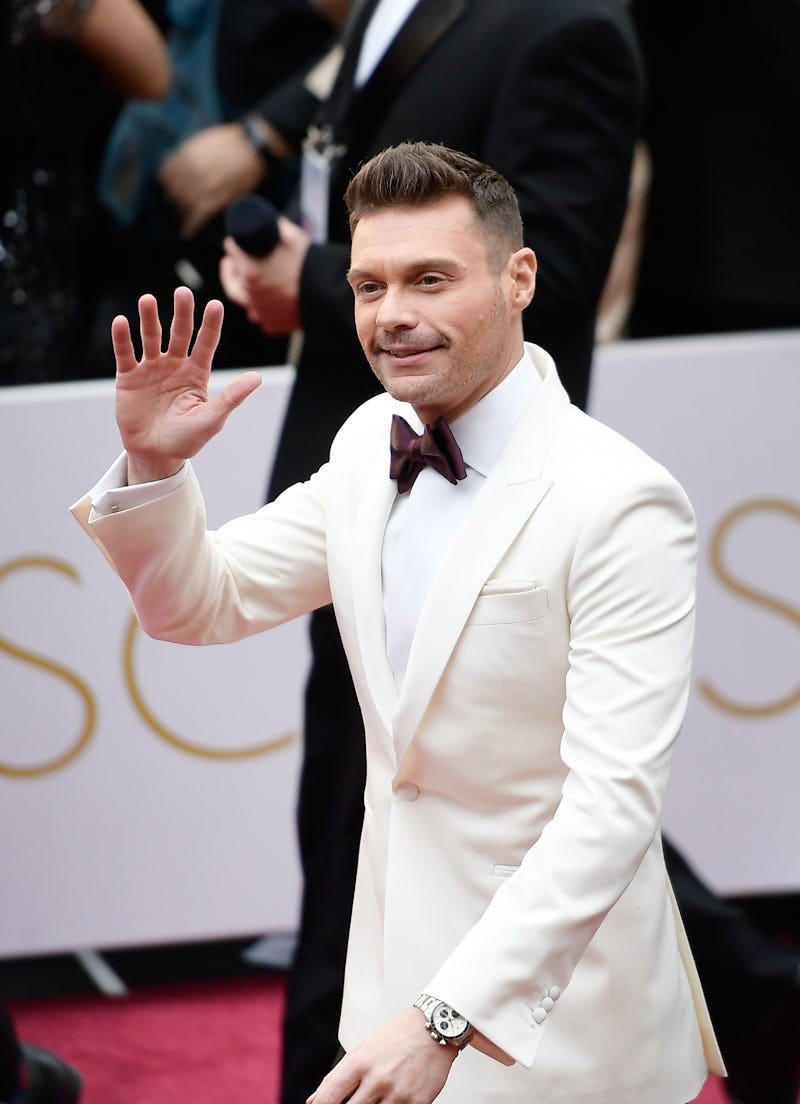 Matt Winkelmeyer/Getty Images Entertainment/Getty Images
A few #TimesUp pins showed up at the Academy Awards this year, but there weren't a lot of comments before the show got started — partially because one of the Hollywood figures currently facing sexual misconduct allegations was the one asking the questions. That said, the list of celebrities that Ryan Seacrest interviewed on the 2018 Oscars red carpet is short, a little strange, and generating a lot of reactions on Twitter.
Seacrest interviewed Miguel, Kelly Ripa and Mark Consuelos, Gael Garcia Bernal, Allison Janney, Christopher Plummer (who did not replace him), Andy Serkis, Richard Jenkins, the Get Out supporting players Bradley Whitford, Lil Rel Howery, and Betty Gabriel, as well as Donald Sutherland, Rita Moreno, Taraji P. Henson, Mary J. Blige, Common, and Andra Day.
It's a rather random list, and there may be a reason for that. Last week, Hollywood publicists told Page Six that they would be avoiding putting their clients in interviews with Seacrest this year. So this cold shoulder, so to speak, is at the very least expected. It makes sense, particularly as so many of the famous people on the carpet this year have been active and vocal in the Time's Up and #MeToo movements.
Late in February, Variety published a report alleging that Seacrest sexually harassed his stylist Suzie Hardy for years. Seacrest replied in a lengthy statement:
"Yesterday, Variety published a salacious story that revealed the specific claims against me for the first time — even though an independent third-party investigator found insufficient evidence to support the claims. Much to my dismay, Variety didn't speak with me or bother to speak with other credible witnesses or even ask for any of the evidence that was obtained during the investigation when offered, all of which clearly challenged the veracity of the claims made against me. This person who has accused me of horrible things offered, on multiple occasions, to withdraw her claims if I paid her millions of dollars. I refused. I have worked extremely hard to achieve my success and I don't take my opportunities for granted. I don't want to accuse anyone of not telling the truth but in this case, I have no choice but to again deny the claims against me, remind people that I was recused of any wrongdoing, and put the matter to rest."
So, if you're wondering why Seacrest and E!'s red carpet coverage seemed thin this year, that's why. It's surprising that Seacrest was even doing interviews at all. As for Twitter, here are some of the best responses to the entire ordeal.
Will jokes about Christopher Plummer replacing problematic men ever get old?
Fair.
Also, fair.
With the spread of harassment allegations getting wider by the minute, this kind of hypocrisy was basically inevitable.
"The universe has a way of taking care of good people," she said with a sneer and a smile on her face. "Know what I mean?" Whoa! Henson also told ABC that she was happier to be in their company. Amazing.
Truly, this was a strange night. E! was already on notice after Catt Sadler left, citing a massive pay gap between her and her male coworkers as the reason.
There are many reasons why someone may have made that choice, but still.
STATUS UPDATE: The joke's not old yet.
"They really shouldn't send him," said #MeToo founder Tarana Burke in an interview with Variety. "We shouldn't have to make those choices of, 'Do we or don't we?'" In the interview, she talked about how women in Hollywood expressed relief to her that Harvey Weinstein would not be attending. "It's as if the veil has lifted," she said.
As for Seacrest, "this is not about his guilt or innocence," Burke added. "It's about there being an accusation that's alive, and until they sort it out, it's really on E! News and shouldn't be on us. It will let us know where they stand in terms of how respectful E! News is of this issue — and of women."