Sallie Krawcheck Is Trying To Close A Gender Gap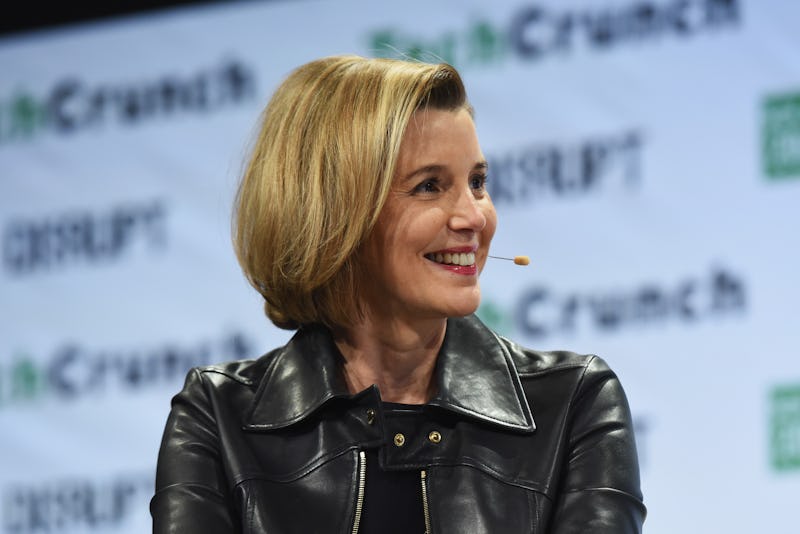 Noam Galai/Getty Images Entertainment/Getty Images
On Wall Street, there has been Marcus Goldman, Samuel Sachs, Henry Sturgis Morgan, and Harold Stanley. They're among the most recognizable names in the investment industry — and they were all male. But there's also Sallie Krawcheck, one of only a handful of women to serve among the top ranks of Wall Street's biggest firms. With the big bank days behind her, Krawcheck brings Wall Street to women with Ellevest, her online investment platform that seeks to close the gender investing gap that's costing women millions.
"We, as women, will talk with each other much more often about sex than we ever would about money," Krawcheck says. "It's crazy."
Specifically, she's referring to the hesitancy among women to invest in the stock market. According to a study by LearnVest, men are five times more likely than women to name investing as a top financial goal. As Krawcheck puts it, the industry speaks man, with analogies to bulls and competition. As a result, women may not know how to get started investing — or how to do it correctly. "The mistake women make, overwhelmingly, is they don't invest," Krawcheck says.
That's a costly mistake. The seasoned Wall Street veteran asserts that the gender investing gap — the notion that women invest less than men — costs women at least $750,000 over the course of their lives. But it's not just about the money, it's also about the financial freedom that comes with it.
"I think we all understand that it's easier to tell your boss to take this job and shove it, or to start your own company, or to leave a bad relationship if you have more money in the bank than less," Krawcheck says. "It's just easier."
To help women (and men) attain that financial freedom, Krawcheck founded Ellevest. The online investment platform cuts through the typical Wall Street jargon and streamlines the investment process. That's because Ellevest follows a goal-based model of investing. Users' investment portfolios are customized based on the specific goals they set for their lives, such as buying a house, having a child, or starting a business. According to Krawcheck, this model speaks more directly to women than other investment platforms, which may emphasize the competitive nature of the stock market and the need to "outperform." In other words, Ellevest turns the stock market from a game that must be won into a strategy that relates to very specific financial goals.
What's more, Ellevest also provides a unique formula for women, which factors in their longer life expectancy, more frequent career breaks, and earlier salary peak than men. Not to mention, there's no minimum investment, so accumulating wealth can become truly accessible to women at all points throughout their career.
"Investing is not nearly as difficult as Wall Street makes it feel and sound with the jargon and with the complexities," she says.
If there is anyone who can attest to that point, it is indeed Krawcheck. She previously led investment firms Merrill Lynch, Smith Barney, and Citi Private, having spent most of her career on Wall Street. A southern lady who still speaks with a "y'all" every now and then, Krawcheck doesn't seem like the typical investment banker — and she's not.
As has generally been the case, the majority of investment firm executives are male. According to Business Insider, the disparity between female and male executives is widest at one of Krawcheck's former employers, Citi, where 81 percent of executives are male.
"I've recognized how important it is for women to fight for other women."
In fact, it's Krawcheck's lack of conformity that she thinks ultimately spurred her departure from the big banks. In 2011, at the tail end of the most recent financial crisis, Krawcheck was fired from her position at Merrill Lynch.
"I've made the controversial statement that I got fired because I was a woman," Krawcheck says. However, the company said Krawcheck was let go because it was "delayering and simplifying" and that it was a tough decision. "What I mean is that when push came to shove, I was the only individual who returned client money in the financial crisis, the only one, and I did it, in part, because the research tells me that women tend to have this relationship focus, this long-term focus ... I was fired for doing it and in some ways for being different."
At the time, CEO Brian Moynihan addressed Krawcheck and others' dismissal in a statement, saying, "De-layering and simplifying at the scale in which we operate requires difficult decisions. We wish them well and look forward to their continued leadership and business successes in the future."
Overall, Krawcheck maintains that her experience on Wall Street was "great," despite horror stories from her early days in the industry. "I would have Xerox copies of male nether-regions put on my desk every morning," she claims. "You know, it was actively, actively hostile." Eventually, she says, she earned respect by proving that she wasn't going away. Now, she encourages other women to fight for one another.
"I've recognized how important it is for women to fight for other women," Krawcheck says.
Krawcheck has made it her mission to support other women — and she has grown successful at it. Ellevest finished a successful second funding round in September, securing investments from the likes of tennis pro Venus Williams and DreamWorks Animations chairwoman Mellody Hobson. It's what Krawcheck excitedly calls a "group of badass women."
More recently, Krawcheck released a new book that lives up to her mission. On Tuesday, Own It: The Power of Women at Work hit bookshelves (and online shopping carts), spreading Krawcheck's idea of financial feminism in a new format. "We have massive amounts of economic power that we're not using," Krawcheck says, explaining the book's title. "We can begin to exert our power. ... This is something that we can own."
Ownership of one's financial power may be a more powerful message now than ever before, particularly for the women that Krawcheck seeks to educate. In the wake of Donald Trump's unexpected election in November, many investors — and non-investors — might be clenching their teeth to see what the future will hold. As Krawcheck puts it, "The signals are contradictory to say the least."
"For all of us, closing our gender money gaps is more important than ever because we can't control [the future]," Krawcheck says. "We recognize more than ever that being in financial control is important."
Taking financial control starts with a financial plan. Unlike many investment firms, Ellevest offers free financial plans to all users, regardless of whether or not they invest through the platform. Part of that plan should undoubtedly be to pay off costly credit card debt and to set money aside for a 401k and other investments.
"Invest in your 401k," Krawcheck says, noting that retirement plans aren't sexy or fun. "Then, from there, begin putting aside some percent of your paycheck every single paycheck. if you just take it out of your paycheck without thinking about it first, it becomes a habit." Even saving just 1 percent of your paycheck at first can make a difference down the road.
It's unsettling to Krawcheck that women don't feel comfortable talking about money. It must be even more disconcerting to her, then, that women potentially lose out on millions of dollars without even realizing it. Thanks to Krawcheck, the gender investing gap has inspired a new take on Wall Street — one with a financial focus that seeks inclusivity rather than competition.