Sally Field Wants To Set Her Son Up With Adam Rippon & The Internet Is Rooting For Them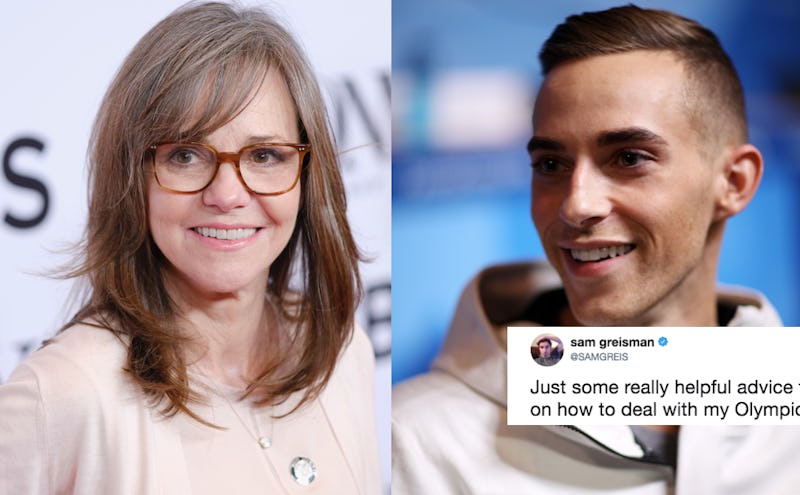 Dimitrios Kambouris/Getty Images Entertainment/Getty Images; Chris Graythen/Getty Images Sport/Getty Images; SAMGREIS/Twitter
The Olympics are inspiring on so many levels, but never forget, so are moms. Need proof? Then look no further than Sally Field playing matchmaker for Adam Rippon and her son, Sam Greisman. On Friday, Feb. 16, Greisman shared a portion of a text exchange between him and his mom that appears to reveal his crush on the Olympic figure skater. As Greisman mused about how he would even ask Rippon out, his mom stepped up with the best advice ever. Field texted her son, "Sam... he's insanely pretty. Find a way."
After sharing the adorable exchange on Twitter, Greisman likely thought that was the end of it. He tweeted out his mom's advice, and wrote,
"Just some really helpful advice from my mom on how to deal with my Olympic crush."
It's a cute story that was sure to get some smiles out of his followers, but there's no way the news of Greisman's crush would never actually reach Rippon, right? Enter Field. In true mom fashion, Field took matters into her own hands and not only retweeted her son, but she also tagged Rippon in the retweet. It seems pretty clear that Field wants Rippon as her son-in-law and she's willing to do whatever it takes to make her son's dreams come true — even if it means embarrassing him on the internet. (Hey, if it results in a date, Greisman probably won't be complaining.)
Rippon is probably a little too busy being amazing at the 2018 PyeongChang Games — People reported that he nabbed a bronze medal for Team USA — to respond right now, but Geisman offered up a one word reply to his mom: "Yikes." Greisman may be a bit surprised that his mom so boldly tagged Rippon, but the internet is here for it.
Field's tweet has been met with cheers and requests for her to work her magic for other users with dreams of dating Olympians, but it seems pretty clear that her focus is on securing her son a date with his celebrity crush right now. Greisman might be in luck. In a Feb. 6 interview with YouTuber Tyler Oakley, Rippon revealed that he's currently single. The popular figure skater describes himself as "America's sweetheart," so it's safe to say he has quite a few admirers — still, could he really deny Field, who also has a reputation for being "America's sweetheart"?
Whether or not Rippon responds, seeing Field so proudly support her son's crush is heartwarming. The Lincoln star has been an advocate for LGBTQ+ rights for some time now, and in 2014, she penned a passionate letter denouncing "License to Discriminate" bills that were passing at an alarming rate at the time. In her letter, Field wrote about her son and what she wants for his future. According to E! News, Field said,
"Sam knows that if he ever marries, he'll have my full support. After all, I like to believe I raised him with the good sense to choose a great partner. But there are people out there — organizations and politicians, strangers who have never even met Sam — who would rather devote themselves to denying his happiness. Why would anyone want to prevent my son — or anyone's son or daughter — from having basic legal safeguards like family medical leave, Social Security survivors benefits, or health insurance? It doesn't make any sense — but it won't change until people speak out."
Basically, Field has always been a boss mom, and her desire to give her son the world hasn't changed as he's gotten older.
Even if Rippon and Greisman never meet, Field's mom moment is not only relatable, it's also incredibly sweet. Rippon is a gifted skater, vocal advocate for LGBTQ+ rights, and generally a wonderful guy. What mom wouldn't want her child to be with a man like him — especially if they were already nursing a crush? Greisman should be proud to know that his mom is always in his corner — even when it means engaging in some Olympic matchmaking.