Samantha Bee Insulted Vaginas Everywhere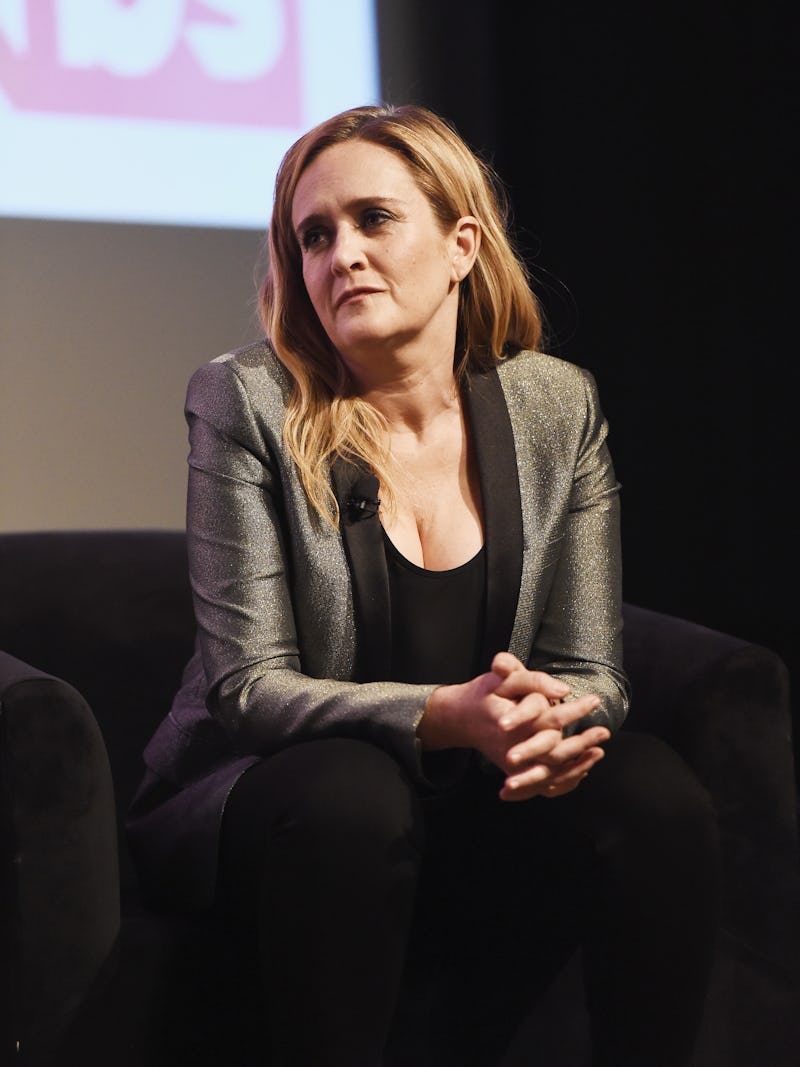 Amanda Edwards/Getty Images Entertainment/Getty Images
On Wednesday evening, during her TBS show Full Frontal With Samantha Bee, Samantha Bee described First Daughter Ivanka Trump as a "feckless c*nt." By Thursday morning, it became the c-word heard 'round the world.
Bee targeted Trump because of a photo she tweeted: a seemingly innocuous image of the first daughter holding her son. But the picture was a jarring contrast to recent headlines, which were focused on the president's push to forcefully separate immigrant children from their parents. The internet was ablaze with reactions to Bee's words; some compared her comments to Roseanne Barr's racist tweet about Valerie Jarrett, some called for TBS to cancel Bee's show, and some defended Bee's right, as a comedian, to "punch up." But there was one argument that all sides agreed on: Ivanka Trump should never have been called that word. I agree.
While the notorious "c-word" has long been recognized as an indefensible slight, it's nothing more than a very specific part of a cisgender women's (and some transgender men's) body — a part associated with pleasure, pain, and childbirth. If you look up the word in the dictionary, you will find three words: "a woman's genitals." Why that's considered a repulsive insult speaks more to our society's ingrained misogyny than the supposed downfall of our collective morality. Slate explained the origin of the word in 2013, describing it's descent from suitable "street-name" in the 13th Century to a vulgar slur in 1785. According to Slate, Francis Grose's A Classical Dictionary of the Vulgar Tongue defines the word as "a nasty name for a nasty thing." In a 2000 BBC study, the term ranked No. 1 as the most offensive word of all time.
But as Sally Field wrote on Twitter: "I like Samantha Bee a lot, but she is flat wrong to call Ivanka a c*nt. C*nts are powerful, beautiful, nurturing and honest." And as Minnie Driver put it, also via Twitter: "That was the wrong word for Samantha Bee to have used. But mostly because (to paraphrase the French) Ivanka has neither the warmth nor the depth."
The only thing Bee is guilty of is the misguided and vile decision to associate Trump with a part of human anatomy synonymous with life: both the creation of and enjoyment of it. Given the first daughter's abysmal record when it comes to standing up to her father's immigration policy that has allowed the United States government to legally separate children from their parents — some as young as 18 months — then according to this literal dictionary definition, she has yet to demonstrate any actual behavior indicative of the word.
"The only thing Bee is guilty of is the misguided and vile decision to associate Trump with a part of human anatomy synonymous with life: both the creation of and enjoyment of it."
According to The Washington Post, Ivanka Trump supported the administration's decision to destroy what was described as a "modest" equal-pay enforcement initiative, despite her claim that it's "the responsibility of all Americans to come together in pursuit of equal pay." The decision effectively ended the Obama administration's requirement for large companies to "report data on the race/ethnicity, gender, and job category of their workers," a report that included information on compensation to increase pay transparency.
Trump has stood idly by as her father's administration attacked the constitutional right to abortion access, attempted to defund Planned Parenthood, introduced the Reagan-era domestic gag rule, and rolled back the Obama-era birth control mandate. According to Cecile Richards, former president of Planned Parenthood, the first daughter essentially tried to bribe the organization into no longer offering abortion services in exchange for an increase in federal funding.
Trump also championed the GOP Tax plan, claiming the $1,400 tax refund for parents (a provision she suggested) would benefit working mothers and families. But according to The Washington Post, the credit only assists wealthy families, much like the tax plan itself. Per Newsweek, "High-income households would be able to claim $2,000 per child, while low-income families would be eligible for just $75 or even less." Trump also supported the GOP's attempts to repeal and replace the Affordable Care Act. The latest failed GOP health care bill would've left an estimated 15 million to 18 million people uninsured by 2019, cut prenatal and postnatal care, and allowed insurance companies to consider mental health disorders (including postpartum depression, from which Trump revealed she suffered after each of her three children were born) as preexisting conditions.
Trump's inaction and continued willingness to stand by her father as he passes legislation that will directly harm women and families makes her far from the warm, nurturing, powerful c*nt she could be. Perhaps that is what Bee was trying to get at during her show? The word "feckless" means "lacking initiative or strength of character; irresponsible." Trump has an incredible platform and an almost unbelievable amount of power. She also has the ear of the president, and has been described as one of the few individuals Donald Trump will actually listen to. She has the capacity to be better: to evoke real, positive change to help those she claims to champion.
Calling Trump a c*nt is just wishful thinking.
This perspective is reflective of the author's opinion, and is part of a larger, feminist discourse.