Samantha Bee Has One "Main Regret" About That Infamous Ivanka Trump Comment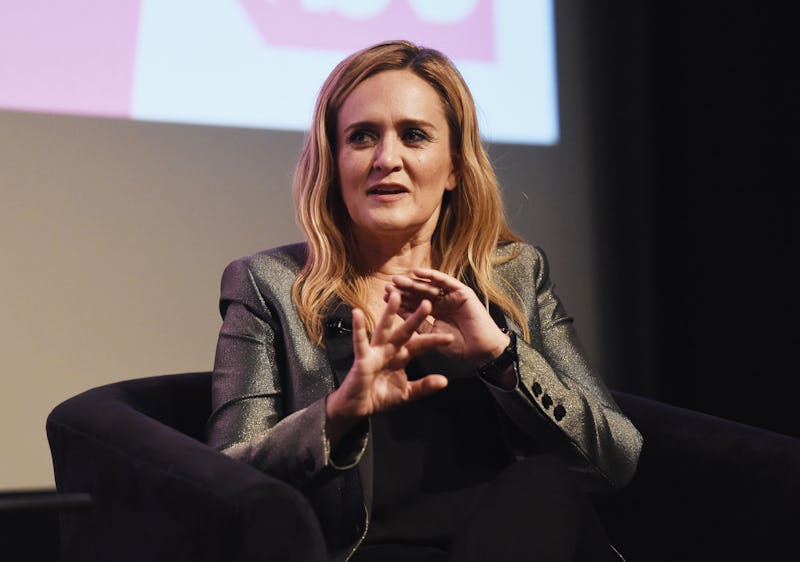 Amanda Edwards/Getty Images Entertainment/Getty Images
Comedian and late night TV host Samantha Bee caught the attention of the general public when she made a particular comment — and used a particular word — about first daughter and senior White House advisor Ivanka Trump and her role in the administration. According to what she said in a new interview for The Wrap's Emmy guide, though, the media reaction to Sam Bee's comment about Ivanka Trump wasn't exactly what she'd hoped it would be.
The interviewer was asking Bee about the instance in May in which she called Trump a "feckless c*nt," referring to the fact that while the administration was separating parents from their children, Trump posted a picture of herself with her son.
"You know, Ivanka, that's a beautiful photo of you and your child, but let me just say, one mother to another," Bee said in a segment on her show. "Do something about your dad's immigration practices, you feckless c*nt! He listens to you!"
After a significant media outcry over her choice of words, Bee offered an apology on Twitter, saying, "It was inappropriate and inexcusable. I crossed a line, and I deeply regret it." Her comments in her interview with The Wrap certainly don't take back that apology — but they do offer more context on the original comments and how Bee perceived the reaction to her.
"I wish that people had been able to see the content that led up to it, actually. I was speaking very passionately about an idea I felt very deeply about that was getting no coverage," Bee said, after the interviewer noted the strong response the comment had received, including advertisers temporarily leaving her show.
"My main regret was diverting attention from the topic I was discussing. Not that we could have caused everyone to turn their eyes to the story," she continued. "Of course, news outlets had the option to turn away from the story of a word that I said and turn their focus to the migrant children."
She went on to say, though, that she generally feels like her words are getting to the right ears.
"Normally, if the NRA TV takes a stand against me, I know that I'm taking a correct stance," she told The Wrap. "That's a pretty good barometer of where my point of view should be. If Fox News hates what I'm doing, it's nice to know that they strongly disagree."
She's even agitated the Republican party establishment itself; she was one of several people on the left featured in a controversial midterms ad put out by the RNC called "The Left in 2018: Unhinged." The ad included Bee making that comment about Ivanka alongside other public figures who have taken strong stances against the president and his administration, like comedian Kathy Griffith and Rep. Maxine Waters.
She acknowledged in her interview that while President Donald Trump gives her show a steady supply of material, she doesn't feel that his administration is a comedic blessing.
'This is the hand we've been dealt. We all have ulcers and patches of hair falling out. And Donald Trump doesn't bless us with comedy," she told The Wrap. "But Donald Trump Jr. does. So there's always a silver lining."