Sandra Bland's Sisters Say HBO's New Documentary Will Show You Who She Really Was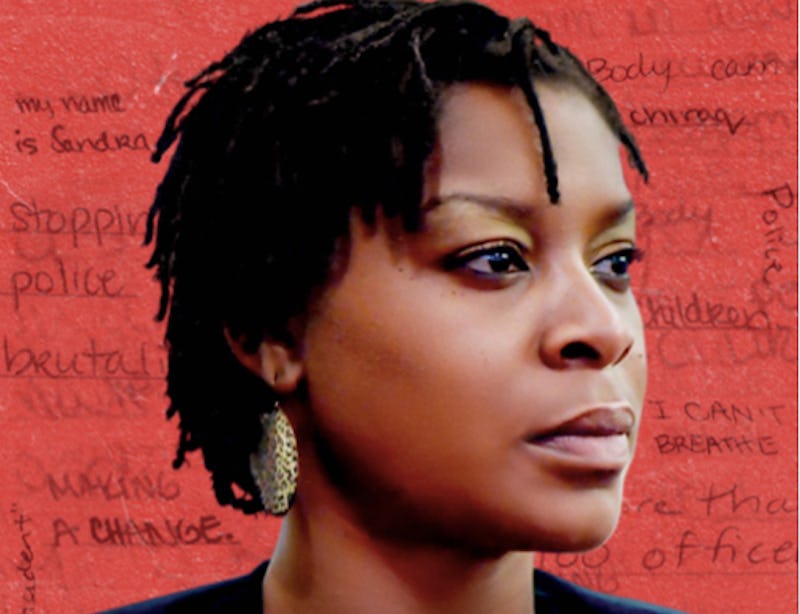 HBO
Sandra Bland is talking about Black Lives Matter in a video recorded on her cell phone. "Being a Black person in America is very, very hard," she says in the video, one of the many she made for her "Sandy Speaks" YouTube series. This is the opening scene of the new HBO documentary about Bland's case, Say Her Name: The Life and Death of Sandra Bland, and it's a striking re-introduction to the unsettling questions raised by her death in a Waller County, Texas jail cell in 2015. Bland's sisters, who are featured in the film, tell Bustle that they hope it will help reinvigorate the conversation around police brutality with people who have become "numb" to it.
The documentary, which premieres Monday, Dec. 3, follows Bland's family members as they painstakingly set out to uncover the truth behind her death. In July 2015, Bland was violently arrested by a state trooper during a traffic stop after she questioned his demand that she put out her cigarette. Three days later, she was found hanged in her jail cell. Authorities said she died by suicide, but the circumstances around her death have left many questions unanswered.
Filmmakers Kate Davis and David Heilbroner started documenting Bland's family just 10 days after her death, as the #SayHerName campaign that highlighted Black women who were victims of police brutality grew into a national movement.
The film raises a lot of questions that it doesn't answer, underscoring the family's frustrations and doubts around what Waller County officials claim about Bland's death. Sharon Cooper, one of Bland's sisters featured in the documentary, tells Bustle that focusing on these unknowns was an opportunity to "give an in-depth access and insight" into what it's like for families who are impacted by police brutality.
"The person who has the answers to those questions and who can shed some light on that for us — she's no longer here."
"What's happening with regard to interaction with law enforcement and people that are in Black and Brown communities, it's happening at an alarming rate," Cooper says.
Waller County officials released autopsy results after Bland's death, but her family later ordered an independent autopsy in their bid to understand exactly what happened to her in the jail cell. The documentary's directors were on hand to capture the emotional moment when the results were revealed to the family. The independent autopsy surfaced details that the Texas medical examiner did not — like the deep bruising on Bland's body — but it ruled out a homicidal hanging.
"It's disheartening," Cooper says of the independent autopsy results. "Losing a loved one is already tough enough." But having more information about Bland's death that her family wasn't privy to before, Cooper adds, "just enhances that level of self-doubt that you have with regard to the information that we were receiving from Texas officials."
After all this time, Cooper says she still cannot determine what happened to Bland in the Waller County Jail.
"I think the person who has the answers to those questions and who can shed some light on that for us — she's no longer here," she says. "And it's frustrating, it's disheartening at times, and honestly at the end of the day she should still be here. What it drives home is that she should've never been there in the first place."
In the years since her death, the number of police brutality incidents has not let up. Cannon Lambert, the attorney representing Bland's family, tells Bustle that he's seen people come together to combat to the issue of police brutality in an unprecedented way, but adds, "I don't know that that energy is turning into policy — not yet. Not quite yet."
Shante Needham, another one of Bland's sisters, says that she hopes people start having "uncomfortable conversations" about police brutality with those around them.
And Cooper adds that she wants the documentary to spur people to take action, instead of just "sitting on the sidelines." Whether that's talking about the issue online, helping advocacy organizations, or writing to lawmakers, Cooper says people should inform others about "the atrocities that are associated with black women, men, boys, and girls [who are] being impacted by state-sanctioned violence."
But the documentary doesn't just shed light on Bland's case and the issue of police brutality — incorporating "Sandy Speaks" videos gives viewers a more intimate glimpse into Bland's life, and the space to celebrate it.
Needham says the family was pleased that the film included so much of Bland's voice. "We love the fact that Sandy was in it," she says. "So hopefully what people walk away from watching this documentary [is that] they see and realize that Sandy was a person. That she was loved by many."
Cooper says she hopes Say Her Name will "encourage people to find the humanity behind the headline," and "to know a person much more than who they were prior to becoming an irreversible hashtag."
"Say Her Name will be available whether or not people choose to watch it. It will be available long after that time, and we are also here as a resource to share with people; our lived experience," she adds, explaining why her family decided to help make Say Her Name. "Once you understand and know what's happening, it is your duty to actually activate and do something about it. And that is why we did it."
If you or someone you know are experiencing suicidal thoughts, call 911, or call the National Suicide Prevention Hotline at 1-800-273-8255.