This Video Of Sandra Oh's Parents Gushing Over Her On The Emmys Red Carpet Is So Adorable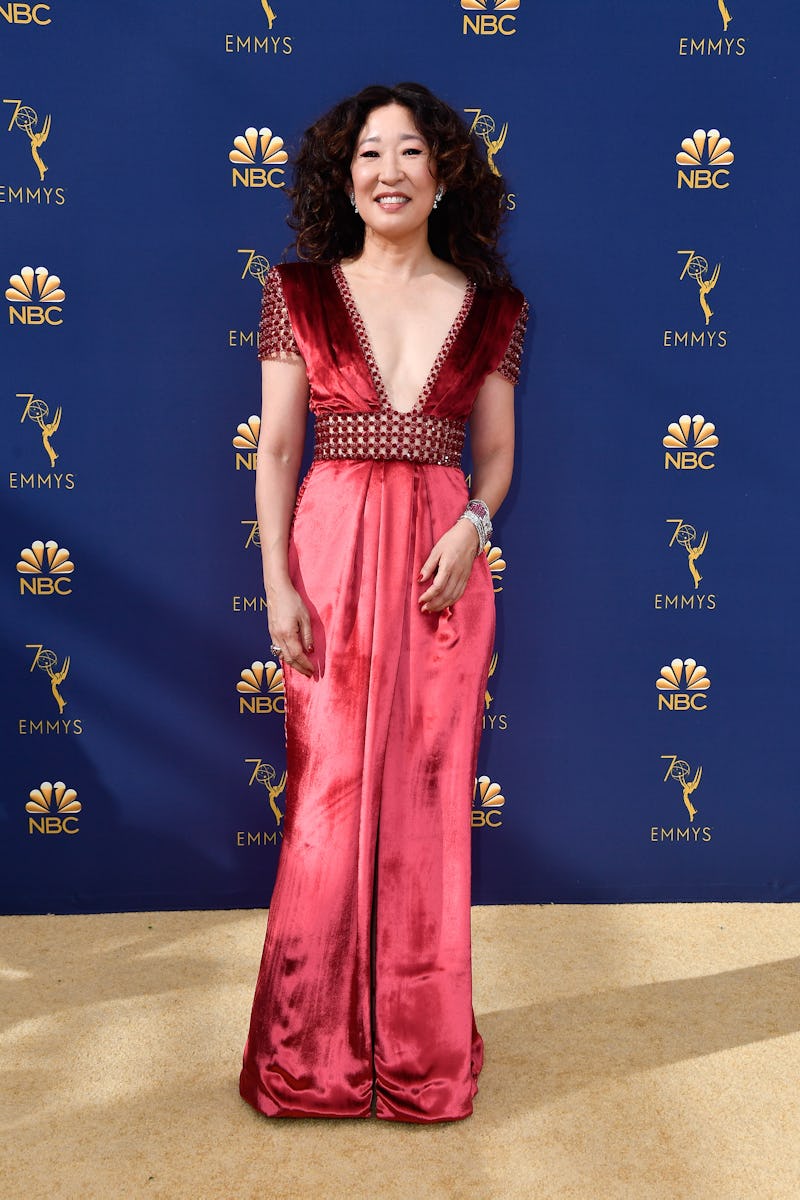 Frazer Harrison/Getty Images Entertainment/Getty Images
Sandra Oh made history at the 2018 Emmy Awards by being the first Asian woman for be nominated in the Lead Actress in a Drama category. And you know what? While everyone wants to win, it's still a pleasure and a privilege to be nominated, especially when you have supportive parents like Oh does. Sandra Oh brought her parents to the 2018 Emmys, and they couldn't stop gushing about her.
Oh is nominated for her roll as the lead in Killing Eve, the BBC America show that took the critics — and the world — by storm this season. It's a great show, and it's so wonderful to see Oh in a leading role. She hasn't been on our television screens much since she left Grey's Anatomy in 2014 (and frankly, Meredith Grey hasn't been the same since she lost her real "person"), but Oh is making up for it by playing a messed-up M15 agent who is hunting Vilanelle, a brutal and unrelenting assassin. Cristina Yang she ain't. But Oh's parents obviously love her no matter what wild role she's playing, because her mother and father couldn't stop talking on the red carpet about how proud they were of their daughter. Oh even got a kiss on the cheek!
Oh practically predicted her parents' reaction, because in a statement to Bustle after her nomination, she said:
"I feel tremendous gratitude and joy with this nomination. I am thrilled for Phoebe Waller Bridge's nomination and for the entire cast/crew of Killing Eve. I share this moment with my community. PS. I think my mother at this moment may actually be satisfied."
It's special that Oh gave reference to Phoebe Waller Bridge's nomination (she's up for Outstanding Writing In A Drama Series category), too. The twisty, turny world of Killing Eve came out of Waller Bridge's twisty, turny brain, giving Eve and Villanelle life on the page — and on your screen.
In a recent interview with The Guardian, Oh said:
"That first episode was so cracking, in such special ways, from Villanelle's introduction of the ice-cream, and then you see Eve bumbling along. Immediately I felt connected to Phoebe's writing and I could recognize that the tone was special and new and tricky. I was like: 'Whoa, what was that?'"
The 2018 Emmys are a big night for Oh, and not just because she's taking a big step toward greater representation in Hollywood. Oh has been working in Hollywood for a long time, and it's nice to see her get to come up to the stage and be recognized in a leading role. Cristina Yang was always overshadowed by Meredith's general messiness, but Eve is overshadowed by no one — even a trained assassin like Villanelle. Their cat-and-mouse game is the best work of Oh's career, and whether she wins or loses the Emmy for Lead Actress in a Drama, she's not only creating amazing work but also inspiring the next generation of acting superstars. That's better than an Emmy, no?