Sandra Oh's Reaction To Her Historic Emmy Nomination Will Only Make Fans Even Prouder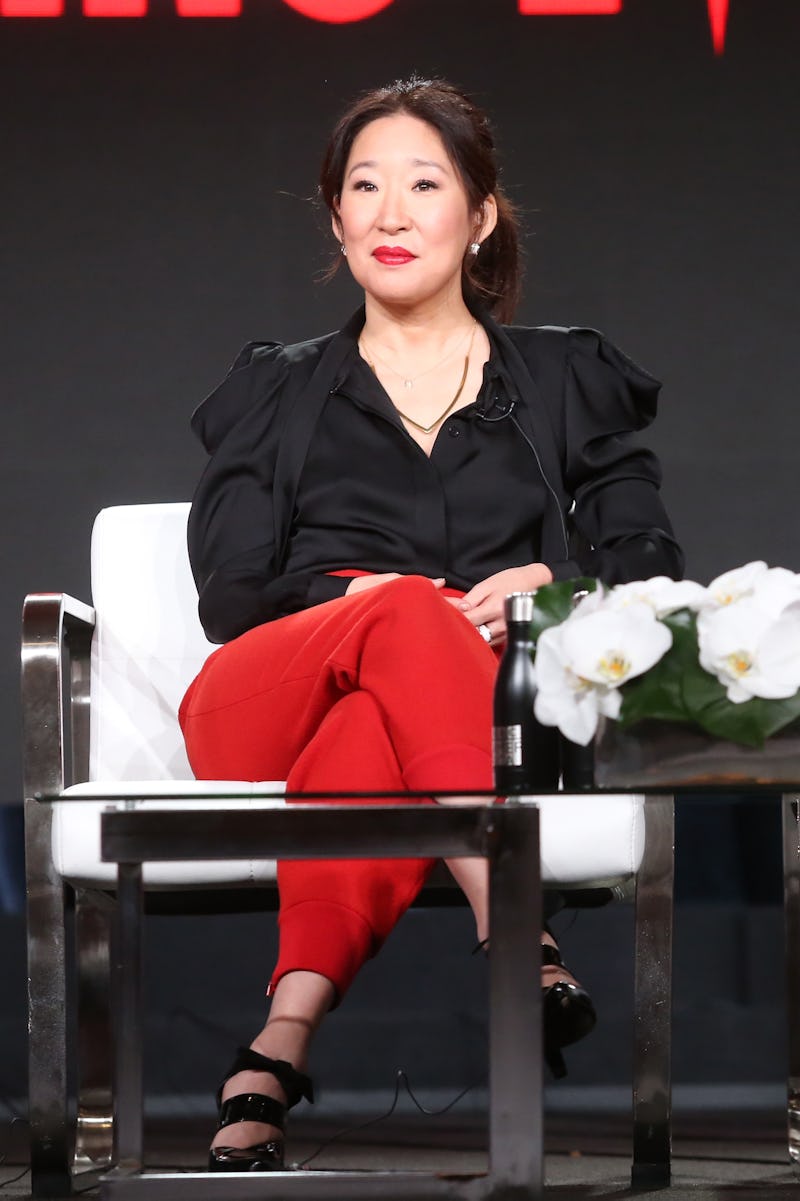 Frederick M. Brown/Getty Images Entertainment/Getty Images
Thursday was a major day for the TV industry as the 2018 Emmy nominations were finally announced. While there are plenty of reasons to celebrate, one nomination is especially exciting: Sandra Oh made history for her Emmy nom for Killing Eve, becoming the first Asian woman nominated for the Lead Actress in a Drama category. And Oh's response to her Emmy nomination couldn't be more perfect.
The actor shared the following statement with Bustle on Thursday afternoon:
"I feel tremendous gratitude and joy with this nomination. I am thrilled for Phoebe Waller Bridge's nomination and for the entire cast/crew of 'Killing Eve'. I share this moment with my community.
PS. I think my mother at this moment may actually be satisfied."
Gratitude and a dose of humor — what more could fans ask for? (And chances are that her mom is more than satisfied at this major honor — and probably appreciates the jokey shoutout, too.) Speaking of fans, those who have been in Oh's corner ever since her Grey's Anatomy days couldn't be more pumped for her to break this barrier and hopefully finally get the trophy she's long deserved. (She was nominated five times previously for her work on Grey's in the Supporting Actress category.)
Showing just how humble the talented actor is, Oh also used her statement to celebrate Phoebe Waller-Bridge's nomination, who's honored in the Outstanding Writing In A Drama Series category for her work on Killing Eve. Other series in the same category include big-name shows like Game of Thrones, Stranger Things, The Crown, The Americans, and The Handmaid's Tale — highlighting how tough this year's competition may be, but the picks are definitely deserving.
And in case you're keeping track, this isn't the only success the BBC America series has had with nominations lately (although it somehow was snubbed in the Outstanding Drama category in this year's Emmys). As The Hollywood Reporter noted in mid-June, Killing Eve led the pack for the 2018 Television Critics Association Awards nominations, earning five noms overall. Basically, things are looking promising for the show that got renewed for a second season back in April.
Even if Oh doesn't take home an actual trophy at the Emmys, it doesn't make this moment any less major (even if it feels long overdue, in more ways than one). The nomination in itself is a big win, especially if you ask her fans. On Twitter, they've had nothing but praise for the actor. Oh, and they've used lots of GIFs, because, of course.
This role is not only appreciated by fans, but also by the actor herself. A few hours after the news broke, Oh posted the following reaction tweet, which fans flooded with even more love and support in the replies section.
For those who need a refresher, Oh plays the titular Eve on Killing Eve, and has spoken out about what it means to her. In a June interview with CBC Radio, Oh spoke about on-screen diversity and playing authentic characters such as this one. She said,
"If you can be who you are, and be doing what you love, just being true to yourself — hopefully people can see themselves in you. They can see themselves reflected, and see the possibility that is hopefully there for them."
Yet in that same conversation, she acknowledged that Hollywood still has a ways to go, as far as inclusion. Oh told CBC, "I'm glad that we're talking about it, but over the past ... 30 years, I realize that change is very slow."
The fact that this year's Emmys will be the 70th annual ceremony and this is only the first time an Asian woman was nominated in the Lead Actress Drama category more than backs up her point. But the silver lining here is that at least things are changing, and Oh is definitely helping make that happen.