Sandra Oh Is Leaving The Door Open For Her 'Grey's Anatomy' Return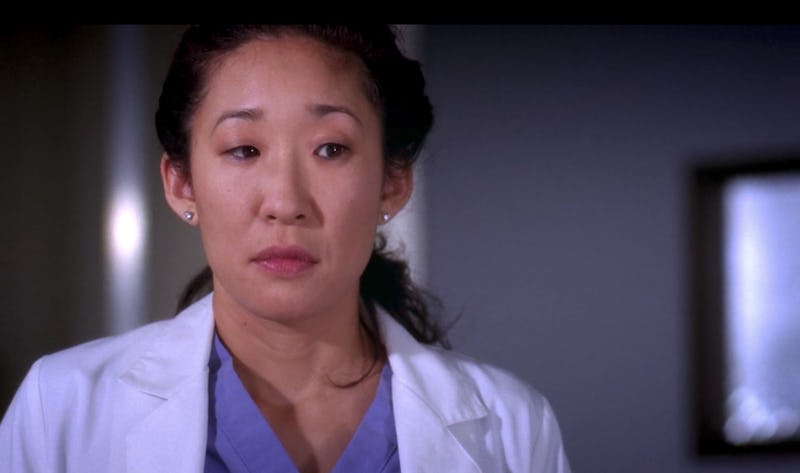 ABC Studios
For those that wish Cristina Yang would come back and work at Grey Sloan Memorial Hospital, you might have to start wishing a little harder. That's because Sandra Oh will not be returning to Grey's Anatomy any time soon. For her, right now, just doesn't feel like the right time to go back. But, for those dreamers out there, she didn't rule it out forever.
In an interview with Entertainment Weekly, Oh said every year she hears the rumors that she's coming back to Grey's, which is always really flattering but never actually true. Mostly because, in her opinion, it's not necessary for Cristina to return because she's never really left. "What I realize is, in a way that I'm really pleased and grateful for," she said, "is that the show is continuing on with its life, and that the show and the people who are still attached to the show are still attached to Cristina. It means a lot to me."
It also means she can go off and do something new without worrying about her former character. Right now, Oh is gearing up to return to TV in the BBC America thriller Killing Eve and she's "very happy and excited" to be starting something new. For her, it's almost like falling in love again. "It's like I've moved on in my relationship and am so committed to this character and this show," Oh said of Killing Eve. "Yeah, that's where I feel like my focus and my passion is."
But, EW asked, wouldn't Oh like to see what happens to Cristina in the future? "I will say it's hard to beat that ending," the actor explained, "because what I also realize is that it keeps it open in so many ways where you can continue on having that relationship with Cristina."
Cristina left the show in the Season 10 finale, dancing it out with Meredith (Ellen Pompeo) and letting her bestie know that she shouldn't have to uproot her life to be with Derek (Patrick Dempsey). "He's very dreamy," Cristina tells her. "But he's not the sun. You are." With that advice, Cristina's off to her fancy new job. It's that final shot of her in her office, though, that allowed fans to breathe a sigh of relief. Clearly, Cristina's going to be just fine.
When Oh decided not to return for Season 11, she told The Hollywood Reporter, "Creatively, I really feel like I gave it my all, and I feel ready to let her go." It's something she'd repeat over the years. In 2016, Oh told Entertainment Tonight she had no plans to return anytime soon. And when talking to EW she seemed to still feel that way explaining that she wasn't sure she needed to put a bow on Cristina's story. "I'm not sure," she said. "I guess I can't really answer it either way where I'm sitting right now, because I'm so committed to Eve. The idea of stepping back into the Cristina shoes, it doesn't feel right to me right now."
"But," she continued, "honestly, who knows how long Grey's is gonna go?" And with those final words — literally, since it's the last thing Oh told EW — she floated the possibility that one day, when Grey's finally calls it quits, Cristina could come back.
Just think of the possibilities. Maybe Cristina needs to give Meredith another pep talk? Or maybe she returns to take over the hospital, since Cristina would be a great boss? It could be any number of reasons for her return, and surely, Grey's fans are coming up with scenarios right now. After all, with those words, Oh posited a future in which Cristina would be back.
She might be focused on other things for now, but it's clear she'll never forget the time she spent on Grey's. And whether or not Cristina ever finds herself in Seattle again, fans of the show won't forget what she and the actress who played her meant to them.