Sara Gilbert Spoke Out About The 'Roseanne' Spinoff For The First Time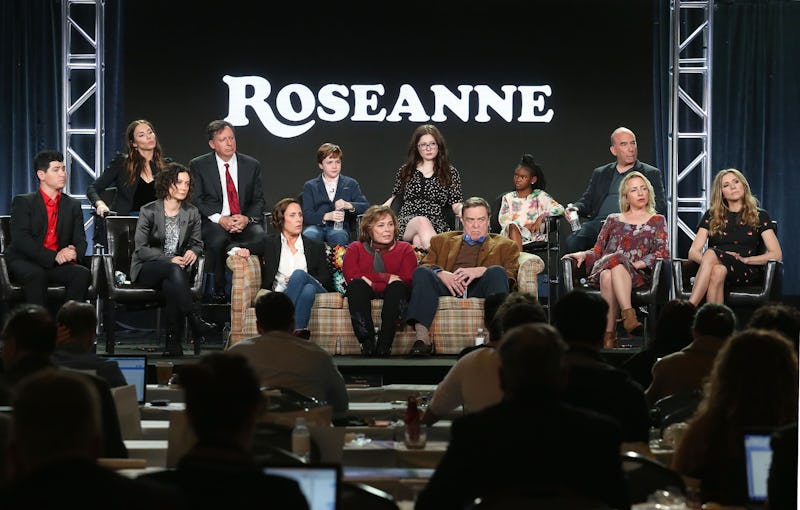 Frederick M. Brown/Getty Images Entertainment/Getty Images
Roseanne may be gone, but the Conner family is returning to TV. ABC's Roseanne spinoff, tentatively titled The Conners, will feature John Goodman, Sara Gilbert, Laurie Metcalf, Michael Fishman, and Lecy Goranson, but Roseanne Barr won't be a part of the new series. The Conners cast is talking about the Roseanne spinoff, and it sounds like they're excited for the new journey.
Gilbert, who's also a co-host of The Talk, addressed the spin-off news on Monday's episode of the talk show. "I'm so excited, thank you all so much. I really appreciate it," Gilbert said on the show, according to People. Her statement came after her co-host Sharon Osbourne congratulated her on the news. ABC announced on Thursday that it was green-lighting The Conners, though there aren't many details about the spin-off yet. As People noted, the new show will include 10 episodes in its first season, but there's no premiere date set just yet.
In an episode of The Talk earlier this month, Gilbert said she agreed with ABC's decision to cancel Roseanne. The cancellation came after Barr posted an offensive tweet that was reportedly about Valerie Jarrett, who was an adviser to former President Barack Obama. At the time, ABC issued a statement calling Barr's tweet "abhorrent," saying,
"Roseanne's Twitter statement is abhorrent, repugnant and inconsistent with our values, and we have decided to cancel her show."
Gilbert also issued a Twitter statement in May calling Barr's words "abhorrent."
As People noted, the cast members of the Roseanne spinoff issued a joint statement on Thursday about the new show. The statement reads,
"We have received a tremendous amount of support from fans of our show, and it's clear that these characters not only have a place in our hearts, but in the hearts and homes of our audience. We all came back last season because we wanted to tell stories about the challenges facing a working-class family today. We are so happy to have the opportunity to return with the cast and crew to continue to share those stories through love and laughter."
When Roseanne was cancelled, plenty of fans tweeted that the show should go on without its titular star. Now that the spinoff is officially going forward, the biggest question is how The Conners will deal with Roseanne's absence. It's a little dark to think of her character being killed off, but it's not outside the realm of possibility, either.
In a new interview with Rabbi Shmuley Boteach for his podcast Stand Up NY, Barr talked about the tweet that led to the show's cancellation. During the interview, Barr suggested that her tweet had been misinterpreted, though she still accepted the blame. As Bustle reported earlier, Barr told Boteach,
"It's really hard to say this but, I didn't mean what they think I meant. And that's what's so painful. But I have to face that it hurt people. When you hurt people, even unwillingly, there's no excuse. I don't want to run off and blather on with excuses. But I apologize to anyone who thought, or felt offended and who thought that I meant something that I, in fact, did not mean. It was my own ignorance, and there's no excuse for that ignorance."
It's nice to see that Barr is (at least somewhat) taking responsibility for her words. During the conversation with the rabbi, Barr also said she felt "remorse" for her actions. But for now, it looks like her former costars are happy to keep bringing the Conner family to life on the small screen, even if she's no longer a part of it.